You've eaten at Santa's Fantasea; now try their sister concern
Fusion Fantasea with dishes like Octopus Burger, Fruit Pizza and Millet Biriyani never served before by them.
The outlet is their second branch in the city and first in Salt Lake. Designed like a chic cabin, the EZCC outlet offers indoor as well as outdoor sitting arrangements. The highlight however is the fusion of cuisines.
Sample the Squid Pizza or Octopus Pizza (Rs 150) that has succulent chunks of the seafood of your choice, tossed in homemade ketchup and four cheese and topped with fresh olives. You can also go for an assortment of both squid and octopus by opting for Seafood Pizza. The patty in the Octopus Burger (Rs 99) comprises minced octopus and potatoes, sandwiched in homemade cheese and mayonnaise. It comes with a small fried octopus slipped in between the burger buns and is served with potato wedges on the sides.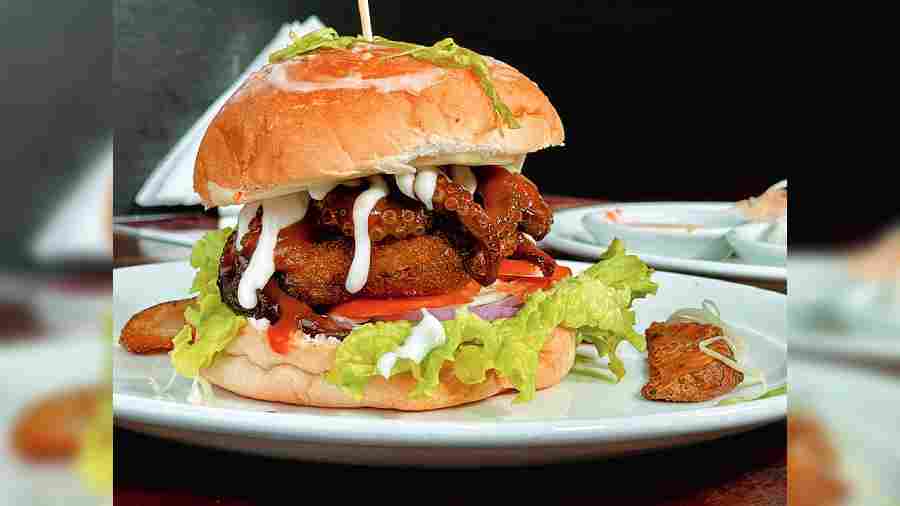 Octopus Burger
"Two years after opening Santa's Fantasea we began Fusion Fantasea in Southern Avenue and this is our fifth venture across the two brands," said co-owner Partha Ghosh. "With this new outlet we have introduced a variety of fresh items keeping in mind the taste of the new generation. We have also given a healthy twist to one of Calcutta's favourite dishes — the biryani."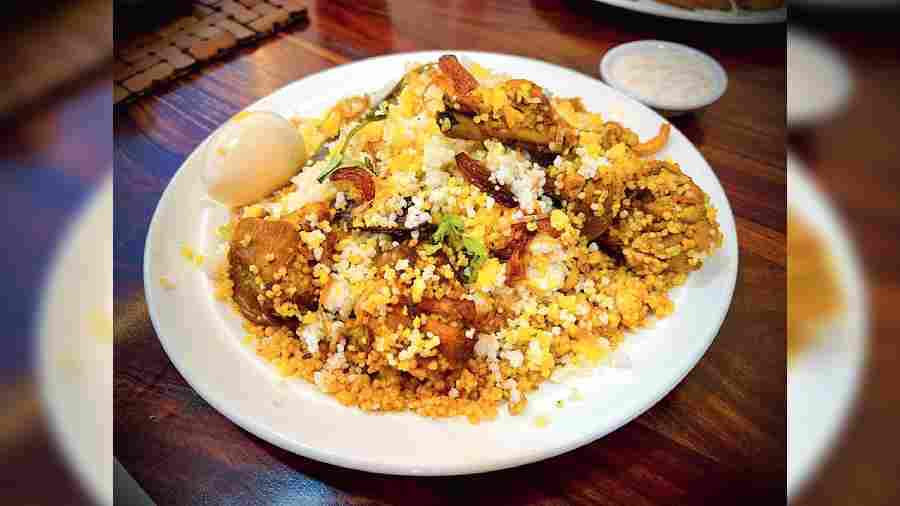 Millet Biriyani
So order a Millet Biryani as a substitute of rice. "We are using 'little millet', which is rich in iron and enhances metabolism, while still being tasty and full of flavour," added co-owner Avijit Saha. "We are offering chicken and mutton options, but have given the potato a miss as that would have reduced the nutritional value of the dish."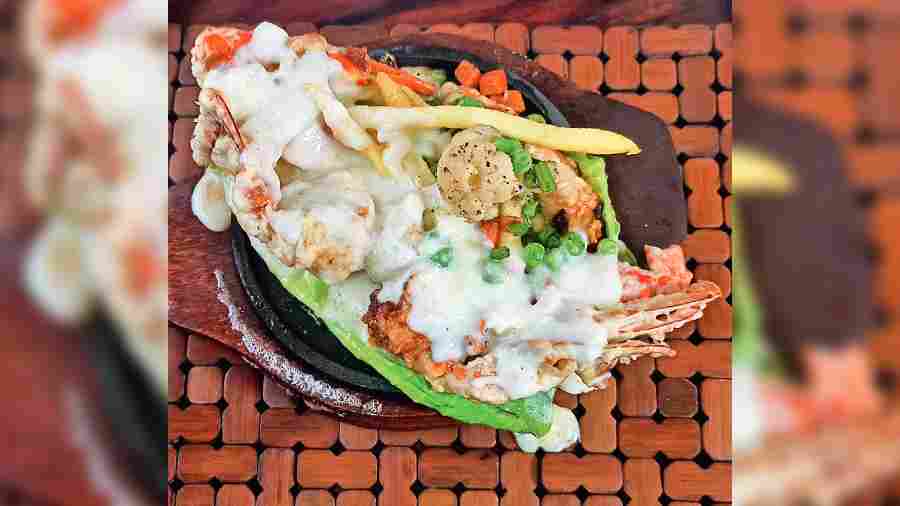 Crab Sizzler
Saha has personally given up rice for millets in his regular diet and has convinced many around himself to do the same. "In future, we plan to introduce more millet preparations to the menu," he promised.
Also try the Fruit Pizza (Rs 180) that comes with toppings of pomegranate, banana, green apple, black currant and malta on homemade sauce and four cheese. The Crab Sizzler (Rs 160) is green crab prepared in a sauce made of hempseed, sweet chillies and spices from the Northeast. It is served with boiled vegetables, French Fries and butter potato sauce.
The outlet aims for a cosy and chilled-out atmosphere with adda and music. "So we've built a stage that's open for anyone to perform on," said Debashree Sen Ghosh, wife of Partha, who is in charge of the music. "We have instruments like a keyboard, guitar and dhol which guests can pick up, strum and sing."
Shatadipa Bhattacharya