Several housing complexes across New Town arranged to have the World Cup final projected live on giant screens as did some councillors in their respective wards in Salt Lake. But CE Block in New Town was a rare block in the twin townships, if not the only one, where the block residents' forum took the initiative.
The residents witnessed the France-Argentina match together at the temporary structure that serves as their activity centre in the local park, thanks to the CE Block Cultural Association.
The idea germinated over tea in course of Sunday morning adda at Palash's tea shop in the locality. The block had purchased a projector four years ago which came to use only during Durga puja and gathered dust the rest of the year. Soumya Banerjee's proposal to screen the final on it was lapped up by a colleague in the association's executive committee Abhra Chakraborty, and supported by Subhomoy Das, Tamaghna Nath, Sanjoy Pal and Nirmalendu Ari. The last three offered to lend their projector, WiFi dongle and laptop respectively. By late afternoon, Abhra had made arrangements to hire sound box and chairs. Then an invitation was issued in the residents' social media group to witness the match together on the giant screen.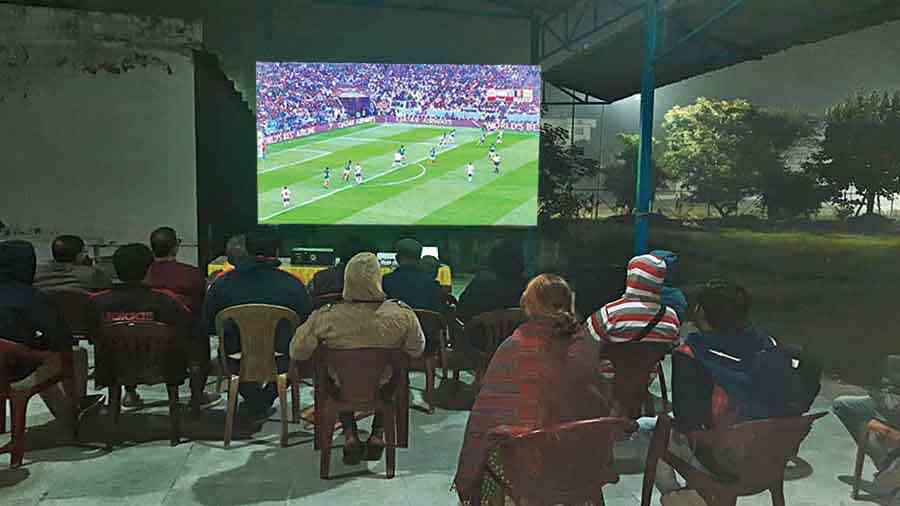 Residents of CE Block, New Town, watch the World Cup final at their activity centre on Sunday.
The atmosphere was electrifying, About 60 people had gathered. There was tea and Aloor Chop in supply for the spectators. Kapol Sarkar, who works for an online grocery store, came in an Argentina jersey. When France came back from behind and equalised twice, Argentina fans like him became tense. One even commented that watching the match on the giant screen might have jeopardised the team's fortune. But all ended well with Lionel Messi lifting the coveted trophy for his country. It was close to midnight. Almost everyone had stayed till the end. Some ordered food online. Some kept dinner waiting till they went home after the match. And when Messi celebrated with his teammates and sons on screen, some who had brought their cars to the park honked in delight.
Association president, Debdas Chatterjee, who has been a catalyst in he block's sporting activities, was overjoyed. "It is a brilliant feeling. Watching this match on the giant screen has made it even more enjoyable," he said.
While most of the people who attended were cheering for Argentina, there were also a few who were rooting for Mbappe and Les Bleus. The blue and white brigade had the last laugh in penalties after a sensational match full of ups and downs.
Kapol, a "lifetime Argentina supporter", said it was "a privilege to witness history being written in such a grand manner" and thanked the association for the arrangement.
One of the organisers, Soumya Banerjee, who had mooted the idea, is himself a hardcore Brazil supporter and recalled having gone out to party in the streets of Barrackpore in 2002 with dhol kortal. "Even though I was sad that Brazil got knocked out, I wanted to enjoy the final with my friends. And after this mind-blowing match, all I can say it was a victory for football. Congratulations to Argentina and hats off to Messi," he summed up, smiling.
Where did you watch the World Cup final? Write to us at saltlake@abp.in