E bochhor hok onno bochhor onno swapne bona... The opening song sung in chorus at a Rabindra Tirtha event last Saturday spelt out the dream that organisers have started out with in initiating the journey.
Suchetana Sharod Samman, organised by New Town Forum and News (NTFN) in association with The Telegraph Salt Lake, aims to make a difference by motivating Durga puja organisers across New Town in getting involved in social and environmental awareness and activity.
A total of 36 housing complexes and blocks had taken part in the maiden edition. On the summer's first rain-swept evening that brought relief from the scorching heat, 10 winners and three special prize winners were felicitated.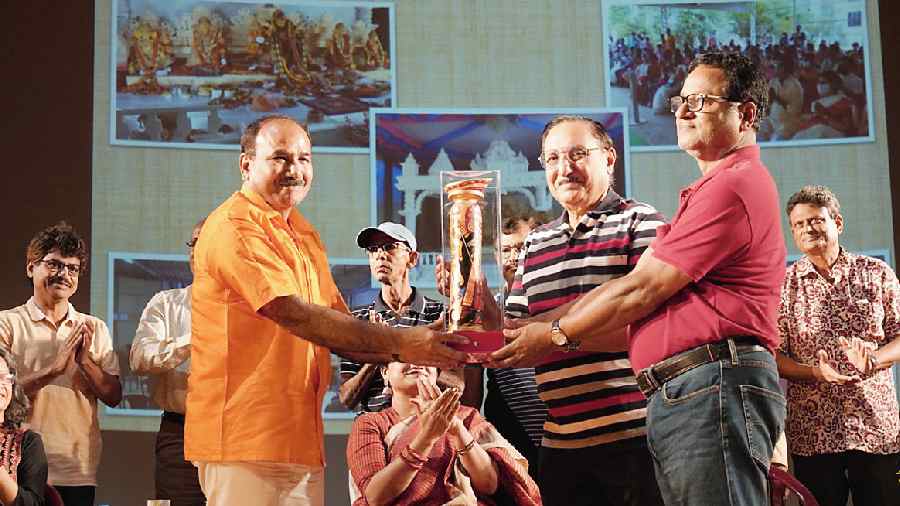 ALAKAI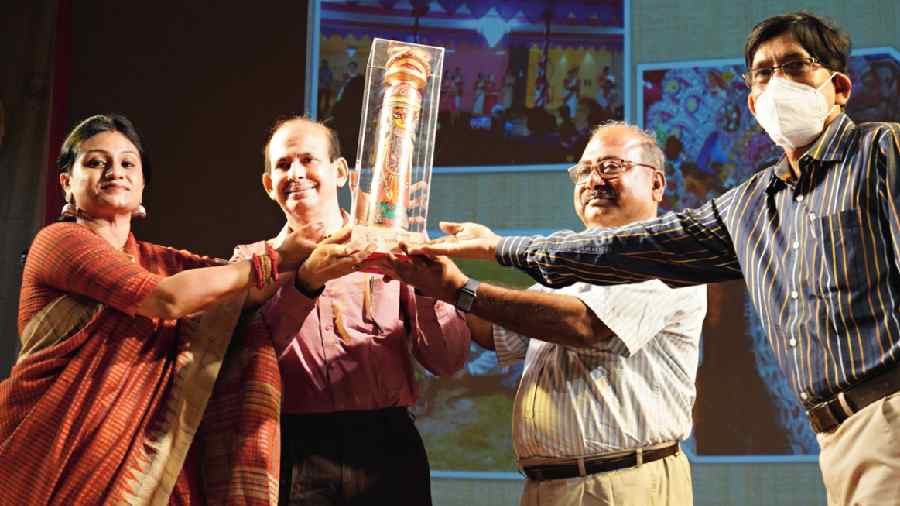 Sampoorna Tritiya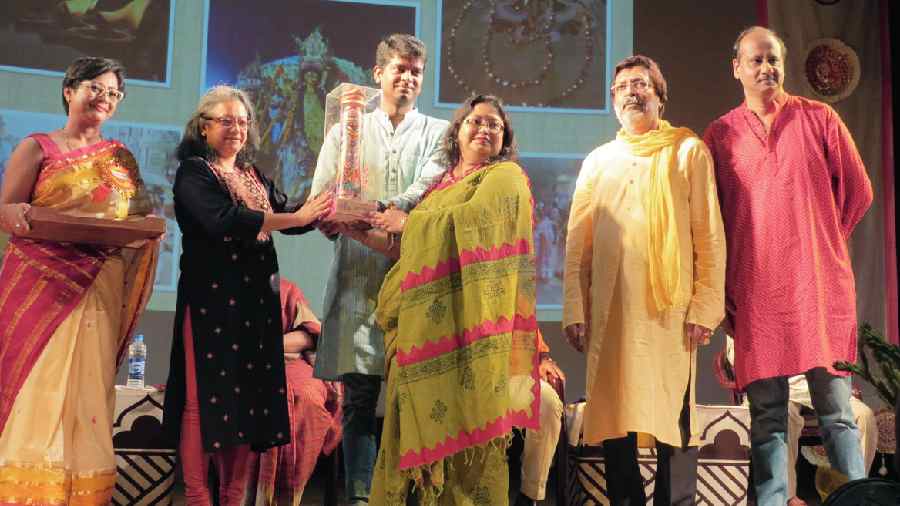 Greenwood Park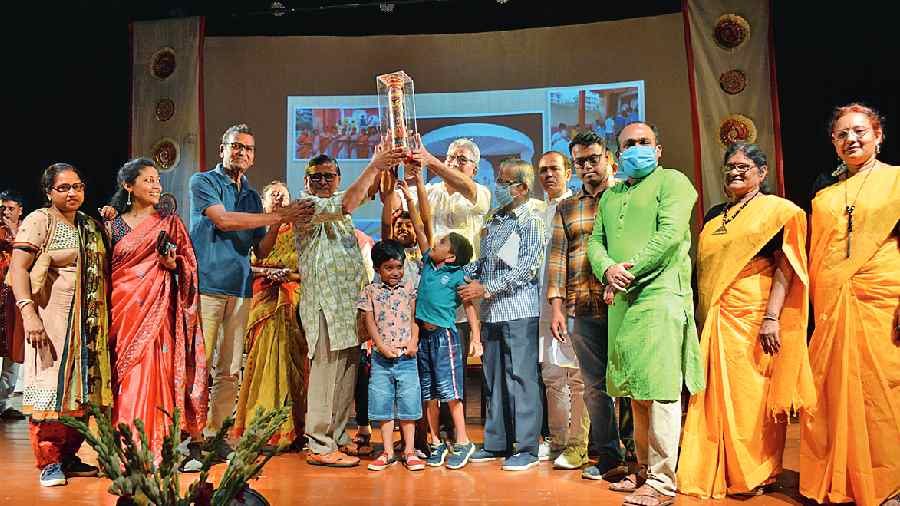 BD Block
"Usually, the well-decorated pandals, the beautiful idols and the lighting decide who organised the best Durga puja. But Covid and its multiple waves have changed our worldview. We want to promote environmental friendliness and public co-operation, so those are the benchmarks that we have judged the pujas on. Our criteria for the judgement were environment awareness, social welfare activities as well as Covid-related measures that the block or apartment took part in during the Puja as also round the year. For instance, we would take into account if any block took an initiative to reduce chances of water-logging, a problem that had plagued us last year," said Aban Saha, treasurer of NTFN.
Sudipta Mukherjee, trustee board member of the organisation, added: "This is a platform to share the best practices among neighbours. Marks are not important, how each puja is contributing towards the betterment of society is. " He pointed out measures taken by individual organisers that had impressed the jury when it had gone for inspection last autumn. Some released guppy fish in the adjoining canal to reduce mosquito larvae, some arranged for digital anjali for senior citizens in their block and cancer patients from Tata Memorial Center. Such measures reflect a sense of empathy and inclusivity. That is what suchetana is about," Mukherjee said.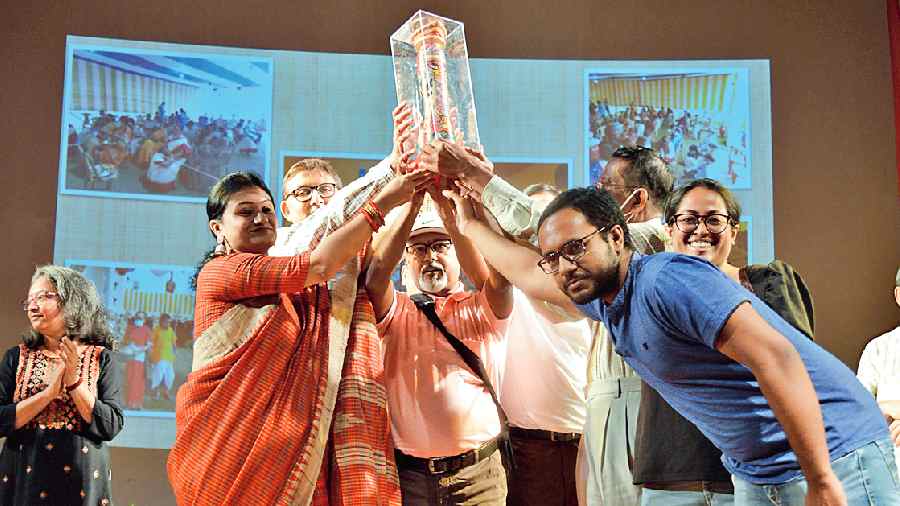 BE Block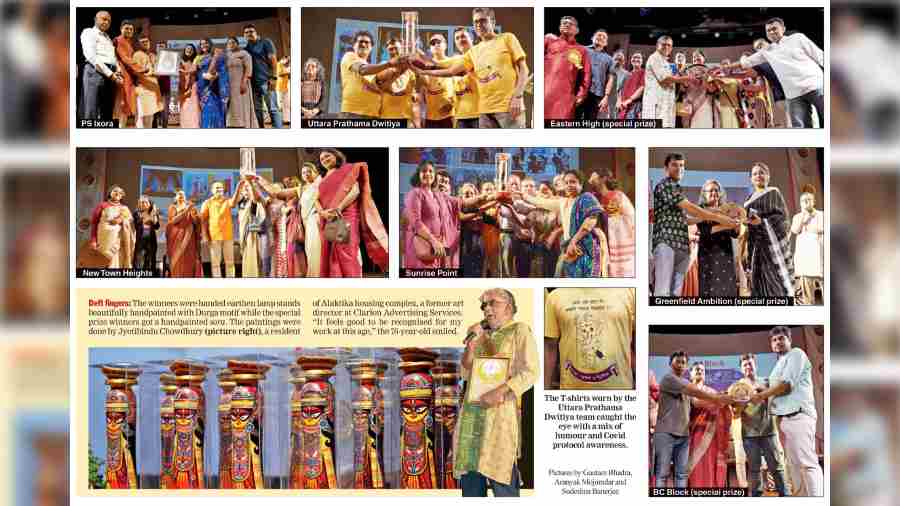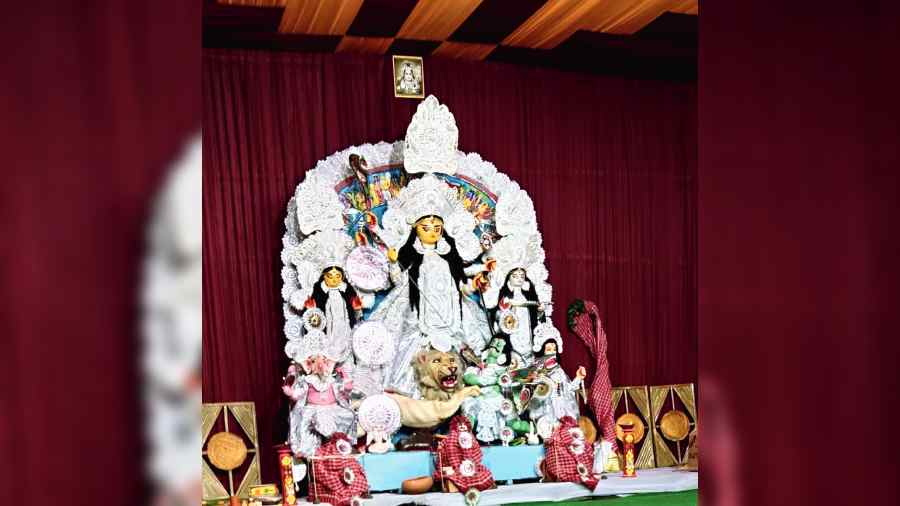 The idol at New Town CE Block, one of the top 10 organisers
NTFN secretary Tapas Adhikary shared with the audience an overview of the activities of the organisation. "We started this journey in 2018, but our activities intensified since 2020, during the pandemic. With the help of the residents of New Town, as well as some others, we undertook numerous activities in and outside New Town such as blood donation camps, afforestation programmes, medical camps in cyclone-affected areas etc," he said.
The judgment was really close. So much so that the organisers failed to limit the number of prize winners to the top 10. "So many of the blocks had done well that we had to fight amongst ourselves to decide who is more worthy," said Mukherjee. "Finally we decided to give a special prize to three more pujas that had just missed the top 10 cut," Saha added.
They received the prizes from special guests Air Chief Marshal (retd) Arup Raha, Pollution Control Board chairman Kalyan Rudra, environmentalist Swati Nandi Chakraborty and pulmonologist Susmita Roychowdhury.
Judgespeak
Most Western countries failed to stand by their own people during the pandemic but we in New Town have succeeded in doing so. For that we all deserve a round of applause.
Susmita Roychowdhury, Pulmonologist, Resident of: Sanjeeva Town
We need to make environmental awareness a part of our daily lives and plant its seed in future generations. The lockdown has made us more dependent on electronic goods but it is alarming the way digital waste is getting mixed with domestic waste. It is not enough to segregate dry and wet waste. E-waste needs to be disposed scientifically so the components can be recycled whenever possible.
Swati Nandi Chakraborty Environmentalist, Resident of: AC Block
One point that prevents me from calling Salt Lake and New Town modern cities is that the planners did not think of providing for a solid waste dumpsite here. Your waste is dumped at Dhapa which is part of the East Calcutta Wetlands. Also solid waste management needs to become a reality. These drawbacks pull back Calcutta from being a completely modern city. Another requirement of a smart city is the air has to be breathable. Till recently we did not even have a way to measure the air quality index. We have now set up two monitoring stations in Salt Lake and New Town.
Kalyan Rudra, chairman, Pollution Control Board, Resident of: Dum Dum Park
When I retired everyone expected me to stay back in Delhi. But I chose to return and settled in New Town. New Town is a smart city, but it's not its infrastructure, colleges or offices that make it smart. The soul of a city is its people. It is social structure that makes a city smart. Just as we in the armed forces rush with help when there is a natural calamity, this forum did the same during Covid and stood by residents.
Arup Raha, Air Chief, Marshal (retd) , Resident of: Jal Vayu Towers