A boy who enjoyed shooting small birds with an airgun grew up to be India's most-respected bird lover.
At Bengal Club on Monday, a talk on Salim Ali looked back at the man who was a legendary ornithologist, conservationist and an enthralling storyteller.
The speaker was Tara Gandhi, one of Ali's students. The title of the Bengal Club Library Talk, in association with The Telegraph, was  Words For Birds, borrowed from the title of a book authored by the speaker.
Ali delivered a series of talks on birding and nature conservation on All India Radio (AIR) between 1941 and 1985.
Gandhi, who was guided by Ali for her MSc in field ornithology, tracked most of these lectures, archived at the Bombay Natural History Society (BNHS), and compiled them in the book.
"He did not want ornithology to remain as just science for pundits. He wanted people to understand the value of birds. It is a rare quality in a scientist of that stature.... In the talks, he gives lively and humorous accounts of his journeys and adventures and interactions with locals," said Gandhi.
Ali, born to an affluent family in Mumbai (then Bombay), was orphaned very early in his life and brought up by an uncle.
As a boy, he dreamed of becoming a big-game hunter. With an airgun, Ali used to shoot small birds and take them to the kitchen for little snacks, she said. 
"He became very good at it. But one sparrow that he killed had a little yellow patch on its throat. He got curious. His uncle was a member of the BNHS. He suggested that Ali take the bird to the BNHS. The secretary saw the bird and identified it as a yellow-throated sparrow. This is how it all began," said Gandhi.  
After the British left India, Ali was given charge of the BNHS, which he transformed from a "rather sporty club of amateur British nature lovers and game hunters into a premier Indian institute of scientific pursuit".
Gandhi dwelled on how Ali criss-crossed the country — from the Rann of Kutch in the west to Chilika Lake in the east and the Western Ghats in the south to the Himalayas in the north — to pursue his passion.
Ali was married to Tehimna, who was a "very sophisticated woman brought up in England", at a young age. He was worried how she would adjust to his ways. "But she was a marvellous companion, sharing his interests," said Gandhi.
"They lived like Hippies, camping in tents. She decorated them with flowers...." 
Neurosurgeon Sandip Chatterjee, who gave the vote of thanks, said: "Birds of a feather flock together".
Conclave to to help promote a free, open, prosperous, and inclusive Indo-Pacific region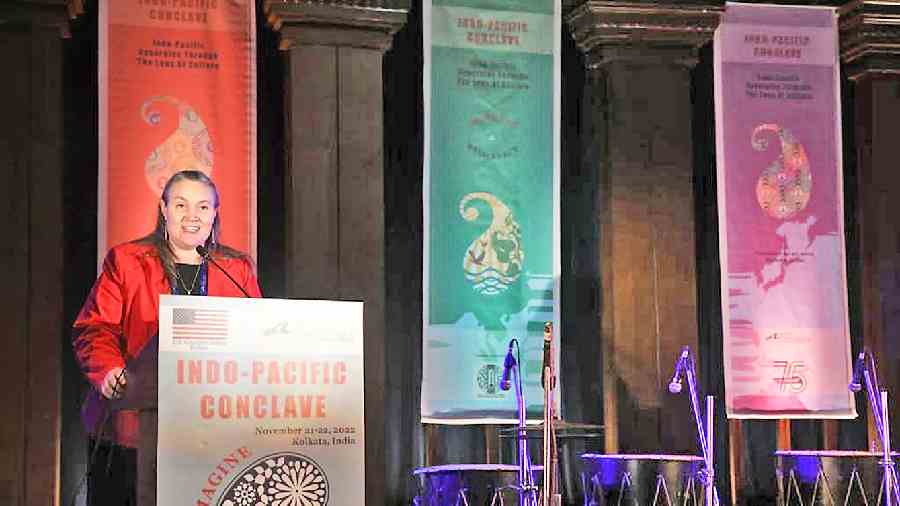 A two-day conclave that aims to "leverage culture as a tool to help promote a free, open, prosperous, and inclusive Indo-Pacific region" started at a city auditorium on Monday. The US consulate general in Calcutta and the Asian Confluence, a think tank, are organising the conclave on the theme "Reimagine and Reconnect: Indo-Pacific synergies through the lens of Culture". The inaugural address was delivered by Harsh V Shringla — chief coordinator for India's G20 Presidency, former foreign secretary of India and former ambassador to the US — who stressed the "importance of engaging with the region to be able to make sure that the Indo-Pacific region maintains a rule-based exchange, trade, and connect". The conclave opened with welcome messages from Sabyasachi Dutta, executive director of Asian Confluence, and Melinda Pavek (in picture), the US consul general in Calcutta. "The Indo-Pacific of today enjoys unprecedented economic ties and represents the world's biggest producers of goods and largest trade markets," said Pavek.