The first thing that catches your attention in the drawing room of Jyotirmoyee Sikdar's palatial home in CL Block is a larger than life-size statue of hers in a track suit standing at a corner, with a medal hanging round her neck. That stands for her rich haul at the 1998 Bangkok Asian Games — two golds, in 800m and 1,500m, plus a silver in the 4x400m relay race.
"That record of two individual golds at the Asiad still stands among Indians," smiles the former athlete cum ex-Member of Parliament.
The statue was gifted to her by the Nadia police during a felicitation. "The artist had based it on a picture of mine on the podium in Bangkok. The organisers said it could have been a better likeness if the sculptor could have a sitting with me. But where would I have the time? I was moving like a whirlwind from district to district," recalls Jyotirmoyee.
The year was 1998 and she was indeed on cloud nine since her return from Bangkok. It took her five hours to get to her Narkeldanga rail quarter from the airport. "There were lakhs on the road and makeshift stages had come up in five places along the way where I had to stop. Later, chief minister Jyoti Basu crowned me with a gold crown at a programme at Netaji Indoor Stadium (picture above)." That and the medals got her the sobriquet "sonar meye", that would be heavily used on her campaign trail much later, when she contested in the Lok Sabha elections in 2004 on a Left Front ticket.
"Subhasda (Chakraborty, the then sports minister) took me to every district. I would tell the boys and girls in the audience that if I could succeed, so could they. One need not eat chicken and mutton for nutrition. I got only vegetables, soaked peanuts and gram growing up."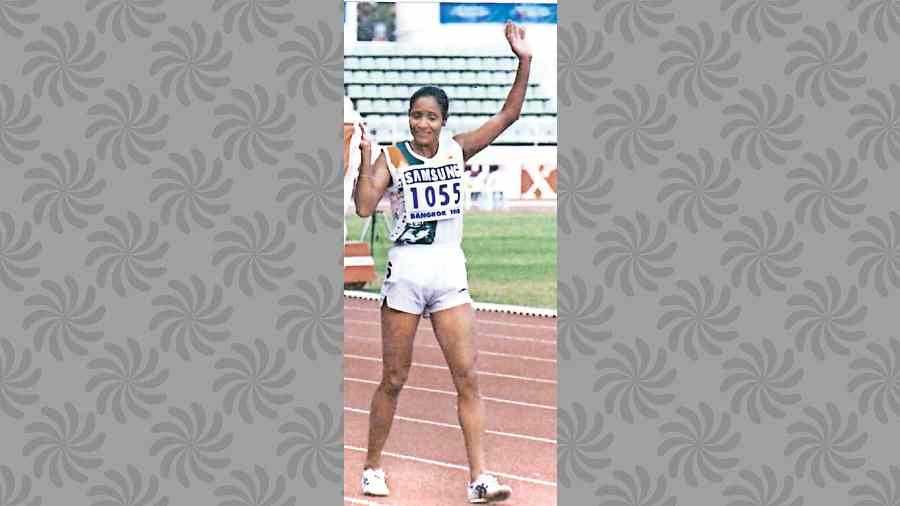 Jyotirmoyee Sikdar at the Bangkok Asiad
Jyotirmoyee was the fourth daughter of the primary school headmaster in Debagram, Nadia in a family that had migrated from Bangladesh (then East Pakistan) during Partition. "My mother and others wept when another girl child was born. But my grandfather predicted that I would shine some day and named me Jyotirmoyee," she smiles.
Inspired by the sister just elder to her, who played till the district level, young Jyoti would sprint in the field in shorts, a sight that caused consternation in the village. So she started practising at the crack of dawn. "Later when I became MP of Krishnanagar, I built a toilet in that field, to help especially the girls who would practise there," she reflects.
Her mother was against her going into sports. "Haat-pa bhangle biye hobe na" is what she would say.
Gradually young Jyotirmoyee made a name locally. Her school headmistress sent her to compete at the subdivision level, from where she competed at the district, state and finally the school national games in 1984. That was where she first got a track suit. "Till then, I used to run in skirts," she smiles.
More importantly, she caught the eye of Chinmoy Biswas, a coach from Jadavpur, who asked her who she trained under. On hearing she had no trainer, he started mailing her training schedules by post card. He enrolled me in Aryan Club, so I could play in the club meets."
Her performance made well-known coach Satyaranjan Roy seek her out. Once she cleared Class XII the next year, she shifted to Kanchrapara, where he was based, for both college and coaching. A gold medal in 800m at the university meet in 1988 and a railway job was hers.
She also got a call-up to the national camp in Bangalore. "I saw P.T. Usha and Shiny Abraham there. They were big stars."
Bengalis were looked down upon in those days in the athletics community, she says. "Shei kobe Rita Sen relay te ekta silver peyechhe (in the 1982 Asiad)." The southern girls ruled.
Flying start
Her first foreign trip was to Hong Kong for an invitation meet in 1993. But it was the Hiroshima Asiad in 1994 that was her first big meet. "(Controversial coach, later accused of doping his students) Ma Junren's record-smashing pupils were there, representing China. Still I could have got a medal if I had a little experience," she says. She came fourth in both 800m and 1,500m. "Only those who come fourth know the pain of missing out."
She would take out that frustration by training harder for the Asian Athletics Championship meet in Jakarta in 1995, where she even beat her "Shiny didi" to the gold.
Partner on & off field
In 1992, Jyotirmoyee met Avtar Singh, a former army man and athlete from Punjab who took part in the 1990 and 1994 Asian Games. They got married in 1994. "It was a low-key wedding, just to avert trouble at home and at the camp, from where we might have got thrown out otherwise," she laughs.
Avtar's event was the same as hers — 800m. "He motivated me and trained me beyond what the coach taught. Amar bhalo korte giye or nijer career kichhu holo na," she admits.
In 1998, the athletics contingent reached Bangkok quite a few days after the Asian Games had begun. "Even Pakistan had opened its account but India was still without a medal. My 1,500m gold was the first for us. Frankly I did not expect it, as my main event was 800m. But the manager saw the qualifying timings of others and urged me to go for gold."
It was a mixed day for the athletics team as P.T. Usha, the icon, missed out entirely and came back in tears. But it was smiles all round in Jyotirmoyee's room as her room mate Rachita Pandey too had got a bronze in 100m.
She still remembers the day. There were dope tests, frequent calls to go down and meet reporters —"There were no mobile phones in those days for them to reach us directly" — being unable to sleep at night in excitement despite the need to rest before the 800m heats the next day. "In between, I managed to speak to my mother in the village and Avtar in Kolkata, using a calling card that we were issued." Her mother would come over to her Sealdah rail quarters the next day, to be swamped by visitors.
"She complained how she would keep some tea ready in a flask for guests only for it to be emptied in a jiffy. She hardly had time to cook for herself, there was such a stream of reporters. My husband is so shy that he hid in the adjacent apartment," she laughs at the memory.
"Subhasda had blessed me from the hospital bed in Delhi before I left. He was recovering from a heart surgery. So after I got two golds, at his bidding, I was the only one who touched down in Kolkata on the way back while the rest went directly to Delhi to meet the Prime Minister. I joined them early next morning after the grand reception in Kolkata."
She got the Salt Lake plot from the state government as part of her Asiad booty. Team sponsor Samsung gifted her their entire range of products as India's best performer.
She took part in the Atlanta Olympics also in 1996. "I went as part of the relay team. After (P.T.) Usha didi (who came fourth in the Los Angeles Olympiad), it was the only event in which India had qualified."
In those days, she reflects, participation was the only aim for India in athletics at the Olympics. "Now, several make it to the finals of events and we have even got a gold (from Neeraj Chopra in javelin throw)," says the 52-year-old, who is now on the selection committee of the Athletics Federation of India.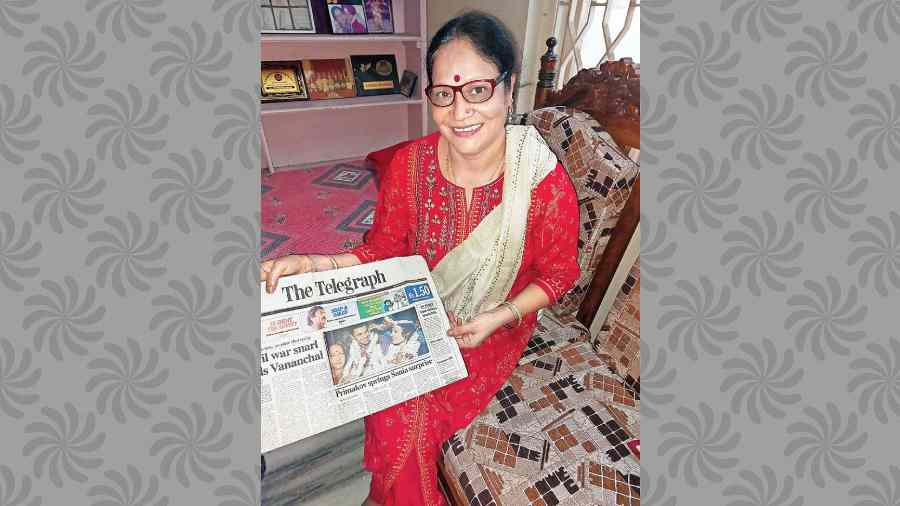 Jyotirmoyee Sikdar holds a copy of The Telegraph bearing a picture of her victorious homecoming from Bangkok.
Sudeshna Banerjee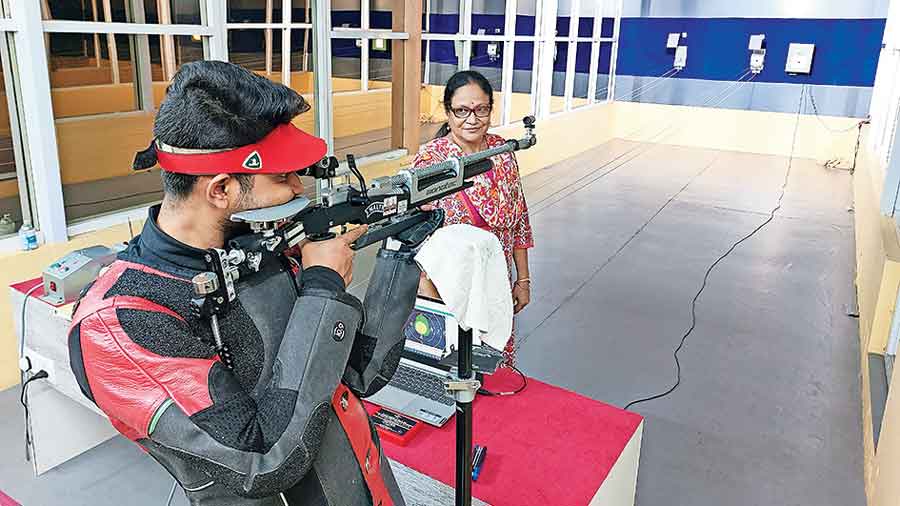 Jyotirmoyee Sikdar keeps an eye on her son as he practises in the range on the roof of her house in CL Block.
Sudeshna Banerjee
An injury put paid to her Olympic dreams before Sydney 2000. "I had started late. Age was catching up. Now I reflect that still perhaps I could have gone under the knife and tried again for full recovery. But I had no one to guide me."
She built a house on the gifted plot and shifted to Salt Lake in 2002.
Now, her dreams are centred round her son Abhrajyoti, a student of Amity University who trains at Gagan Narang's shooting academy in Hyderabad. "He wanted to be an athlete. But his father reasoned that he would not be able to cope with the rigours of an English medium school's regimen and athletics training. So we settled for shooting."
A 10m shooting range has been built on the roof of the CL Block house. "He has not seen poverty like we have," she reflects.
She is following India's showing in Birmingham. "We have traditionally done well in weightlifting at the Commonwealth Games. Let's see how we fare in athletics," she says, singling out discus thrower Seema Punia as a medal hope.