A 650-bed multi-speciality hospital will come up in Salt Lake Sector V. The hospital, named Rotary Techno Global Hospital, will be built by the Techno India group, in association with the Eastern India Rotary Welfare Trust which owns the space.
The group has taken over the Rotary Narayana Eye Hospital that has been operating on a part of a three-acre plot in CN Block. A 12-storeyed building will come up behind the existing structure that houses eye and dental wings.
At the foundation stone-laying ceremony of the new building on February 4, Techno India group founder Satyam Roychowdhury said the target was to complete the hospital in three years. "We plan to finish the first phase in 15 months and start a 300-bed hospital. The second phase will follow."
The group already runs Subodh Mitra Cancer Hospital in IB Block and Techno India Dama Healthcare and Medical Centre on the Bypass at the entrance of Salt Lake, other than Techno Global Hospital in Barrackpore.
"Since we are in academics, the new hospital will have nursing and paramedical training facilities as well. One wing in the new building will be academic and three medical," said Roychowdhury.
The group also runs two paramedical colleges and three nursing colleges at Sister Nivedita University, New Town, Techno India University in Sector V and another in Siliguri. While the first-named nursing college is linked to the Barrackpore hospital, the second is linked to the Salt Lake one for practical training. "This will be the first hospital in our group to have both teaching and practical training on the same campus," he added. The project will involve an investment of Rs 300 crore.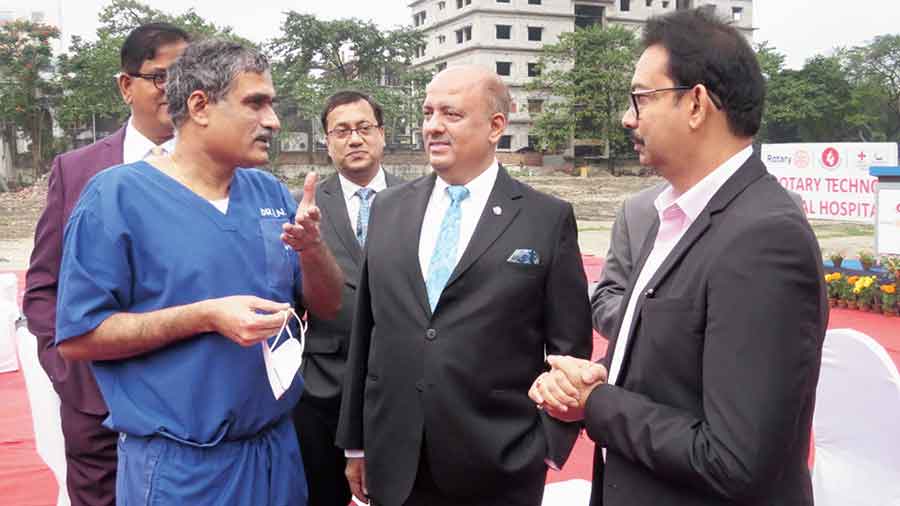 Techno India founder Satyam Roychowdhury (right) and Rotary International president Shekhar Mehta (centre) with Pankaj Rupauliha at the foundation stone-laying ceremony on Friday.
Picture by Sudeshna Banerjee
Two floors available in the old building will be utilised for bolstering dental care. "The eye and dental care wings will continue to operate from the current building. The new building will house the other departments, like women and childcare, cardiology, cancer care… With Covid putting the focus on lungcare, pulmonology will be an area of speciality," he pointed out.
Rotary International president Shekhar Mehta said the land was planned for a multi-speciality hospital from the start. "This should have been completed a long time ago but somehow did not happen. We built a part of the building. Then we realised that we were not experts in running hospitals. So we tied up with Dr Devi Shetty. He roped in Sankara Nethralaya. Thus Rotary Narayana Sankar Nethralaya was formed (by a tripartite arrangement among Asia Heart Foundation, Rotary International Medical Institute and Sankara Nethralaya, Chennai, in 2003). It became the premier eye treatment centre in eastern India. Then Sankara parted (in 2007) and started their own thing. Since then, this was running as Rotary Narayana Eye Hospital. Now Techno India has taken over and will build a multi-speciality hospital, like we had planned," said Mehta. "At Rotary, we do a lot of work in eye care and we have 11 eyecare hospitals in Bengal," he added.
The unit has been taken over as a running hospital. "All 64 full-timers are now staff members of the new hospital. This has been a seamless transition," said consultant ophthalmologist and EE Block resident Pankaj Rupauliha, who has been with the hospital since it started in 2003.