The girls wore yellow saris, boys bright kurtas but everyone of them wore ear-to-ear smiles that even double masks could not hide. Students had returned to school. For some of them, it was after two years, some for the first time in their lives. The occasion was Saraswati puja.
At Salt Lake Point School (SLPS), Pradyum Neogi and Arunabha Sirkar spotted each other from a distance and ran into a hearty embrace. "The last time we met we were in Class V," said Pradyum, now a seventh grader. "We speak over phone but nothing beats an actual meeting so we requested our parents to let us come today."
As per state orders, most schools had started physical lessons for classes VIII to XII a couple of days before Saraswati puja. Government schools started open-air sessions  for junior classes from the Monday after the puja. Nonetheless, the festival held a special place in the hearts of the youths.
"Our students had wanted to — not just attend but also — organise the puja along with teachers and we could not disappoint them," said Ellora Chowdhury, English teacher of BD Block's Bidhannagar Government High School, welcoming pupils present and past.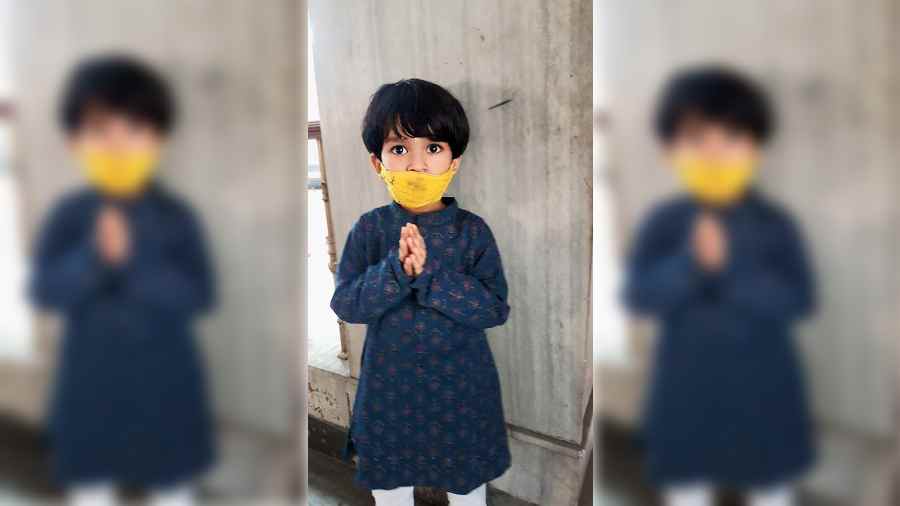 Little Rishan Roy all dressed up for puja at Bidhannagar Ramakrishna Vivekananda School
The joy of meeting
Avijit Guray of FE Block's Bidhannagar Municipal School said he was delighted the day he returned for physical classes. "I was even happier when I got excused from class the next day to help out with the puja decorations. I can't explain how I missed the camaraderie with friends painting alpona, cutting out artwork and sticking them around the pandal," sighed the ninth grader. Their puja was on the theme of Jamini Roy's art.
Sayantan Nandi of the AD Block school was just as happy. "This is our final year and we couldn't let go of the opportunity of organising Saraswati puja in school. I missed coming to school and am glad it has finally reopened; even though I have very few days left before the Boards."
Soumyadeep Sarkar — a 2020 passout — proudly says that theirs was the last batch to receive a farewell from St. Francis Xavier School (SFXS) before the pandemic. "I am in college now but am barely attached to the institution since we've only been attending classes online. On Saraswati puja, it's still my school that I yearn for," he said.
Dhrithiman Guha has been bringing the garland for his school's Saraswati idol since he was in Class VII. This year, he is in Class XII and brought it the final time. "We had such high hopes from our final year — we would have taken part in extra- curricular activities, gone on excursions... I was even hoping to be named head boy — or at least prefect — but look what happened!" said Dhrithiman. "Saraswati Puja is all we have. It's our first and last celebration so we have all hung on to it."
"That we are able to celebrate the puja is also a win for teachers, who have been coming to school regularly but missing the students in the classrooms," said Sajal Kanti Mondal, principal of Labanhrad Vidyapith in AD Block. Indeed teachers across schools were overjoyed to meet students and blessed them on receiving pranams.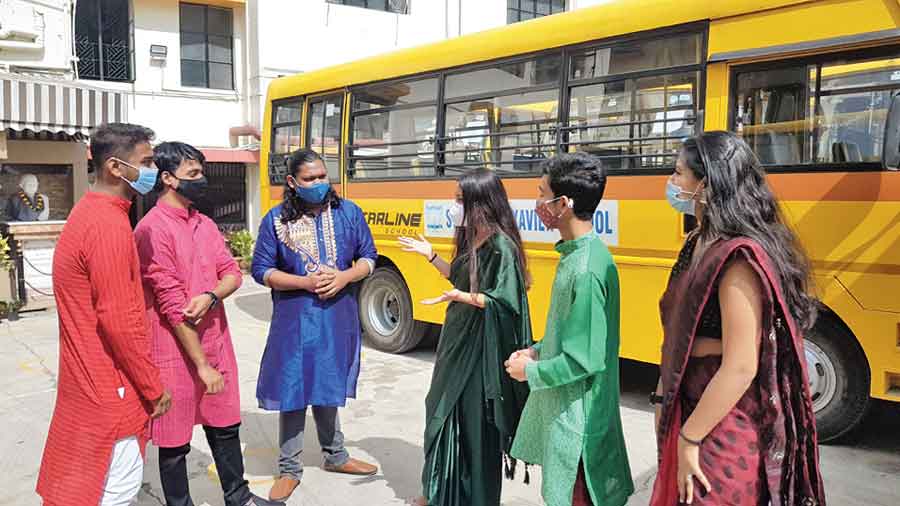 Students catch up after the puja at St Francis Xavier School
Face recognition fail
"Sir, bhalo achhen?" "Mask na namale kikore bujhbo ke?" This was a constant refrain throughout the day.
Samarpita Kar, commerce teacher at the FE Block school, said she mistook many a student in sari to be teachers. "With faces hidden by masks, this is a common mistake," she laughed.
"First, my teachers failed to recognise me with my mask on. When I removed it, they still failed to recognise me as I now have facial hair," laughed Sagar Saha, a Class IX student of the FE Block school.
A good number of junior students had come for the puja too, though most were disoriented. Priyam Rakshit, 5, scanned his FE Block school but could not see a single familiar face. "He's too young to match the stamp-sized faces on his online classes with those of real people," said father Prasanta, who fared no better. "I had wanted to introduce him to his teachers but we didn't recognise any. I had also wanted to show him his classroom but the guards wouldn't allow us in either."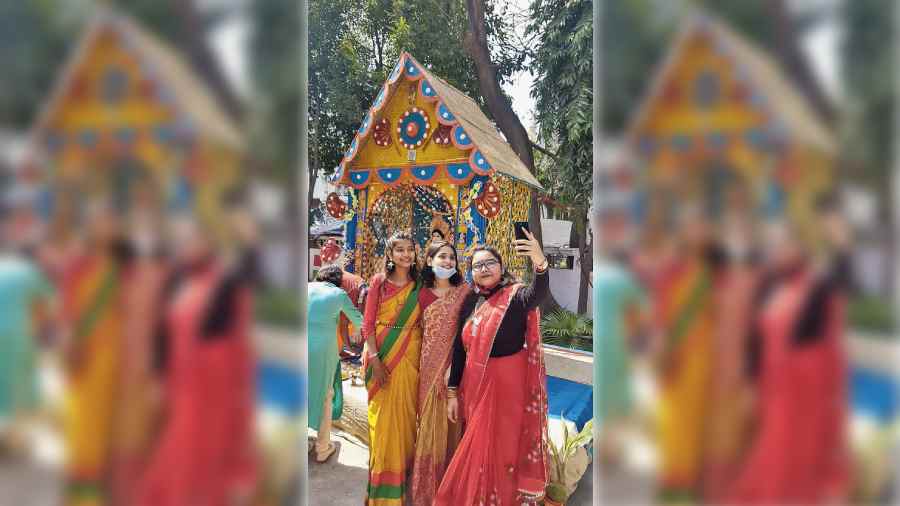 Students click a selfie with the idol at Bidhannagar Municipal School
Awkward rendezvous
Vidya Kumari has been studying online in KG1 of DD Block's Bidhannagar Ramakrishna Vivekananda School (BRVS) since January but was blank when she met her classmates for the first time at the puja. Individually, they all said they would like to play hide-and-seek but were too shy to make the first move. Their mothers tried their best to get them to talk but the kids would just not warm up to the idea.
"Amar ektao bondhu nei," seven-year-old Reyansh Mitra shook his head sadly as his father walked him out of the FE Block school. "My son has never seen a blackboard, never sat on a bench and doesn't know how much fun classmates can be. All the more reason why I brought him to school today. At least I could show him what it looks like," said his father Partha Pratim. "His generation thinks school is a mobile app."
Covid protocols
With all the added footfall, the institutes had taken measures to ensure Covid protocol. Those like BRVS and SLPS had placed the idols inside an enclosure so students would not crowd around it.
"Our guard was offering sanitiser at the gate and students were asked to step into a shoe sanitiser before entering the school," said Juliana Shukla, academic advisor of SLPS. "As for students below Class VIII, they are only being allowed in with guardians."
SFXS had deployed an app to control footfall. "The name, phone number and body temperature of visitors were getting logged into the MyGate app at the entrance. A notification was then being sent to the teacher concerned and only those who got approval were being allowed in," said Ajay Chopra, secretary and administrator of the school. Students below Class VIII were allowed in only with written consent of guardians.
Labanhrad Vidyapith had created time slots for visitors. "It's one hour each for pushpanjali of classes between VIII and XII," said principal Mondal. "Also, students are bringing their own flowers and bel pata and prasad is being distributed in sealed containers that they can carry home."
Hariyana Vidya Mandir was so careful that they did not allow students in at all. "We held the puja but it was attended only by about 10 staffers," said Suvalakshmi Bhattacharya, vice-principal of the morning section. "We missed our children and the crowd that would come in on this day in other years as well as all the cultural programmes put up by students. But we didn't want to take the risk this year."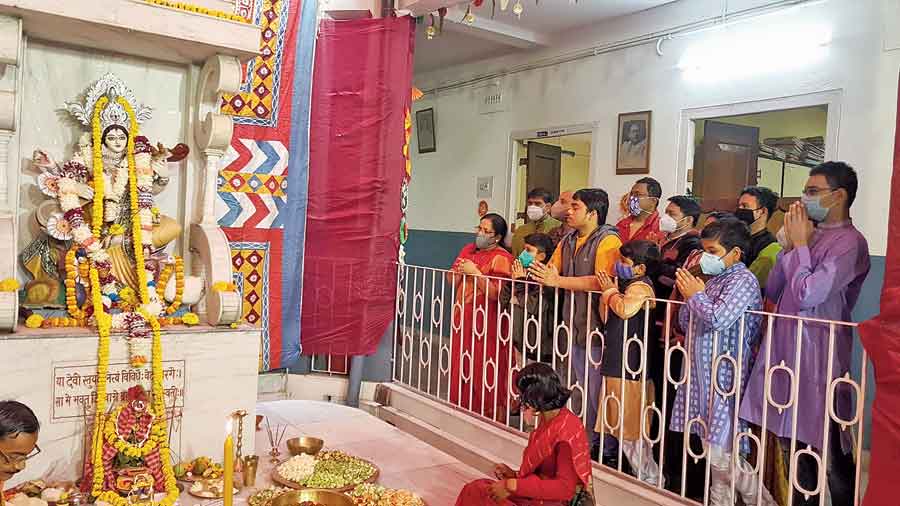 Students of Salt Lake Point School pray from outside an enclosure, to prevent crowding.
Pictures by Brinda Sarkar
To class after puja
From the Monday after Saraswati puja, the AD Block school began lessons for classes V to VII in their quadrangle and the BD Block school held theirs in their field. "Attendance is 100 per cent. No one wants to miss school," said Ellora Chowdhury, English teacher of the latter. Both schools however have declared a holiday from February 10 to 14 as the premises will be used for elections.
"Our students are coming on a rotational basis and we have tied up with several NGOs, such as CINI and Pratham, to fill the learning gap that the pandemic has brought about. They specialise in imparting open-air education in informal spaces and are sharing teaching modules and Powerpoint presentations so our teachers can incorporate their methods and teach children in the school grounds," added Mondal, the principal.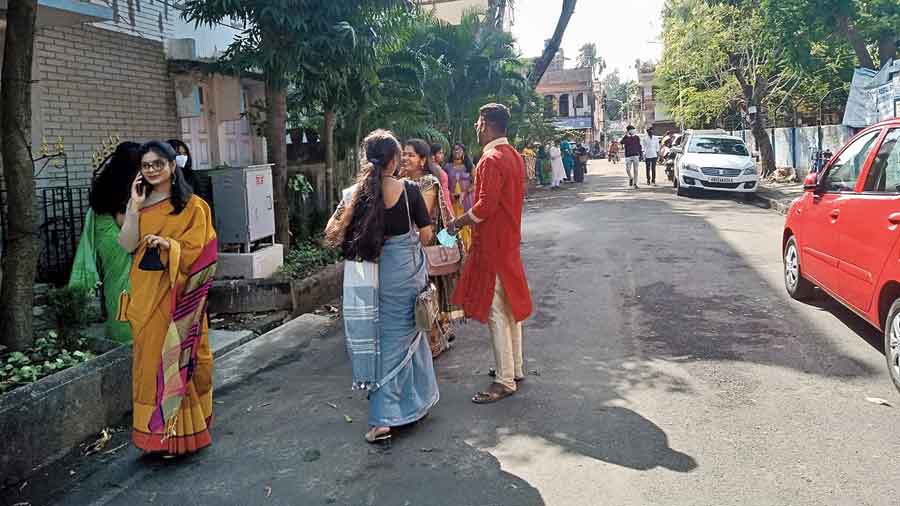 Students mingle outside Bidhannagar Government High School after Saraswati puja
Showli Chakraborty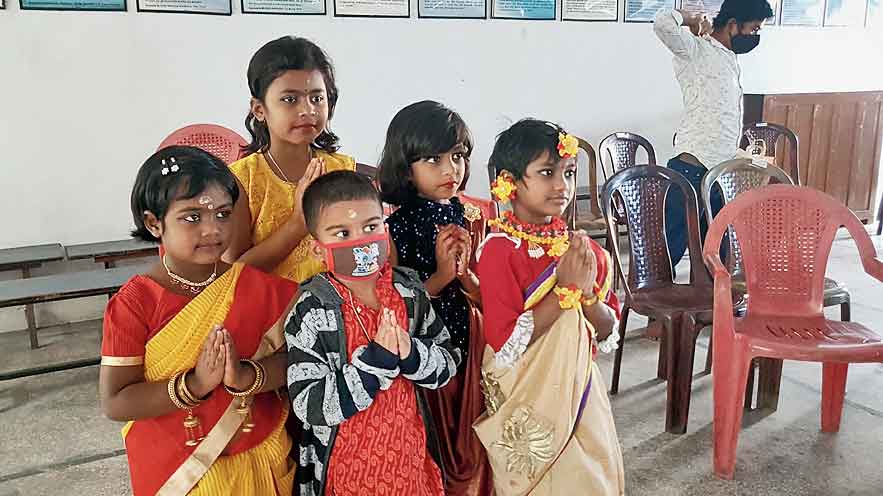 Children of Bidhannagar Ramakrishna Vivekananda School pray before the idol
Bidhannagar Ramakrishna Vivekananda School is mulling starting classes for all. "We started classes for seniors from Monday and are recording 40 to 50 per cent attendance. We have a big hall on our ground floor where we can accommodate students from lower nursery to Class VII and are weighing our options. Not all guardians are on board, though," said secretary of the school Chanchal De.
Private schools like SFXS are continuing with hybrid classes. "We are recording about 80 per cent attendance for physical classes of VIII to XII. Online classes are on but we are calling in students on an even-odd roll number basis. It's the best we can do to ensure safety during the pandemic," says Chopra, adding that there was five per cent vaccine hesitancy at the camps they held for students at the school.
Did you visit school for Saraswati puja? Share your experience. Write to The Telegraph Salt Lake, 6 Prafulla Sarkar Street, Kolkata 700001 or email to saltlake@abp.in