Kolkata Saras Mela
When: Till January 3, 12noon to 8pm
Where: New Town Mela Ground
What to expect: Eighteen states are taking part in the 17th edition of the fair which has 256 stalls. There are self-help groups from all the districts as well. The Karigorer Haat will have live demonstration of the making of bags and home decor items, Goyna Bori, costume jewellery, chhou mask and pata chitra as well as kantha stitching.
For the first time, there will be a mobile library equipped with books for children where parents can leave their tots and roam the fair. The library will be under the care of women trained in childcare who run the government's Integrated Child Development Services.
There will a food pavilion, a jute pavilion and a nursery pavilion, where cacti from the hills and various saplings from the districts are sold alongside gardening equipment.
A food park is coming up at a side next to the Smart Plaza where 30 stalls will sell pithe puli and snacks.
Culture programmes will take place every evening.
Bangla Sanskriti O Prakriti Utsab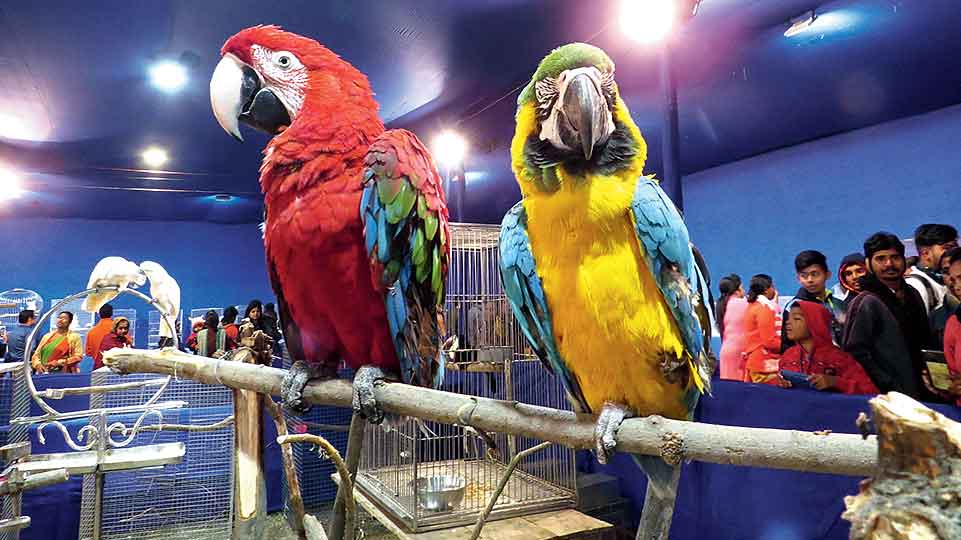 When: Till December 25, 3pm-9pm
Where: BJ Park
What to expect: A big draw at the festival is the exotic bird show. From cockatoos to macaws, some of the birds are trained to sit on hands and shoulders of visitors. Fruits, flowers and vegetables in pots also feature on the show.
Raktim and Jyoti of Zee Bangla's Sa Re Ga Ma Pa fame will perform on Christmas Eve. The Christmas line-up features Anindya Chatterjee and Upal Sengupta of Chandrabindoo, Soumitra Roy of Bhoomi, Debajyoti Mishra, Shilajit, Lagnajita, Somlata Acharya, Parama Banerjee and Raju Das Baul. The band Lakkhichhara will also play.
Kolkata Pous Utsav
When: Till December 26, 12noon -9pm. Cultural show from 4pm.
Where: Rabindra Tirtha
What to expect: A pavilion for rural women entrepreneurs and artisans representing Bengal districts will put up their products. There will be garments, upholstery, jewellery, furniture, decor, homemade food products and craft items made of metal, wood, bamboo, coir and clay on sale.
A themed food pavilion will serve traditional items like Joynagar moa, patishapta and various Christmas confectionery items.
Folk artists, representing chhou, bhatiyali, baul, Santhal and bahurupi traditions, will perform on the akhra lawns and stage.
On December 24, Jayati Chakrabarti will present an hour of Tagore songs followed by a group dance, led by Devlina Kumar.
On Christmas Day, Fiddler's Green, an acoustic world folk jam band, will present an hour of bhatiali, baul, fakiri and goalpariya.
The day after, on December 26, Behala Batayan will present Jodi Ekbar, a social drama on the film industry, to be staged by Behala Batayan. The play features Saheb Bhattacharya, Devlina Kumar and Indrashish Roy. The rock band Impulse will also take stage.
A lantern show will bring the curtains down on the festival's third edition.
Poush Parban & Christmas Utsav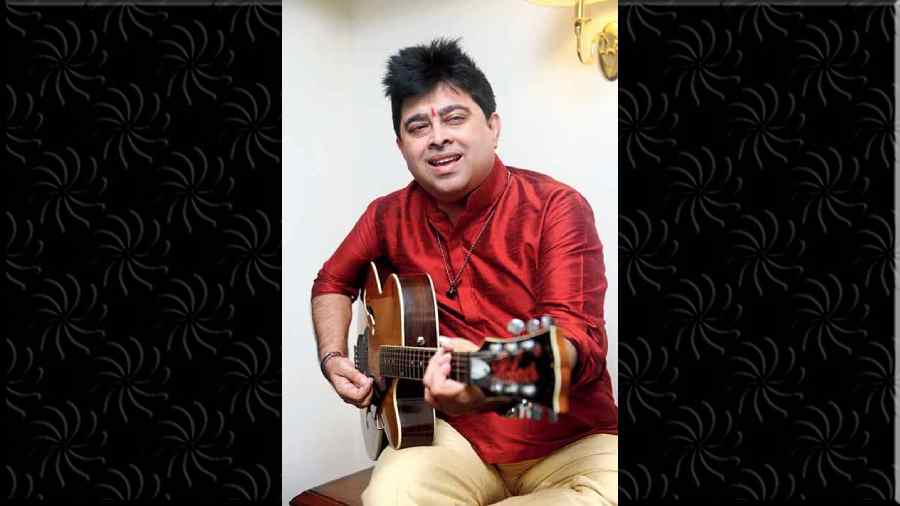 Jeet Ganguly
When: December 24 - January 2, 7pm onwards
Where: The VIP Road service lane from Golaghata to the Sreebhumi clock tower
What to expect: The carnival will have around 70 stalls, including from Aminia, Balaram Mullick & Radharaman Mullick and Mio Amore to Bika and Gautam's. Local specialities like sitabhog from Burdwan and moa from Joynagar will also be sold.
Music is a huge draw with top-notch artistes turning up for open-to-all performances.
December 24: Rupankar, Tollywood actors Ankush and Oindrila
December 25: Srikanta Acharya and Subhomita
December 26: Nachiketa and Lopamudra Mitra
December 30: Sriradha Bandyopadhyay and Jolly Mukherjee
December 29: Saikat Mitra and Bhoomi
December 31: Monomoy Bhattacharya and others.
January 1: Emon Chakraborty and Raghav Chatterjee
January 2: Jeet Ganguly and Indranil Sen