If Kumar Sanu came to Salt Lake for Kali Puja, can Udit Narayan be far? The township continued its 90s music hangover as Karunamoyee (ED Block) Abashikbrindo Jagadhatri Puja Committee invited Narayan for the 13th edition of its celebrations last week.
Fans like Anindita Nag were waiting for the singer from 6pm so as to not miss a single song. "But it's already past 8.30pm and I don't know when he'll arrive," lamented the GC Block resident.
Finally at around 9, the singer's convoy entered the ground and his soothing voice silenced the cheers and claps with Papa kehte hai. Tere naam, Akele hai, Pehla nasha…he belted out hit after hit and pleased the audience by asking in Bengali: "Shobai kemon achhe? Apnara shobai bhalo toh?" He urged them to sing with him too. "Jadoo teri nazar," sang Narayan and "Tu hai meri Kiran," the audience responded.
Requests poured in too. "In fact, so many requests are coming that I shall try a medley of all these numbers," he promised.
The crowd clapped, waved and ran towards the stage for selfies as he sang Aye mere humsafar and Raja ko rani se. "I can't believe I got a selfie with Udit Narayan! He is such a wonderful artiste and is so down to earth. He went down on his knees and smiled into my phone so I could get a good capture from under the stage. Who does that?" beamed Ruchika Agarwal of AL Block.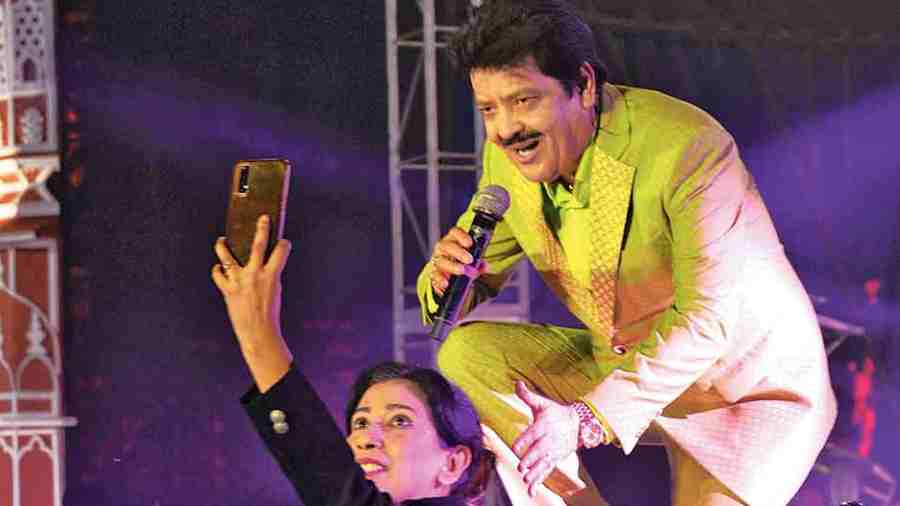 A fan clicks a selfie with the singer at the edge of the stage
The singer's wife Deepa Narayan also joined him on stage towards the end of the show singing Kuch kuch hota hai and Dil toh pagal hai.
The audience comprised fans of all ages. Mohima Bakshi had rushed to the venue from office and had her mother save her a seat. "I was so excited to know Udit Narayan would come to our complex. He's my favourite singer and my childhood is replete with songs in his melodious voice. I used to fight with my mother to let me buy his cassettes," laughed the IT sector employee.
There was also septuagenarian Debendra Pal standing in front of the crowd, cheering away. "These are musical jewels of our country. I still listen intently to 90s songs when they are played on the radio; the music back then was different," said 75-year-old from FE Block.
Swarnali Banerjee got nostalgic too. "It feels like I'm back in the Salt Lake of the 1990s," smiled the FD Block resident wistfully. "A few days ago, Kumar Sanu had come and now we have Udit Narayan. We have grown up listening to these voices and I can't believe I'm hearing them live. Uditji's voice is mellifluous and his smile disarming."