Old cola bottles piling up in the kitchen? Defunct transistor sets, drained out batteries and fused bulbs clogging the store room? Head to CA Market for an eco-friendly solution to dump these.
On World Environment Day, a plastic bottle shredder and an e-waste collection unit were set up outside CA Market. The kiosks were inaugurated by minister and MLA Sujit Bose in the presence of mayor Krishna Chakraborty and a host of other dignitaries.
Bose congratulated councillor Rajesh Chirimar for the initiative and said this was the third bottle crusher he was inaugurating around town. "Plastic is a menace, especially when they clog drains and canals during monsoons. This is a commendable initiative and I shall provide two more such machines in the constituency from my MPLAD fund," he announced, before handing over jute bags to market vendors through secretary of CA Market Babsayee Samity, Arun Roy.
Antara Acharya, secretary of PWD and a resident of CA Block, was among the guests. "Such machines are the need of the hour but it's up to the public to use them responsibly. Let CA Market be a role model for the rest of the township," she said.
Plastic bottle shredder
The shredder has been installed by the Siddhartha Shankar Ray Foundation, of whose secretary is councilor Rajesh Chirimar.
Users simply have to release their bottles into the neck of this machine and the shafts inside them close in a way that shreds them to small chips. The machine can handle up to 500 bottles at a time, of between 200ml and 2l. "We are asking users to empty the bottles before dumping. Any residue water in the bottles will not harm the machine but any juice or cola may corrode the shafts over time," said Vivek Agarwal, proprietor of Apex Enterprises that is the east India distributor of the Hyderabad-based producer of these Avanti bottle shredder machines.
Agarwal explained that reusing these bottles to store drinking water was not healthy. "Plus, in the suburbs, vendors refill these with tap water, seal them and resell. Shredding prevents all of this. The machine also reduces the volume of waste. Food courts at malls or even corporations have to spend a lot to transport bottles to the dumpyard otherwise," he said.
From dumpyards, bottles are usually picked up by rag pickers and sold to recyclers, who wash and segregate them. "The bottles are pressed, baled and a reprocessor makes rayon fibres out of them to use to make sneakers, denims and even roads," explained Agarwal, an FE Block resident, who has installed more such machines at the airport and across railway and Metro stations. "But if the bottles are shredded, one gets to skip many of these steps and go straight to the fibre."
Despite the harmful effects of plastic, Chirimar pointed out how versatile the material was and that its use could not be stopped overnight. "So the best alternative is to reduce the production of fresh plastic. These machines will do just that by easing the recycling of plastic," he said.
"While we have installed one such machine, worth Rs 90,000, Sujitda has promised an even bigger one for my ward. That machine would shred other forms of plastic too and we hope to collect 150 to 200kg of plastic per day from the ward then. It would be a pilot project, which if successful, other wards may consider too," said Chirimar.
E-waste collection drive
The drive to raise electrical and electronic waste is being pushed by Chirimar in his capacity as councilor. An e-waste collection box has been installed outside CA Market for visitors to dump anything from wires and old phones to bulbs and printers.
"It's dangerous to dump these along with other waste or even sell them to raddiwallas," explained Joy Pansari, co-founder of Add My Bin, that has installed the unit. "The raddiwalla dismantles these gadgets to retrieve and resell the metals in them but the acids that leak out seep into the soil and ruin it; the gases that get released cause air pollution and the chemicals harm the raddiwalla himself, as he touches them without adequate protection."
But what you deposit at the e-waste box would be sold to a licenced PRO (producer responsibility organisation). "PROs are authorised by the central pollution control board to safely dismantle and segregate e-waste before selling them to recyclers," said Pansari. 
Since people are used to getting some money from raddiwallas in return for their waste, Add My Bin is offering incentives too. "We shall offer discount coupons for restaurants, salons etc. in exchange for the waste," he said. "We shall try for coupons within the ward itself, so it's convenient for residents. Anyone giving up e-waste is also eligible for certificates stating the description and weight of the e-waste they have deposited."
To deposit e-waste, residents are requested to contact the ward office in BA-CA Park.
Chirimar is also keen to set up another collection centre at the ward office. "Our conservancy workers have started going door-to-door on Sundays asking for e-waste. Depending on the response, we shall set up the centre at the ward and offer coupons as incentives too," said Chirimar.
In what ways are you contributing to the fight against plastic and e-waste dumping? Write to The Telegraph Salt Lake, 6 Prafulla Sarkar Street, Kolkata 700001 or email to saltlake@abp.in
On mass extinction & water wastage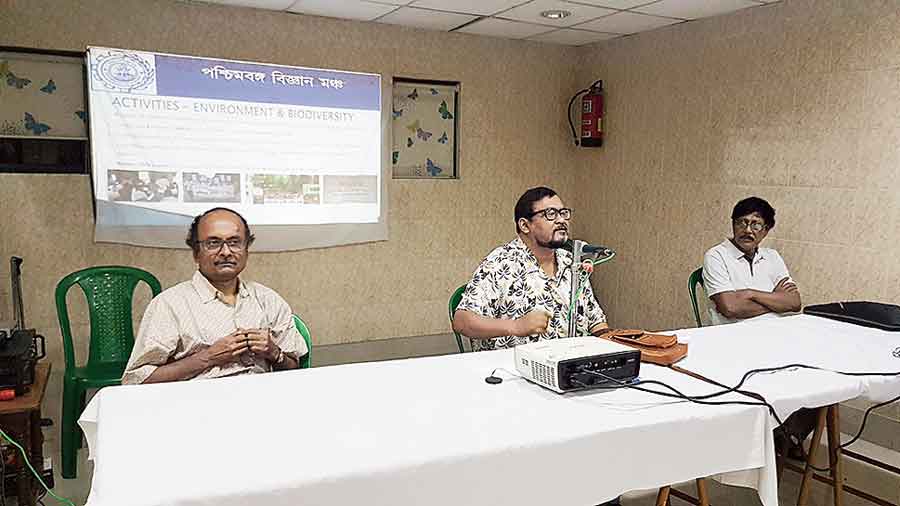 Speakers at the Environment Day meet at Kashmir Bhavan.
Brinda Sarkar
Nuclear energy, mass extinction, global warming… members of Paschim Banga Vigyan Mancha (Bidhannagar Vigyan Kendra) discussed all these topics and more on World Environment Day.
Held at Kashmir Bhavan in CK Block, the meet began with Anup Sen wondering how much longer humans would dwell on earth. "There have already been five mass extinctions in the millions of years of this planet that have wiped up majority of life forms in their ages. But they have all been due to natural causes. The sixth extinction, however, will not only be man-made but it has already been initiated," said Sen, a retired bank employee and resident of Labony Estate.
This anthropocene extinction is an ongoing process caused by human activities like global warming and climate change.
Arnab Roy, a retired engineer, asked the world to follow the 3Rs — reduce, reuse, recycle. "But strong government laws are needed to push these," he said. "For instance, it's fine to encourage households to save water but their consumption is nothing compared to the amount of water the agricultural industry uses up. Laws need to clamp down on farmers using chemical fertilisers and pesticides that eventually drain into the sea and disturb the marine ecosystem. Similarly, infrastructure needs to be improved so our farmers do not resort to deep tube wells and deplete the underground water table."
Basab Basak, who teaches biology in high school, held up a mirror to society. "For most people, World Environment Day is celebrated by forwarding messages to friends, taking part in awareness marches and perhaps, scolding shopkeepers for using plastic bags," said the FE Block resident. "But think about who generates the demand for plastic." 
Nitai Mukhopadhyay, former scientist at Bhabha Atomic Research Centre, spoke on alternative sources of energy. "There are options like solar, hydel and wind energy but India does not have adequate scope for them. Nuclear power is our best bet," said the resident of AK Block.
He explained that while India has just one or two per cent of the world's uranium deposits, it has 25 per cent of its known thorium, one tonne of which can generate as much energy as 200 tonnes of uranium or 35,00,000 tonnes of coal. "At present, India's reactors are uranium based but work is on to build thorium reactors," Mukhopadhyay said.
The general public, he noted, had misconceptions about nuclear reactors and deemed them unsafe after the accidents at Chernobyl and Fukushima. "But the safety features in Indian reactors are much more advanced. In case of an earthquake, for instance, the systems will self-shut. Plane accidents happen once in a while too but one does not stop air travel as its benefits exceed the risk," he said, hoping that work resumes on the nuclear plant at Haripur in Bengal.
Brinda Sarkar
Write to us at saltlake@abp.in
Opt for minimalist lifestyle: Experts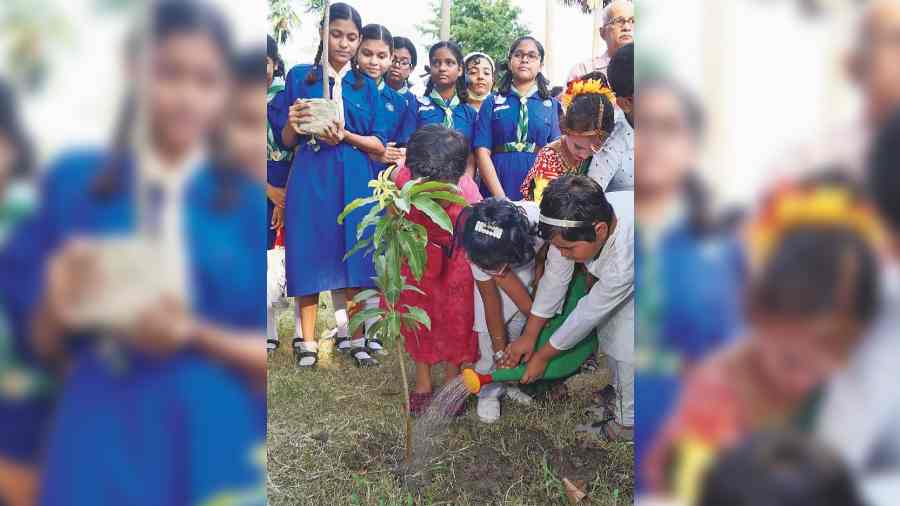 The tree plantation drive at Bidhan Sishu Udyan.
Children of Bidhan Sishu Udyan, in Ultadanga, got to hear from eminent names from the scientific community after an afforestation drive on World Environmental Day.
The event was held in association with Save the Children foundation, Kolkata Association for Science and Environmental Development and Science Communicators' Forum. 
"We have a huge plot of land and plant a lot of trees round the year but due to the pandemic, work had come to a standstill. We are trying our best to make this space greener now," said Gautam Talukder, secretary of Bidhan Sishu Udyan. "One day of planting a few trees won't bring a change but we can make the younger generation aware about the need to do so."
Samar Bagchi, former director of Birla Industrial & Technological Museum, planted saplings and requested parents in the audience to reduce consumerism. "Restrict the gifts you give children. In our day, we'd be delighted with a single set of new clothes during the Pujas. We have to move back to a more minimalist and sustainable lifestyle," he said.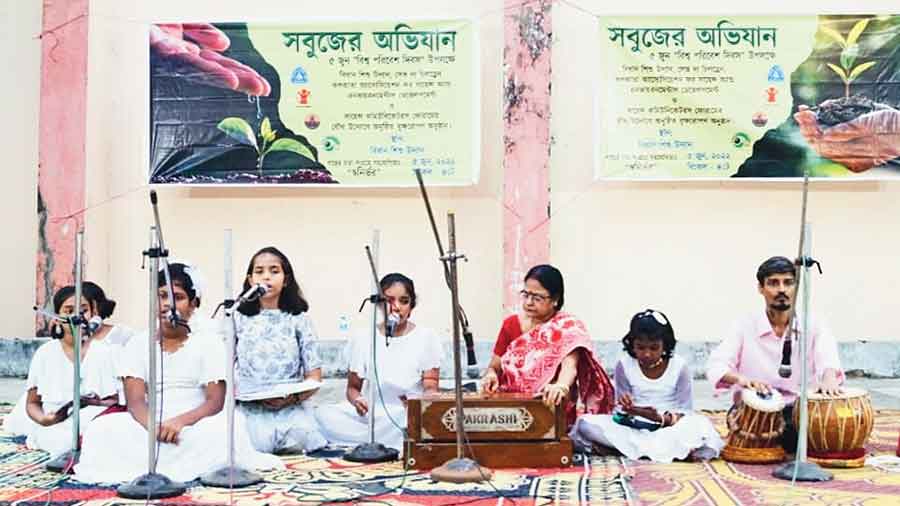 Kids on song
Sibaji Raha, former director of Bose Institute, said we had not inherited this world from our predecessors but rather have borrowed it from our successors. "We have done enough damage to this planet and must now try and leave it in a better shape for future generations."
"When we look at the earth's pictures taken via satellite images, we realise how exponentially the cities are expanding, resulting in more brick production which causes enormous amount of pollution. They also scrape more and more mud from riverbanks, leaving behind hardly anything. The rivers have become tunnels nowadays," said Tapan Mishra, former director of Space Applications Centre and former senior advisor to ISRO.
Jaydeep Hazra, professor at University College of Science, Technology and Agriculture (Rajabazar Science College), Debashis Sarkar, advisor to the state education department, and activists for Science Communicators Forum were also present at the occasion. Prof. Anupam Basu insisted on protection of water bodies and urged the younger generation to protest against illegal encroachment of water bodies while Abhijeet Bardhan insisted on making planting trees a habit.
Shreya Chatterjee