Debadrita Das has always stopped to stare at idols that showcased shola work. This year, she is happy to welcome pandal-hoppers who come to see her little pandal that uses the raw material.
Debadrita, a resident of CJ Block, has built a table-top pandal. Standing at a height of 20 inches, it has a thakurdalan, pillars, staircases, a gorgeous chandelier that lights up and a cute 10 inch idol Durga made of air-dried clay, decked in shola finery.
"In 2020 I tried making my first pandal. It was smaller and made mainly of cardboard boxes. Last year I didn't get time. This time I started work from around Rathyatra so I could juggle it with office work," says the IT sector employee.
The pandal is a tribute to artisans, particularly those who work with shola. "I have always been awestruck by the craft. Modern art and daker saaj idols are wonderful too but shola is unique to Bengal and I want this tradition to thrive," Debadrita says. "It breaks my heart to see these idols getting immersed after the Pujas so I wanted to make one that I can showcase in my living room shelf."
The execution came after the training, for which Debadrita made umpteen trips to Kumartuli. "I observed the sculptors at work and learnt how shola is the inner-most layer of the shola tree trunk. It is delicate and has to be carved out with great care. I wanted to do everything from scratch so I bought raw shola. My first few attempts were poor and I wasted some sheets but eventually got the hang of it," she says, showing beautiful shola jewellery she has crafted.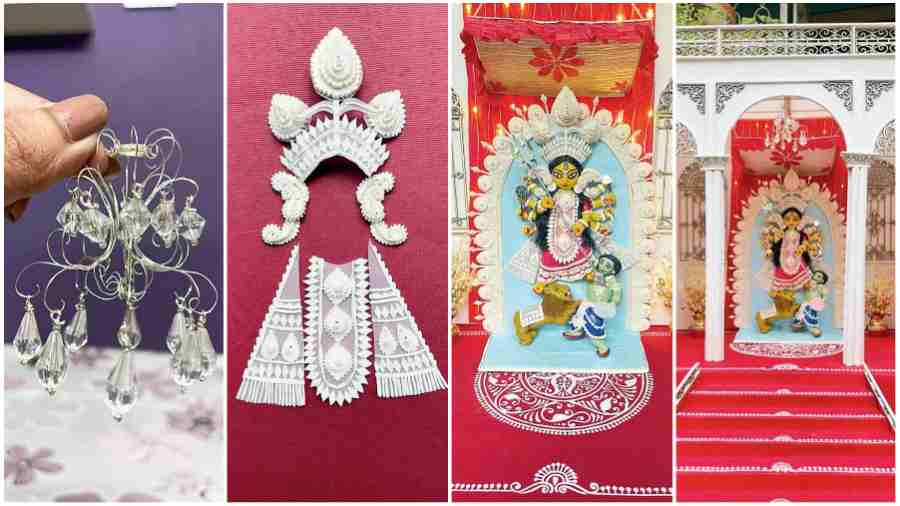 Glimpses of the idol, the shola jewellery and the chandelier
Her pandal's structure is made cardboard boxes, cut out and covered in festive red marble paper. Being an electrical engineer, Debadrita knew she wanted her pandal to be lit up. So she connected little circuits and bulbs for the job. "The little chandelier was the most labour-intensive part of this pandal. I had to bend tiny silver wires for the shape, join them and stick crystals on them."
Debadrita has no training in art and craft but explores ideas from YouTube. "I also owe a lot to the Kumartuli artisans who have guided me repeatedly in my journey this year. In fact, they are eager to see my end product," smiles the girl who would be just as excited if pandal-hoppers go over to see her pandal and enquire about shola. "All are welcome at Sri Sri Debadrita Sarbojonin Pujo," she laughs.