Theatre rehearsals to forming vigilante groups to shoo off labourers of under-construction houses whose practice was to relieve themselves in the empty plots… such were the memories of their early years in the block that CG Block residents shared in course of an adda on Panchami.
The session, titled Purano sei diner katha, was moderated by president of CG Block Welfare Association Shyamal Gan, who introduced adda as a form of non-formal education. 
Ushasi Mitra, the block's ladies forum chairperson, recalled her alarm when she first visited their CG Block plot with her husband. "The land was covered with kashful and weed and I don't know how my husband even identified the plot in the first place," she said. "But once we moved in, I developed close relations with neighbours. I also got involved with welfare activities and started enjoying myself."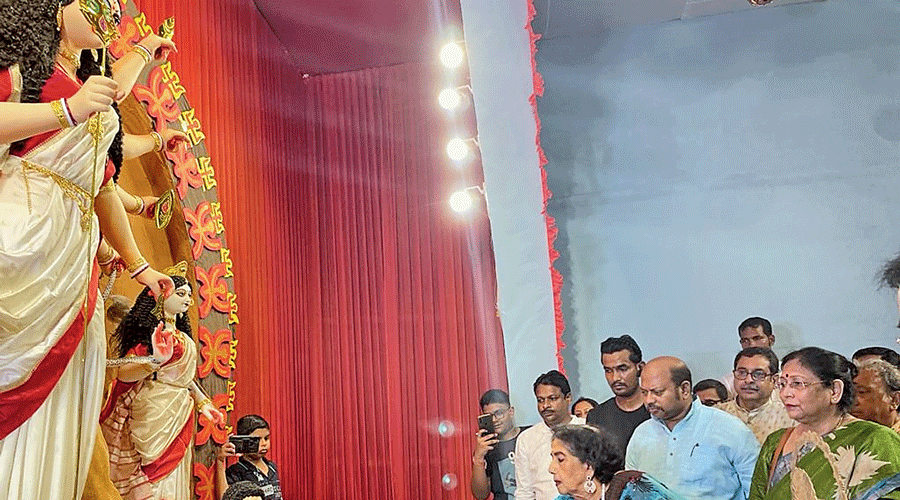 Veteran actress Sabitri Chatterjee at the IB Block pandal on Panchami
Bharati Kanjilal
Dibyendu Dey, who shifted here permanently in the 90s, recalled an educational tour organised for the children of the block called Cheno Kolkata Chalo Kolkata. "It drew 65 participants. "I accompanied the kids as a guardian on that trip but enjoyed it just as much. We went to Marble Palace, the grave of Job Charnock, Jorasanko Thakurbari and even got to meet solar energy expert S.P. Gon Chaudhuri. That trip really left an impression in my mind," he said.
Purabi Mukherjee said she was proud to belong to CG Block. "This neighbourhood provided me and my children with deep cultural roots and I hope the bond among residents continues to remain strong," she said.
Octogenarian Naresh Bijoy Bhattacharya recalled the 80s and early 90s when the surroundings were used as defaecation grounds for labourers. "To prevent them, block members started patrolling the area on rotational basis from 4am to 6.30pm," he recalled.
Bhattacharya was also passionate about theatre and would involve neighbours in theatre productions. "Once I had to give proxy in a ladies' play Becharemer Biye. The man's role was to be enacted by a lady, who suddenly took ill and I filled in. That was probably the first time a man acted in a women's play in our block," he smiled. Another production Digbijoyee, starring 40 block residents, gained much popularity throughout the city, he added.
General physician Pinaki Mukherjee recalled moving into CG Block in 1985 with his wife and six-month-old son. "I too am a theatre lover and would take part despite my busy schedule. A major attraction was the adda in between rehearsals and the lip-smacking snacks prepared by the ladies for the actors," he said.