Old times are back, was what a mother of an 11-year-old girl said while waiting for over 45 minutes to get Easter goodies from a confectionery shop.
After a lull in celebrations over the last two years because of Covid, people are back buying Easter eggs and buns and shop owners and those running small businesses from home are thrilled.
On Thursday evening, Dorothy Kolentine and her daughter had to wait for 45 minutes to get chocolates from Nahoum & Sons in New Market for Easter, which will be celebrated this Sunday.
"The confectionery was crowded. But it is a ritual for us to go to New Market to buy Easter eggs, ham, salami and meat loaf, which we eat for breakfast on Easter," said Dorothy. 
The confectioners were happy that children were back in the store to choose their favourite Easter egg.
"Some of them wanted Minion or emoji eggs. We have catered to that as well," said Debra Alexander, owner of Saldanha Bakery. "Business has definitely picked up. Orders started coming in three weeks before Easter."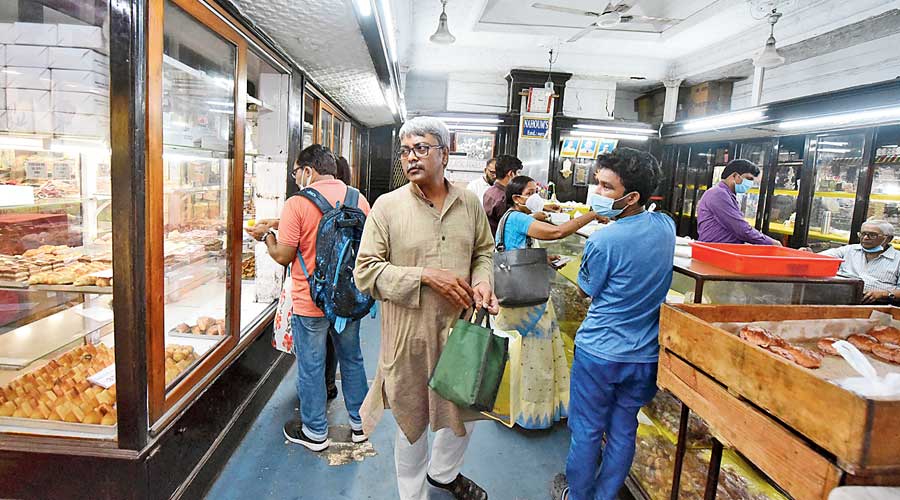 Easter shopping at Nahoum & Sons in New Market on Friday.
Small businesses were content with the sales this year.
Shelley Joseph, who sells pickles, jams, cakes and other items from home, said orders had been coming in from mid-March, when she started posting pictures on social media.
Mary Ann Wakerell, who runs a small eatery in Picnic Garden in southeast Kolkata, said: "For Easter Sunday, people order yellow rice and pork vindaloo… we have to be ready with price and discounts."
Many churches were packed on Good Friday. The parish priests, however, insisted on following the Covid protocols.
The vicar general of the archdiocese of Calcutta, Father Dominic Gomes, led a procession of about 300 people for Good Friday Stations of the Cross, from the Park Circus church to Auxilium Convent Sisters on Syed Amir Ali Avenue in south Kolkata.
"We could not do this in the last two years. This year people are happy to be back," said Father Gomes.