Rosedale Garden in Action Area III is taking an initiative to provide healthcare facility within its complex walls at reduced rates.
A medical consultation service has been started at the two-storeyed senior citizen's block, where some doctors residing at the housing complex will be sitting to check on their neighbours and staffers at fixed hours of the day round the week.
"Before Covid, we had a resident, P.K. Agarwal, specialising in internal medicine and pulmonology, who used to treat people inside the complex. But the practice stopped during the pandemic. We thought of reviving the facility in a more elaborate way and contacted other resident doctors," said Manoj Sharma, vice-president of the newly elected board of managers at Rosedale Garden Apartment Owners' Association.
So far seven doctors have come forward to offer their services and the Rosedale Garden Medical Centre was launched on Sunday. The consultation charge has been fixed at Rs 400 for residents, of which the association keeps Rs 100 for maintenance. Housekeeping and security staff and the domestic help will get the service at Rs 50.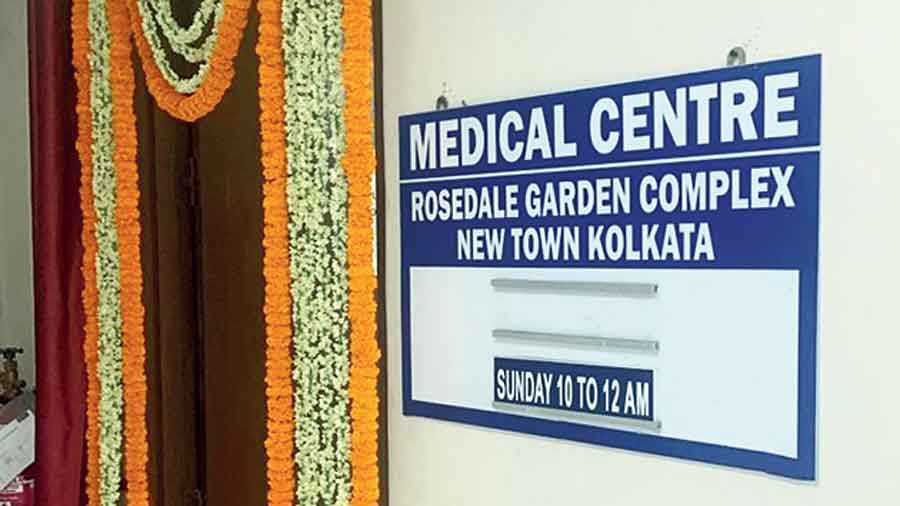 The entrance to the medical centre on Sunday before its opening.
"These doctors are sitting at specific hours and people have to prebook an appointment," said Sharma.
Dr Agarwal is happy that the initiative he took in 2019 is now taking concrete shape. "When I purchased the apartment here, the senior citizens' block was being used as a dumping room. I got it cleared as a chamber and started treating neighbours for Rs 200, and the staff for Rs 50. Rich people can get treatment anywhere but where will the security guards, the housekeeping people or the domestic help go? They were my main concern. I am happy that with more doctors joining the initiative, they will get the benefit of medical centre for the same fee for which I used to treat them," he said.
During the lockdown, Agarwal could not come to spend the weekends in New Town from his Rishra home but offered online consultation to close to 200 people from Rosedale. Though he spends most of the week now in Rishra where he runs a nursing home and in Haldia where he teaches, he has still offered to come on the first Sunday of the month for the clinic.
Dr Pratik Dasgupta, consultant physician and cardiologist, is among the doctors who have joined the volunteering team. "In the two years that I have shifted here, word got round and many neighbours approached me for consultation. House visits were not possible during the corona period. It is good that a proper chamber has been started where they can reach out to me in a structured way," said the doctor who has offered to sit for an hour on Wednesday evenings.
A homoeopath, a paediatrician and a psychiatrist are also on the weekly roster.
A health check-up camp was organised by ENT specialist Dr Manuprita Sharma and team after the inauguration on Sunday where services offered included free endoscopic ENT, dental and physiotherapy check-up and subsidised audiometry and tympanometry.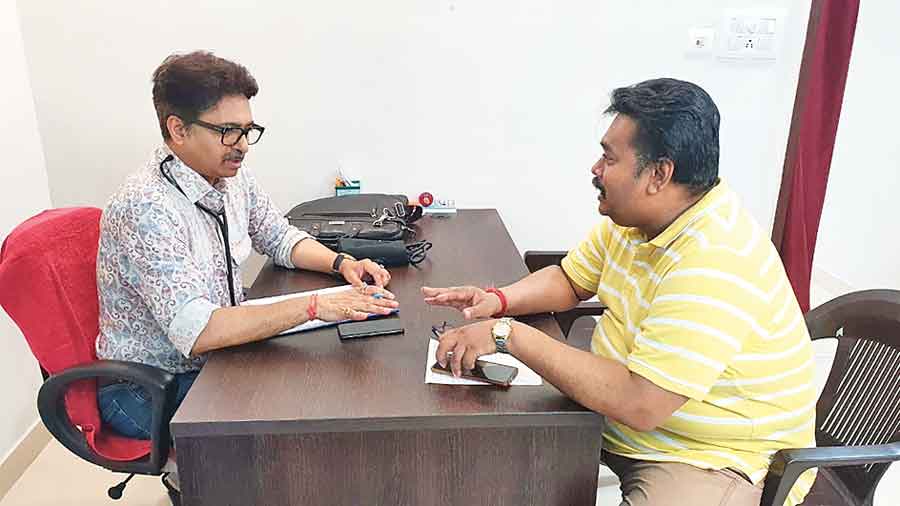 Dr Pratik Dasgupta, one of the resident doctors, checks on a patient at the medical centre on Wednesday evening
The association has more plans. Dr Dasgupta has been approached to conduct training in basic first-aid measures, including cardiopulmonary resuscitation.
 "We want to hold health camps every alternate month. Cataract operations can also be arranged in such camps. We will appoint two nurses for round the clock support. We are also trying to arrange for an ambulance. We are extending the facilities to the families of our staff members also," Sharma said.
A similar initiative has been started at Elita Garden Vista last December. A resident paediatrician is treating neighbours for a nominal fee while a paramedic goes door to door for preliminary health check-ups for senior citizens staying alone.