Christmas festivities spilled on the last Sunday of the year as thousands, many without a mask, gathered in public places without adhering to the physical distancing protocol.
The young and the elderly stepped out to make the best of the festive season at a time when public health experts are fearing a renewed surge in Covid cases driven by the omicron variant of the virus.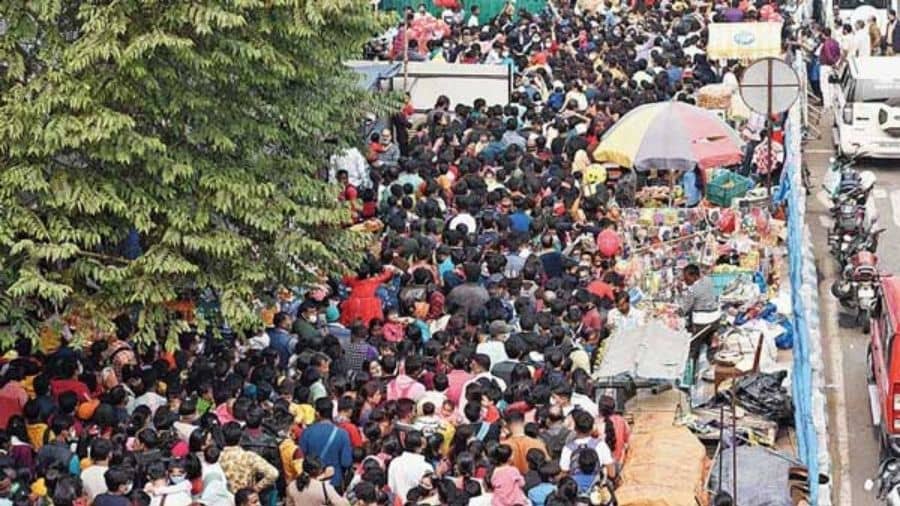 Visitors outside Alipore zoo.
Gautam Bose
The crowd
Around 70,000 people visited the Alipore zoo on Sunday, the highest footfall so far this winter. Hundreds of visitors, many without masks, waited for hours in the queue for tickets.
The Christmas footfall at the zoo was 51,000.
Arya Mishra, a resident of New Alipore, said he had to wait for 40 minutes to cross the road in front of the zoo through an overbridge to reach one of the ticket counters.
Police said they had a tough time managing the crowd.
"For smooth dispersal of the crowd emerging from the zoo, we removed a few barricades and allowed them to cross over from the National Library crossing," said an officer.
Eco Park, spread across 480 acres, witnessed similar scenes. The 'Taj Mahal' and 'Egyptian Pyramids' drew the maximum crowds at the park.
Hundreds of families lazed around the 'Taj Mahal' compound. 
Many enjoyed a Sunday feast sitting on newspapers. The 'Great Sphinx of Giza', too, drew many.
"Today the turnout was more than 50,000. The Christmas footfall was 60,280," said an official at Hidco, the agency that manages the park.
The footfall at Victoria Memorial on the last Sunday of 2021 was 28,000 - a notch less than Christmas.
Many visitors said they struggled to find a parking space.
Nicco Park had a footfall of 5,000 on Sunday.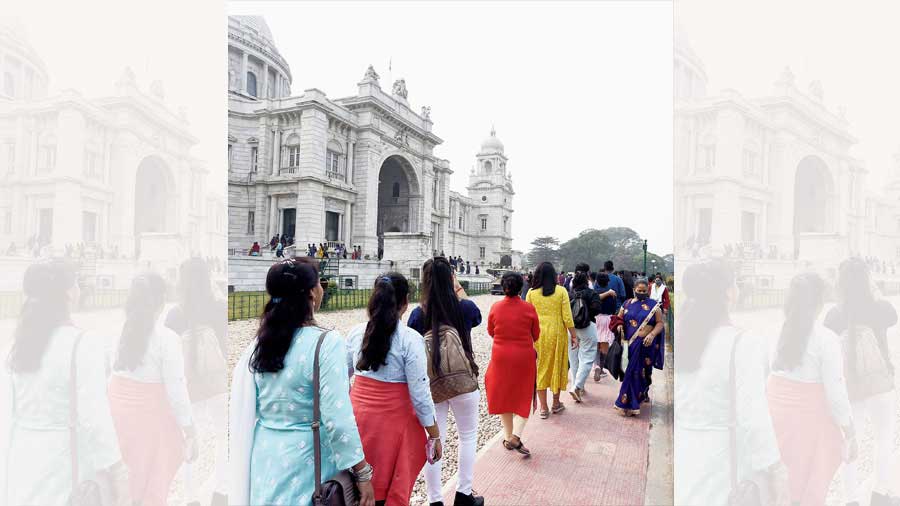 A queue of visitors at Victoria Memorial.
Gautam Bose
Covid hygiene
The Covid protocol took a backseat at all the spots that drew revellers. Police officers expressed helplessness in enforcing the protocol.
"We barely got a chance to enforce Covid hygiene. Had we prosecuted people for not wearing masks, families would have scattered and there would have been more chaos," said an officer.
Outside Eco Park, the majority of the visitors were wearing masks. But many were seen taking them off after entering the park.
At none of the places The Telegraph visited on Sunday morning and afternoon was the social distancing norm being enforced.