Traders on Russell Street had come prepared on Saturday to pay the monthly extortion amount to waste collectors of the Calcutta Municipal Corporation (CMC) like they have been doing for several months.
But on Saturday no one turned up to demand money.
For the first time in several months the traders on Russell Street did not have to pay any money to waste collectors of the CMC only to ensure that the daily waste was cleared in the bins in front of their stalls or stores.
Metro had reported on Friday that hawkers and shopowners on Russell Street have to pay a daily extortion amount to waste collectors so that they are allowed to put their daily waste in the bins put up along the road. If the money was not paid, the waste collectors even dumped packets filled with garbage in front of the stores.
On Friday, a senior official of the CMC's solid waste management department spoke to stall owners and requested them to not pay anyone from the CMC for collecting their waste.
The official visited the site on Saturday too.
"No one turned up today to collect the money that they used to take every Saturday for the last several years. This is a welcome change. The collectors get salary from the CMC, yet they forced us to pay only to clear the daily waste," said an employee of a stall on the footpath along Russell Street.
The owner of a puffed rice stall too said that no one had come to collect the extortion amount.
The stall owners had earlier said that they had to pay at the rate of Rs 25 to Rs 30 every day to the waste collectors. Since the stalls did not open early in the morning when the waste collectors come, the money was collected on Saturdays.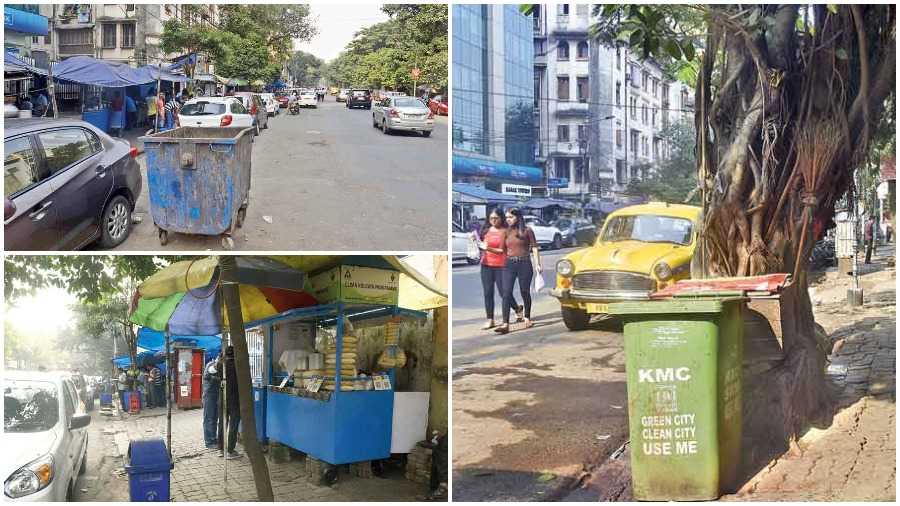 CMC garbage bins on Russell Street on Saturday.
Sanat Kr Sinha
The CMC had on Thursday evening transferred the overseer of solid waste management department of Ward
No. 63. The overseer is responsible for ensuring that waste collectors were doing their job properly.
The transfer order was issued soon after Metro had called Firhad Hakim, the chairperson of the CMC's board of administrators, on Thursday night. Hakim had promised strict action against the culprits.
A senior CMC official said on Saturday that the CMC never charges anything from residential properties for door-to-door collection of waste. But all commercial establishments have to pay the civic body a fee for picking up their waste.
"However, only a handful of commercial establishments pay the fee. We request everyone to pay the fee to the CMC for which they will get receipts. If they do not get the service after paying the fee, they should complain to us," said the official.
Hakim said that if a similar instance of seeking money to collect waste happened anywhere in the city, aggrieved persons could Whatsapp their complaint to his number — 9830037493.