The water that you flush down the toilet pipe is being treated and reused to water the greens in Eco Park and the dividers on a large part of New Town roads. In a significant step towards achieving a circular economy, a practice started on July 21 to use effluent water from sewage treatment plants for gardening. This is the first such initiative in Calcutta, officials said.
Funded by the Newtown Kolkata Green Smart City Corporation and executed by the public health engineering department, the supply was ceremonially switched on outside the Herbal Garden in Eco Park on July 21.
Eco Park has 480 acres of land which needs watering round the year. "So long, we used to draw underground water through tubewells. But groundwater depletion is a serious concern now. On the other hand, demand for water too is increasing with a rising population. Water is needed not just for drinking but for other activities like washing cars, gardening and farming. Though the suggested benchmark of treated water supply (by the ministry of housing and urban affairs) is 135 litres per capita per day, we are trying to bring this down to 120 litres in New Town, and even less gradually."
Two sewage treatment plants, in Action Area IIB and IIC, are treating the wastewater effluent from the neighbourhood. "The water, before treatment has a biochemical oxygen demand (BOD) of around 100-110. According to pollution control norms in India, it has to be reduced to at least 30 BOD before being released in the environment. We are reducing it to even less, about 10-12 BOD, which, though still not fit for human consumption, is much cleaner than what is stipulated," Sen said.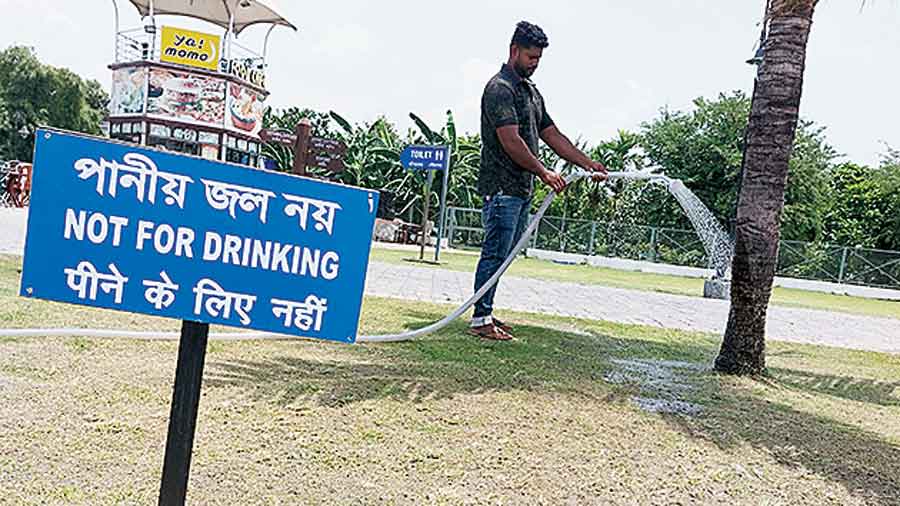 An Eco Park employee waters a lawn using recycled water drawn from a sewage treatment plant.
Extensive pipelines have been laid from the pumps, across 5.8km from Action Area IIB and 1.7km from Action Area IIC, with double spouts at every 30m to 60m interval from where detachable garden pipes are spraying the water.
"This is leading to reduction in both energy consumption and wastage of water which used to be pumped out from underground and sprayed from diesel-run matador vans using a generator. The job is now being done with a total of 212 spouts with smart level sensors to start and stop the pump," Sen said.
The plants are supplying about 20 per cent of the water required to water the greenery in the road dividers now. If the project is a success, the authorities plan to extend it to the third sewage treatment plant it has in Action Area III.