The Ramchandra Goenka ladies bathing ghat on the eastern bank of the Hooghly was being turned into a godown with construction being made over its arched gateways.
Heritage enthusiasts reported the changes being made to the over 100-year-old ghat with newly built brick walls coming up on Saturday morning. The owners of the ghat, Calcutta Port Trust, demolished the newly built walls later in the day.
"The Zenana Ghat was already being used as a godown by the flower vendors of the nearby Howrah flower market. But it was a public place and people could easily walk through it. But today in the morning I saw construction being done inside the ghat. It was apparent that there was a change of status at the
ghat and work was on to convert it into a permanent godown," said a heritage enthusiast who preferred to stay anonymous.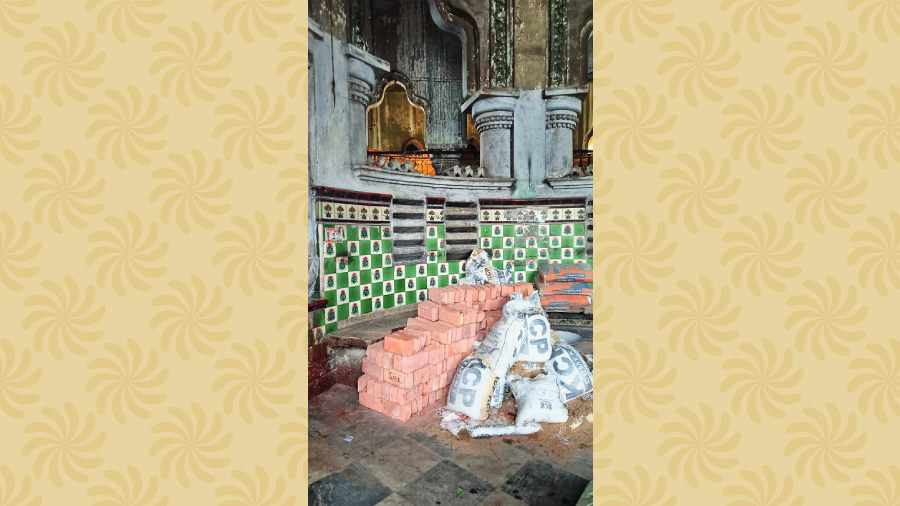 Construction material at Ramprosad Goenka ghat on Sunday
A Calcutta Port Trust spokesperson said: "We have surveyed the ghat today and broke the construction that was made and have issued stop work notice immediately."
The Zenana Ghat was once one of the most beautiful bathing Ghats along the river Hooghly, standing with its elegant domes next to Mullick Ghat, hidden behind the Armenian Ghat.
The Zenana Ghat is presumably built in the late 1880s or early 1890s by Ramchandra Goenka, father of Sir Badrinath Goenka. A leading businessman Ramchandra earned a reputation for the philanthropic works he did all over India.
Writer Amit Chaudhuri, who alerted Metro about the goings-on at the ghat, said: "Calcutta's architectural heritage is one of its greatest remaining inheritances and the city has, for some years, woken up to its importance and to the danger of it disappearance. But when will the government and the Calcutta Municipal Corporation and their heritage committees wake up? This latest instance is yet another wake-up call. We must learn from Delhi and Mumbai about how cities need to list, declare, and protect heritage sites: these can be vibrant and viable, even to the point of hosting, if properly regulated, vendors and trade."