Spearheaded by students, a rally on the Bengali New Year pledged to keep their land safe from "forces of division, violence and hatred".
The rally, which started from Jorasanko in north Kolkata and culminated at College Street in the central part, was also a celebration of the diversity of Bengal.
The participants walked with portraits of Ishwarchandra Vidyasagar, Raja Rammohun Roy, Henry Louis Vivian Derozio and Kadambini Ganguly. The Poila Baisakh marchers stressed how these icons stood up to the majoritarian forces.
A skit enacted a satidaha (burning of sati) scene, with the flames replaced by golden drapes and a woman's scream in the background.
"Ei hriday er chaite boro konoi mandir nei (There is no bigger temple than the heart)," read one banner, with Kazi Nazrul Islam's face beside his lines.
The students performed skits and sang songs of protest.
"Sabse mahan desh, ta besh besh besh. Dharma naam e morchhe maanush, purchhe gota desh. Ta besh besh besh (Our country is the greatest. Very good then. People are being killed in the name of religion, the country is burning. It must be good then)," sang a group.
"The history of Bengali language and culture is not a narrow language-based aggression or provincialism. It is a long history of a pluralistic and shared way of life. This land has been the foundation of that history and the language has been the glue," said a note from the organisers.
The participants walked through Rabindra Sarani, Vivekananda Road, Chittaranjan Avenue and Bidhan Sarani on their way to College Street.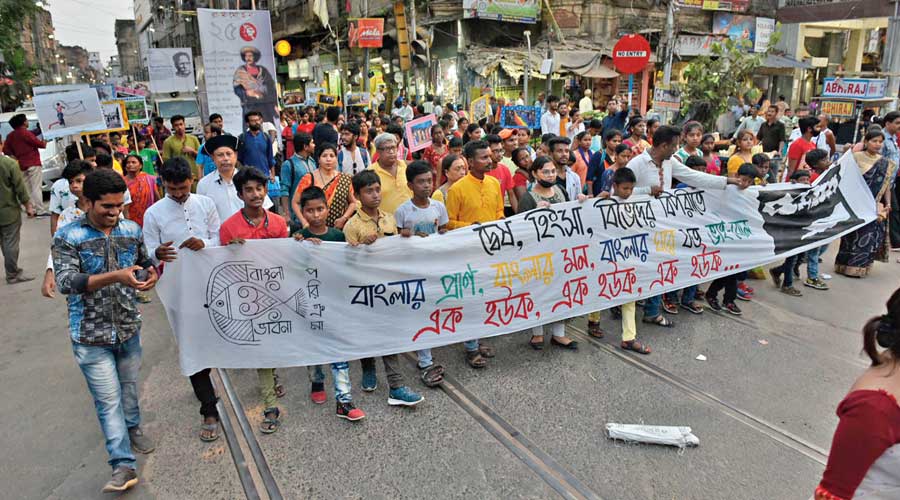 The rally against division, violence and hatred
"Bengal is not one-dimensional. Like a large river fed by tributaries, the Bengali way of life, as we know it now, has been enriched by several cultures. We must preserve that plural culture against the atmosphere of hate and division," said Mainak Maity, one of the organisers.
The organisers said they took out the rally to take a stand against the "constant efforts to sow the seeds of communal disharmony" across India.
"The flames of division threaten to engulf the country. In the state, political scores are settled with the killing of a student or with homes set on fire and people burnt to death," said one of them.
Children from marginalised families came to the rally in large numbers. The organisers have been in touch with these children since the lockdown in 2020, helping them with studies and their parents with food and clothes.
Sumit Das, a resident of Bansdroni on the southern fringes of the city, came with his son, aged four-and-a-half.
"Walking side by side, irrespective of religion, caste and creed, is also symbolic. It is very important now," said Das, who saw the campaign about the rally on social media.