The sun is tipped to reappear from Tuesday after two straight days of clouds and rain in the city.
There is no rain forecast for the coming days. As the week progresses, the mornings are likely to be bright and sunny and the minimum temperature is likely to fall, Met officials said.
"Tuesday is tipped to be cloudy in phases because of some remaining moisture but the sun will make its presence felt. The weather will improve gradually," said a Met official.
The system that had intensified into Cyclone Jawad came closer to its end on Monday as it moved along the Bengal coast towards Bangladesh.
"Early Monday morning, it moved along the Bengal coast. By the night, it will further weaken into a cyclonic circulation and dissipate on the sea itself," said G.K. Das, director, India Meteorological Department, Kolkata.
Between Sunday morning and Monday morning, the Met office recorded around 70mm of rain in Alipore. Dum Dum got close to 90mm. 
Tarakeswar in Hooghly received around 170mm of rain in the same period and Bardhaman city (in Purba Bardhaman district) got 130mm.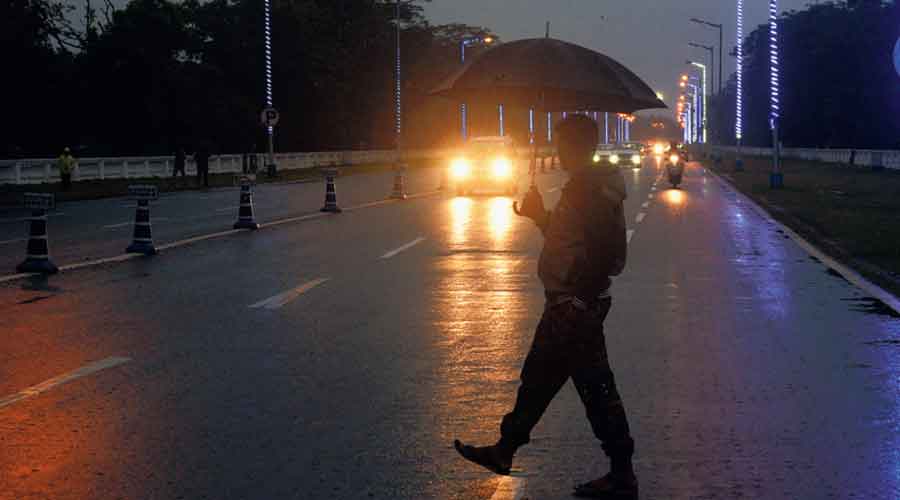 A pedestrian amid rain on Red Road Kolkata on Monday evening.
Pradip Sanyal
"Areas to the northwest of Kolkata got more intense spells. The clouds were heavier there," said Das.
The sun remained hidden in a cloud cover throughout Monday, like it was the day before. Several areas in the city got some more showers in the afternoon as well. The rain abated in the evening.
The maximum temperature was 22.7 degrees, rising a couple of notches from the day before but still significantly lower than normal.
"The day temperature is likely to be around 24-25 degrees on Tuesday," said a Met official.
The Celsius is yet to go below 15 degrees in Kolkata this season. That can happen by early next week. 
Kashmir, Himachal Pradesh and Uttarakhand received fresh snowfall since Sunday. Post-snowfall, the cold and dry winds from the upper reaches will come down to Kolkata, via Punjab, Delhi, Uttar Pradesh, Bihar and Jharkhand, said Met officials.