The overnight rain on Monday led to waterlogging in parts of the city and its adjoining areas.
Stretches of VIP Road near Chinar Park, New Town and several parts of Dum Dum in northeast Kolkata, along with usual pockets in the north and central parts like Amherst Street, Thanthania, Bechu Chatterjee Street and MG Road, went under water. 
Stretches of VIP Road and large parts of New Town were under knee-deep water till Monday evening, triggering massive traffic snarls on the artery that connects the airport with the rest of the city. 
In parts of Kolkata, water receded only after 2pm, said civic officials. 
Vehicles crawled on the airport-bound and the Ultadanga-bound flanks of VIP Road as a 2.5km-long stretch of the artery was flooded near Haldirams, following the downpour. 
Places off VIP Road, including Kaikhali, Chinar Park, Kestopur and several parts of Dum Dum, too, witnessed waterlogging.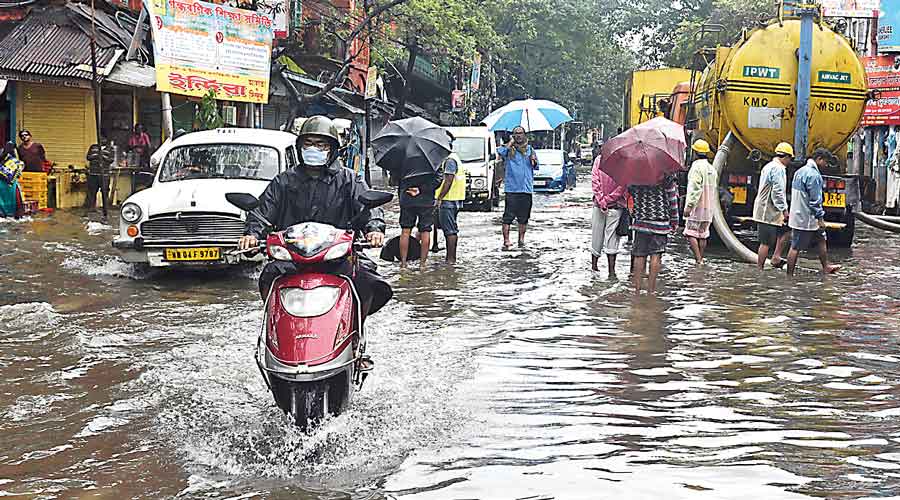 A flooded stretch in north Kolkata's Thanthania on Monday.
Pradip Sanyal
According to an official of Bidhannagar Municipal Corporation, the 2.5sqkm area that includes Chinar Park and Haldirams resembles a saucer. 
"Water from adjoining areas accumulates here. We have sanctioned a new stormwater drainage pumping station and are hopeful that once it becomes operational, by the next monsoon, the water woes in this area will get resolved," said the official.
In Dum Dum, too, parts of SK Deb Road, Motijheel and Nagerbazar had ankle to knee-deep water.
"The civic body has not cleared sewerage lines and gully pits. Garbage has choked nearly every sewer line here," said Shyamal Pal, a resident of Nagerbazar.
An official of South Dum Dum Dum Municipality said they had started a drive to clean the gully pits.
"We are scooping out large amounts of garbage, mostly plastic. Residents, too, should become aware and stop dumping waste in the gully pits and drainage channels," the official said.
According to the Met office, Alipore recorded 70mm of rain between 5.30pm on Sunday and 5.30pm on Monday. The airport area recorded 90mm rain during the period.
An official of Kolkata Municipal Corporation (KMC) said the drainage pumping station in Chowbhaga, in east Kolkata, recorded 90mm rain during the period. Many of the drainage pumping stations in the rest of the city recorded between 60mm and 75mm.
KMC deployed jet-cum-suction machines on waterlogged stretches to drain out water.
"It rained most between 2am and 6am on Monday. But the rain continued till past noon," the KMC official said.