Dealers who took part in an e-auto camp in New Town have demanded that there be a quota for electric vehicles on each route, especially in New Town.
They raised the demand before Pradip Majumdar, the route transport officer, Barasat, who attended the inauguration of the camp on May 12. Majumdar promised to place the proposal before the Route Transport Authority (RTA) board. They also have an issue with the requirement of an offer letter from the RTA to purchase an e-auto for passenger traffic, they said.
In order to nudge toto and vano drivers towards green modes of transport, the Newtown Kolkata Development Authority (NKDA) recently organised the e-auto camp over a day and a half at the pedestrian plaza.
Dealers of two automobile majors and six local manufacturers took part with their electric vehicles, which were parked in front of their stalls for inspection and test drive.
"Goods carriers come to New Town carrying daily supplies for our markets. But being fossil fuel-run, they emit carbon di-oxide. Our aim is to minimise the pollution and inspire them to switch to alternative fuels. We are helping in the process by sharing information about the options. NKDA has taken the first step to keep our air clean. We hope the people for whom the step has been taken will also step forward to change their smoke-belching vehicles into non-polluting ones," said Meghna Pal, CEO, New Town Kolkata Green Smart City Corporation.
The idea of promoting green alternatives, said NKDA chairman Debashis Sen, was "mooted by our MP (Kakoli Ghosh Dastidar) who had told us at a Green City meeting that pollution was adding to the breathing difficulties of people whose lungs had already been affected by Covid-19. She had suggested that we try to transform the totos on the streets to battery-powered autos."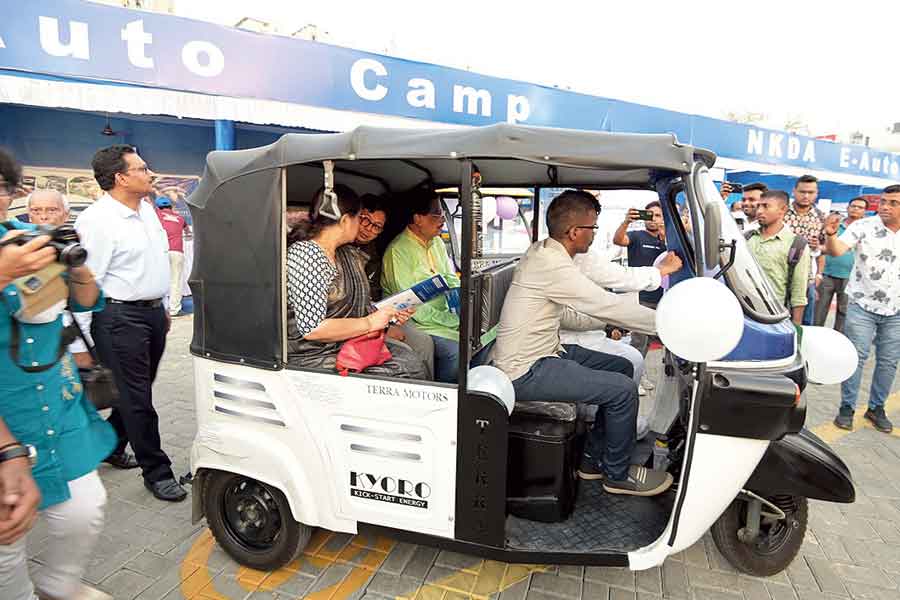 The guests being taken for a ride at the e-auto camp
He said that only those manufacturers and dealers had been invited to the fair which were certified by the motor vehicles department and which could help secure financing from banks or would accept payment in installments. "We have also suggested that they draw up a buy-back policy," he said, extolling the virtues of the lithium-ion batteries that run the new-generation autos which have more charging capacity compared to lead-acid batteries. "Your running cost will reduce compared to CNG or petrol-run autos," he said.
"The United Nations has set sustainable development goals to make the world a better place for the next generation. One of them is to reduce air pollution. Auto drivers do not know how the emission from their own vehicles is harming both them and their passengers," she said, naming the biggest pollutant among fuels that goes in common parlance by the term kata tel, a toxic mixture of petrol, kerosene and naphtha that is used by unscrupulous drivers to run autorickshaws as it comes cheaper than petrol. "Kata tel is poison. Phase out these polluting autos and shift to battery-run ones. You will stay healthy and earn more as you will have to spend less on fuel," she urged.
Sen requested local MLA Taposh Chatterjee to get auto unions to come to the fair and start a conversation.
That the conversion will not be a cakewalk was apparent in Chatterjee's words. "Auto unions are not just about adding one or two vehicles to the route. It is your responsibility to also think about clean air," he said.
Hurdle of unions
The politicised process of applying for a route permit is an impediment in the sales process, sellers at the event complained. In Bengal, one cannot apply individually to be allowed to drive an auto on a chosen route. The application has to come from the union of the route concerned and the offer letters of the number of autos approved for the route are also handed over to the union. "That is denting customer demand," they said. "If totos, which pay no taxes, can be sold in the unorganised without such offer letters why should curbs be imposed on e-autos?" they argued.
Lack of an official leash has led to the proliferation of totos. Sanjib Ghosh, a toto driver on the Patharghata-Shapoorji route, said there were 18 vehicles in 2015. "Today there are 157. We have divided ourselves into two groups — one goes inside the Sukhobrishti complex, the other group travels in the local market." Most run on lead-acid batteries.
Totos are assembled locally and priced around Rs 1.5 lakh. "There is one manufacturer in Patharghata itself," he said.
Arindam Paray, franchise manager of SM Techno Service, e-vehicle dealers of the Italian manufacturer Piaggio, listed out the benefits of the switchover. "Our battery, costing Rs 1.20 lakh, is lithium-ion, with a four-year life and a three-year guarantee. The lead-acid batteries of totos last barely eight-10 months while a toto itself has to be discarded after three to five years. The e-vehicle, priced Rs 3.65 lakh, will be fully registered with the RTO which will allow for insurance claims even for passengers, and the safety norms will be Automotive Research Association of India-approved," he said.
Sandipan Patra, the sales head of Shree Automotive, dealers of Mahindra & Mahindra, said they facilitate CNG or diesel-run autos with route permits in making the switchover by offering a scrap value of Rs 10-15,000. "The buyer can use the amount as down payment," he said. Piaggio and Mahindra were showcasing both passenger and goods vehicles.
"This fair is not a sales point but a place to exchange information and contacts," pointed out Sen, adding that the NKDA had organised an e-rickshaw mela six years ago at Eco Park with the same motivation.
New Town has since developed the requisite infrastructure for electric vehicles. "Currently we have 27 charging stations. Another 12 are being built by NKDA," he pointed out.
Write to saltlake@abp.in