Main roads and streets across all three sectors in Salt Lake are riddled with giant potholes and craters.
The Bidhannagar Municipal Corporation had failed to carry out basic road repairs before the Durga Puja in the township, though it carried out patchwork repairs in some areas.
Now, the patchwork repairs that had been carried out by the civic body have come off in most of the places.
On Monday, The Telegraph drove through the township and found that nearly all the major arteries, including Broadway that connects EM Bypass to Salt Lake, the First Avenue that connects Ultadanga to Salt Lake among others are in bad shape.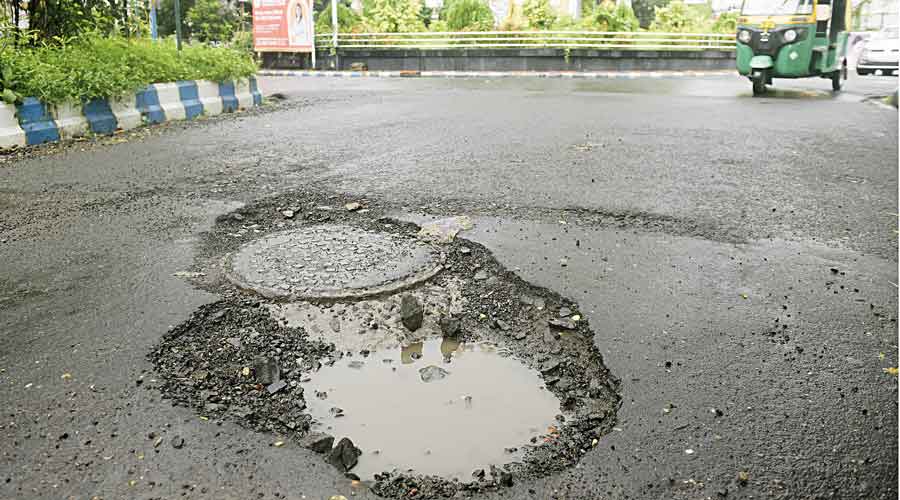 Huge craters on the road near Purta Bhavan.
Sanat Kr Sinha
A large section of the road has caved in below the Karunamoyee Metro station near the Karunamoyee intersection, one of the busiest crossings in Salt Lake.
The portion cuts across the entire width of the City Centre-bound flank of Third Avenue.
To ensure that no motorist or two-wheeler rider falls into the crater, the traffic police have placed orange traffic cones to mark them out.
A traffic policeman posted near Karunamoyee bus intersection said they had placed the cones as several bikers had met with accidents at night.
"Apart from two-wheeler accidents on Navami night, a car's tyre had burst after falling into the crater," said the officer.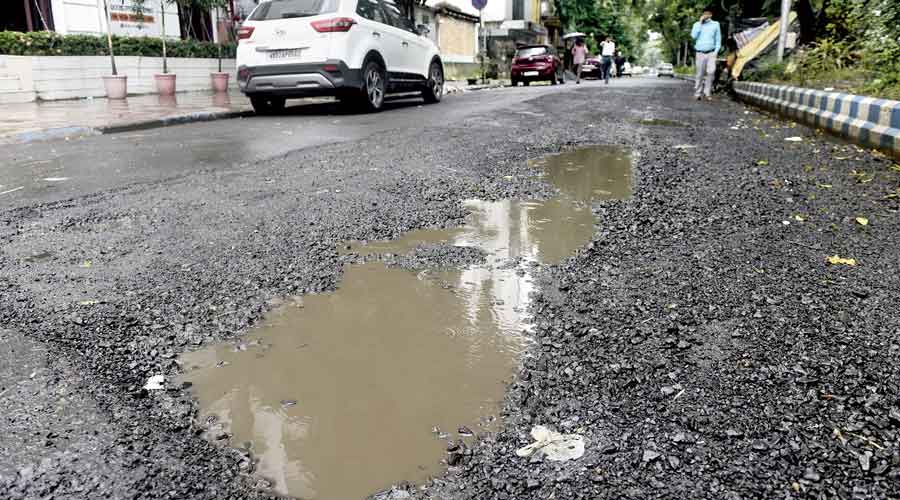 Potholes on a road in front of Haveli Restaurant in CK Block near Tank No. 9.
Sanat Kr Sinha
Craters have also formed on a stretch of the main road that leads to Wipro crossing and Sector V from the Karunamoyee intersection. Roads around the Salt Lake stadium, too, are in a terrible state.
One of the worst affected parts is a 600-metre stretch of road that leads from the Amul Island adjacent to Salt Lake to Hyatt Regency that is full of potholes that are difficult to spot at night as many streetlights do not function.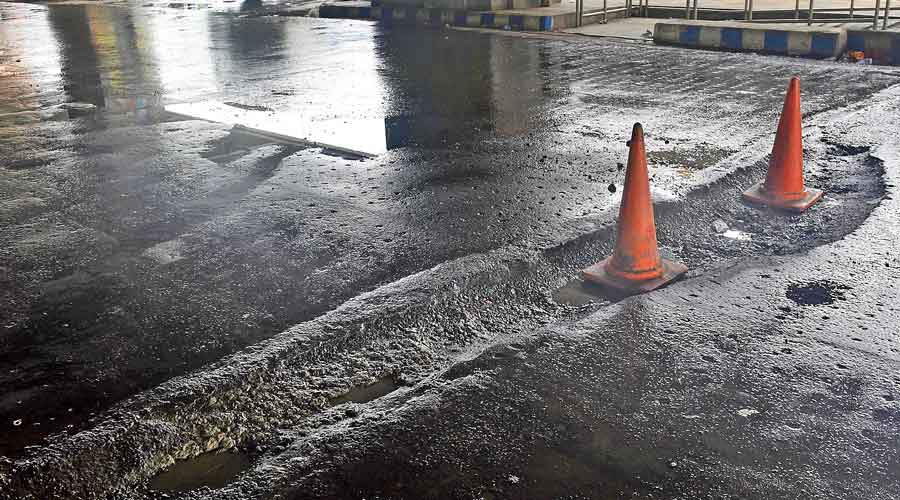 Traffic cones placed on the road below Karunamoyee Metro station, near the Karunamoyee intersection.
Sanat Kr Sinha
Several residents of the township said they could not recall when in the past decade and a half the roads were in such a state of despair.
Debashis Chatterjee, a resident of BL Block said, the township's road network was something that residents used to take pride in.
"Roads in Salt Lake used to be smooth and a pleasure to drive on. However, sadly it is not the case today as nearly all the roads have turned into a mess," said Chatterjee.
Krishna Chakraborty, the chairperson of the Bidhannagar Municipal Corporation's board of administrators, said they had tried to carry out patchwork repairs on the worst affected stretches ahead of the pujas.
Chakraborty also added that the repairs were getting stalled because of the rain.
"Our equipment as well as material are lying on the road and we are not being able to carry out repairs because of the showers," said Chakraborty.