Every weekend afternoon, the huge playground in BA Block comes alive with the sound of booted feet running about, voices shouting instructions and the thump of footballs bouncing and being kicked about.
The BA Block Cultural and Social Association has started a coaching camp for local children for a year now and the coaching staff, headed by Mohammedan Sporting Under-15 academy coach Mohd Said, includes professional footballers who have come all the way from Africa.
"These players come for club trials and I have been helping them with placements since 2017. So when the academy was formed in 2019, I thought it would be mutually beneficial to involve them here. The children are getting coached by quality professionals while the fee the players get for coaching helps in meeting their boarding and lodging costs," says Mitanshu Das, technical director of New Town Sports Academy, who scouts for talent for several I-League clubs.
The academy is free and has about 40 children from the ages of four to under 15 years from across New Town getting coached.  This includes 13 girls, Das points out.
Of the three African coaches currently offering their services at the camp along with one from Kerala, two have come on invitation from the block. Of them, the youngest is Omar Samba, a 22-year-old from Senegal. "I was in India for three months in 2018. The academy wasn't there then."
On his second visit, he has picked up several Bengali words. "Kemon achho? Bhalo achhi," he says with a big smile. "J'aime bien Bengali (I love Bengali)," he says in his mother-tongue French. "It's less complicated than Hindi." He has even started watching Bengali films.
The camp operates in the afternoon in the weekend and on Monday, Wednesday and Friday in the morning. The rest of the time they either stay cooped up at their rented accommodation or hang out in the malls. "I like going to Decathlon and Axis Mall," Omar says.
Meeting Roger Milla
The oldest is Ambassa Raoul, 30, from Cameroon. "I used to play in an Uzbekistan club before coming here. A friend informed me about this opportunity in India."
He brightens up at the mention of his star compatriot Roger Milla, who holds the record of being the oldest player to score a World Cup goal at the age of 42. "We reached the World Cup quarter finals in 1990. But I wasn't born then," he smiles.
He did meet Milla though as a 16 year old, at the legend's home in Yaounde, the capital of Cameroon, where he also is from. "My mother was his mother-in-law's friend. He told me to be focused and forget distractions outside football." But he regrets not having a photo with Milla. "I did not have a smartphone then."
All three African players are fans of Lionel Messi but also root for their national favourites. "My hero is Mohamed Kallon. He has even played for Inter Milan," says Alie, with pride. Omar, similarly, follows Sadio Mane. The Senegalese winger finished fourth for the 2019 Ballon d'Or and plays for Liverpool.
All of them have watched I-League matches on YouTube. Omar even went to Salt Lake stadium to catch an East Bengal match during his 2018 visit and admired the standard of the game.
Ambassa too liked the Indian Super League match he saw between ATK Mohun Bagan and Odisha FC. "When ISL started, the level was not good. Too many players who were past their prime had been recruited. In India, you like famous names but it is better to bring younger players who would play well, which is happening now," he says.
Alie Consch, 24, has come only three weeks ago from Sierra Leone. The only brother after five older sisters, he too is French-speaking, like Omar. He has not tasted Bengali food yet. "I cook tomato soup, fish and potato," he says.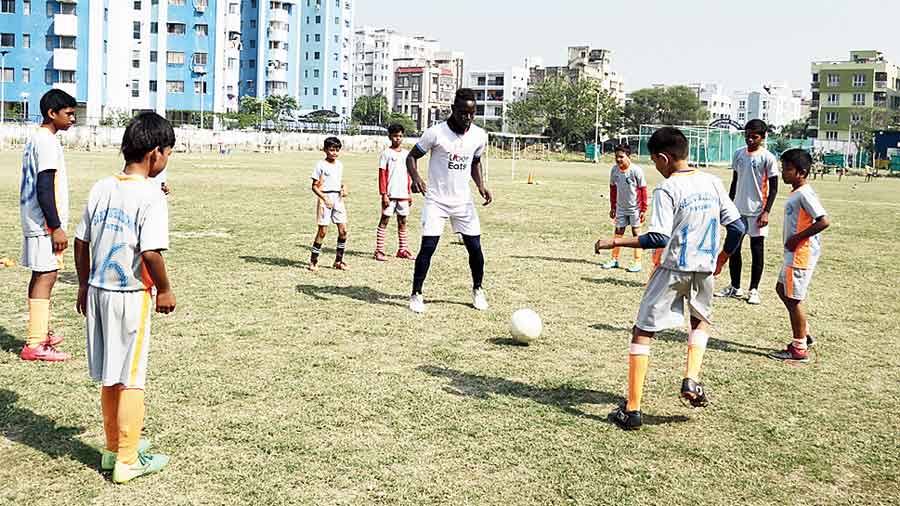 Omar Samba trains youngsters at the camp in BA Block, New Town on Sunday.
Sudeshna Banerjee
Covid brakes
All of them are going for I-League club trials but the pandemic has slowed things down. "Back home, many people think corona is a white man's disease and do not take it seriously. About 20 to 30 per cent people have been vaccinated," says Ambassa.
One big fall-out has been the cessation of khep tournaments, which are local matches played in the districts between para clubs which take in some professional players against match fees. "In peak season, we are hired to play three to four matches in a week. The football season lasts August to March-April," says Ambassa.
Alie got to play only four khep matches after landing in December. "If we don't get to play, it is difficult to make money," says the youngster.
But they would still stay put in New Town and wait for the third wave to blow over. "Yes, there is too much sun — back home, it never gets hotter than 21-22C — and there are too many mosquitoes. But there is good money to be earned here. And less corruption than at home. If you play well in the trials, they usually take you," Ambassa says.
Das acts as their manager cum guide in Calcutta. "These players stay as long as their visa lasts, which is usually three to six months. We have had about six players coming from abroad as coaches even since we resumed the camp after the lockdown. The block's sports committee mostly funds the academy. The rest of the money comes from football enthusiasts in the block like Bondhuprasad Sarkar. I do hope we can get corporate sponsorship to take the academy to the next level," says the resident of neighbouring Gauranganagar.