An NGO has given a group of women in Baruipur a pre-Puja gift.
The 20-odd women have been selected by Prayatna Foundation, which works for the empowerment of women and children, on the basis of their financial status and their ability to use a sewing machine.
Some of them are trained but cannot afford to buy a machine, the pandemic having made their already struggling life more difficult. 
Some of the women work as domestic help and do odd jobs to supplement their income. 
The women, who have received the machines, are hopeful of making some more money before Durga Puja.
Chandana Mondal, whose husband works in a jewellery shop, said she could not afford to buy a machine despite being trained in using one.
"We did not have the money to buy a sewing machine. I can cut and stitch a blouse by hand. But that would take more time and the finished product does not match the machine standard," said Mondal. orders to the women.
"If they get the fabric and materials and stitch the clothes that would give them a steady source of income," said Roy.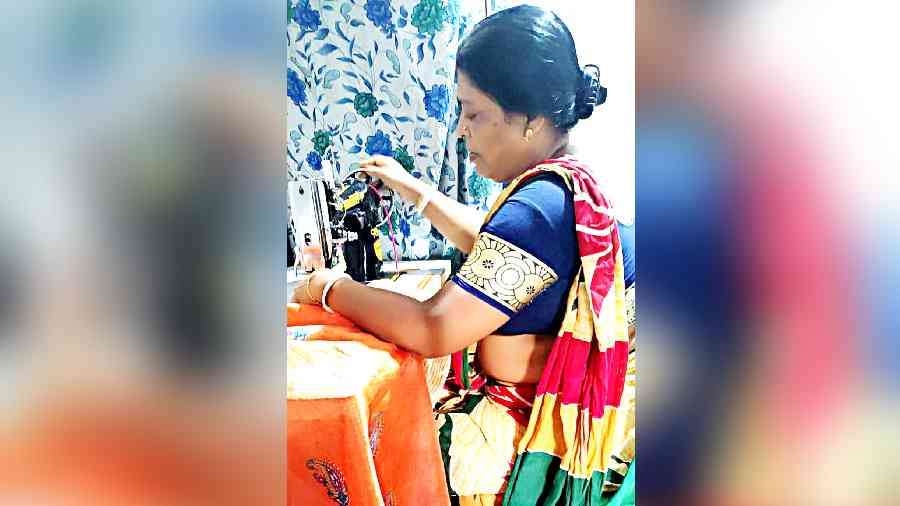 A woman works on a sewing machine she received
"Before Puja, there is usually a demand for salwar kurtas and I hope I will get more orders," she said.
Swapna Karmakar, 48, said she would be able to work on her own rather than for someone else.
"Since I did not have a machine I would go to someone's house in the locality and use her machine. If I did work worth Rs 100, I had to give her Rs 40 for using the machine.
Before Puja, she would have to work on the other woman's orders more than her own, Swapna said.
The foundation handed over the sewing machines with the support of Business Network International, a business networking organisation, to the women on August 21.
"The situation in terms of earning or business is better than the last two years but it has still not gone to the pre-pandemic days. These people in rural areas are still in need of money. Our objective is to improve their standard of living," said Bishnu Bajaj, founder, of Prayatna Foundation.
Archana Roy, the programme manager of the foundation, said they intend to network with companies and give