The Chandramukhi variety of potato has disappeared and the other varieties have become dearer. Lemons are costly, too, and chicken prices are soaring.
Some of the basic items on Kolkatans' everyday menu are burning a bigger hole in their pockets. The Telegraph finds out the causes.
Potato
The Chandramukhi variety, a favourite in Bengal for its taste, has disappeared from markets and traders are not sure when it would be back.
The other varieties such as Jyoti, Pokhraj and S-1 have become costlier.
On Wednesday, Jyoti and a few other varieties of potato sold between Rs 28 and Rs 35 a kg across markets in Kolkata, a jump of almost Rs 5 to Rs 6 a kg.
Retailers blamed the price rise on the demand-supply gap. Wholesalers said there was no immediate chance of the prices going down.
Bengal, among the top three states in potato production, has witnessed a low yield this year. Spells of untimely and intense showers from end-October till December dealt a blow to the crop across Bengal.
Experts say potatoes are sowed around end-October and early November because the tubers need cooler weather to grow.
In Bengal, the majority of the potato farmers saw their plants perish last year as farmlands got inundated following intense showers.
"With the first crop wasted, most farmers had to resort to a second round of sowing. The cultivators had to spend more the second time and the delay resulted in poor yield," said Pradip Mazumdar, advisor to chief minister Mamata Banerjee on agriculture.
"A part of the yield suffered from blight because of the gradual rise in temperature. The state suffered a drop in potato production."
Bengal this time has produced just about 1.1 crore tonnes of potatoes, compared with the usual harvest of around 1.5 crore tonnes, agriculture department officials said.
The state requires around 65 lakh tonnes of potatoes annually. Another 10 lakh is set aside for producing seeds. The rest is exported to Assam, Bihar and Odisha.
"The Chandramukhi variety comprises only up to 10 per cent of the total production," said Kamal Dey, president of the West Bengal Vendors' Association, explaining why the fall in production has resulted in the disappearance of the favoured variety.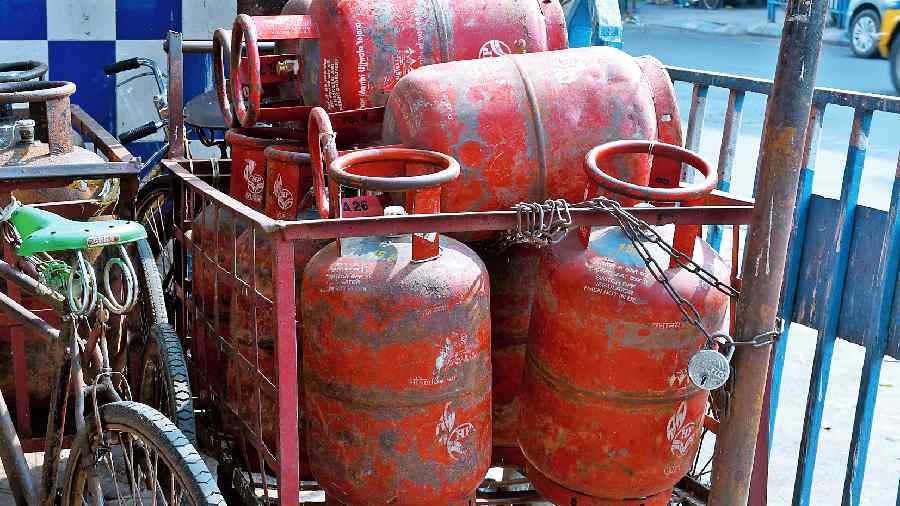 LPG cylinders on a delivery van in central Kolkata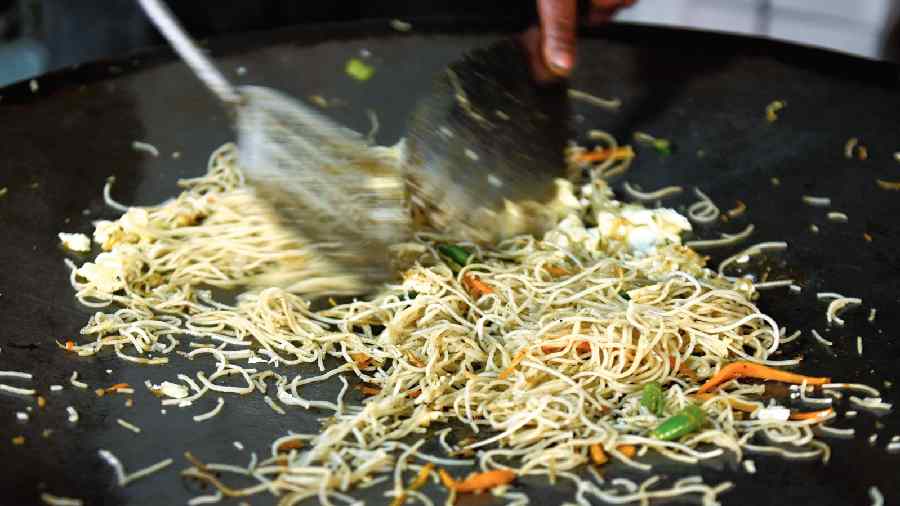 A fast food stall in the Esplanade area
Chicken
Retail prices of dressed chicken have increased from Rs 200 a kilo to between Rs 240 and Rs 260 in Kolkata. In Behala, dressed chicken sold at Rs 250 a kilo on Wednesday. At Lake Market, Maniktala and Gariahat, the price was Rs 260 a kilo.
Traders attributed the rise to the increase in the prices of chicken feeds.
"Since 2019, the price of chicken feeds such as soya and nuts has gone up by 77 per cent," said Madan Mohan Maity, general secretary of the West Bengal Poultry Federation.
Lemon
Lemon sold for Rs 16-20 a pair on Wednesday in Kolkata, compared with the usual price of Rs 8-10 a pair.
The price has come down in parts of Kolkata from what it was two weeks ago, when it sold for Rs 20 a pair.
Senior officers in the agriculture department said the unseasonal rain from October to December last year caused flowers in lemon trees to fall. As a result the production has been hampered.
Traders said the supply of lemon around this time is mostly from Tamil Nadu and Karnataka. Tamil Nadu, too, was severely hit by rain in October.
Price pinch
Potatoes
Chandramukhi variety: Not available
Jyoti and other varieties 
• Rs 24 to Rs 30 a kilo a week-and-a-half back
• Rs 28 to Rs 35 a kilo now
Dressed chicken
• Rs 220 a kilo two weeks ago
• Rs 240 to Rs 260 a kilo now