An animal rescuer received a call in July and rushed to Nimtala Ghat to find a one-and-a-half-year-old Labrador suffering from a nasal tumour and other ailments. After several visits to the vet, the dog is now not only better but has also found a new home.
A Salt Lake-based couple contacted an animal shelter in New Alipore as they were finding it impossible to maintain their German shepherd.
Many pet owners in the city have either abandoned their dogs or handed them over to shelters in the days after the pandemic. Most of them had brought home pets during the pandemic without much planning. Many of the pets being rescued are neglected and ill.
Dog rescuers Damayanti Sen and Sujan Ojha say they have witnessed this trend go up over the past few months. "What these people fail to understand is that keeping a dog is a commitment for a period of eight to 10 years. You can't treat it like a toy and throw it away whenever you want. On average, I rescue a dog every two days, and there are hundreds of rescuers in the city," said Sen. 
She also said people either simply abandon the dog or approach a shelter. "Approaching a shelter at least shows the humane side of these people. However, just dumping one's pet on the roadside is unthinkable."
In most cases, these "pets" are between eight months and two years old. In May, Ojha rescued a golden retriever near Deshapriya Park. The dog had a maggot-infested wound on its shoulder. After treatment, it is now ready for adoption. "Along with foreign breeds, we receive many collared Indi dogs. The desi breed, even if abandoned, is capable of surviving the harsh conditions," said Ojha.
Adoption rush during pandemic
Like many hobbies, keeping a pet became a popular choice during the pandemic. With plenty of time in hand, for most people it became a fashion of sorts to own a pet. 
According to rough estimates by Kolkata breeders and dog shelter owners, at least one dog was being adopted on a daily basis regardless of the breed or age. "It was one of the best times for dog business. No one cared for what they were getting — they just needed a pet and needed it on the spot," said Somshubhra De, a Kasba-based dog breeder.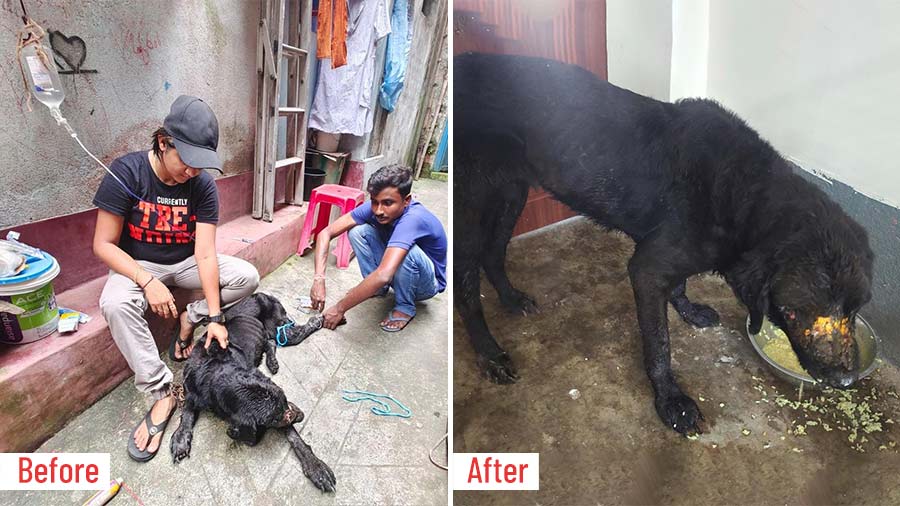 The Labrador rescued from Nimtala Ghat
Damayanti Sen
No knowledge and training
"Most people didn't bother to do a background check of the breed they were getting and were unaware of what they were getting into," said Radhika Bose, managing trustee of CAPE Foundation, a charitable trust that works for animals.
Vikram Banerjee, a canine behaviourist from Kolkata, said each breed has its own needs and has to be trained accordingly. "For instance, a Bullmastiff, which is a working breed, has different needs from that of a Beagle, which is a hound. Their diet, training and exercise would be different. So, whenever buying or adopting a breed, the pet parent must consult a vet to know the exact needs of the breed."
"Bruno, our German Shepherd, was fond of chewing furniture and bit my sister who visited us," said an IT employee who lives in Salt Lake. He recently handed over his pet to Ojha.
Bruno, animal rescuers pointed out, was eight months old at the time of this incident. Four months onwards, dogs usually bite and chew things — this is completely natural. After six months, dogs develop jaw strength, so biting at eight months is a sign of aggression.
According to Bose, lack of knowledge about pets and how to handle and train a breed is the most common problem. Owners also have to take into account the size of the animal and area of their living space. "Without any formal experience in dog-keeping, people fail to train the animal and then it becomes aggressive," she elaborated.
With pandemic easing and offices and schools reopening, people suddenly had no time for pets. "They had no time for their pets and neither could they afford a full-time attendant. As a result, they came up with the 'easiest' solution of giving up their pets," Sen said.
Orphaned by COVID
"I remember this person who bought a pair of labradors during the lockdown and gradually had a 'stable' of eight pups, but the owner refused to part with them or even sell them. However, after the person died of COVID, there was no one to look after these poor animals and they were eventually up for adoption," said Bose.
Cost and upkeep
Maintaining a dog is a costly affair. "With many people losing their jobs during the pandemic, there were several cases when the unemployed owner had no other option but to abandon his ailing pet," said Ojha.
The cost of keeping a dog depends entirely on the owner and how they want to maintain it. "If you want to feed only packaged food, the cost will be more than that of home-cooked meals," explained Ojha.
Also, there are different types of dog food depending on the size of the pet. If it is a long-fur breed, one has to consider the cost of grooming. "The minimum cost would be about Rs 3,000 per month," Banerjee said.
According to Bose, training and exercise are a must for any dog or puppy. "There aren't many proper trainers in Kolkata and hiring a dog behaviourist would cost extra," she said.