Kolkata, a heavily populated delta area at 1.5 metre to 9 metre mean sea level, is a high risk zone during climate change calamities. The Sunderbans, which could have acted as a shield, is already sinking, said architect Sayantan Maitra at a climate change awareness event in Science City on Monday.
The Goethe-Institut in Kolkata is organising a pop-up installation at three venues on three different days this week that will host activities to raise concerns and initiate dialogues around the effects of climate change, air pollution and sustainable living. Titled Towards a Better Tomorrow, the pop-up installation is created with locally sourced sustainable materials by artists Sumantra Mukherjee, Amlan Chaudhuri and Anup Pramanik.
The installation will have displays, videos and will host interactive sessions. Sarmishtha Sarker, programme officer of Goethe-Institut, said: "Towards a Better Tomorrow is part of a larger project titled 'Moving Kolkata – Kolkata Moving' which has an overall objective of encouraging inclusive dialogue around environment and other aspects of sustainable urban development."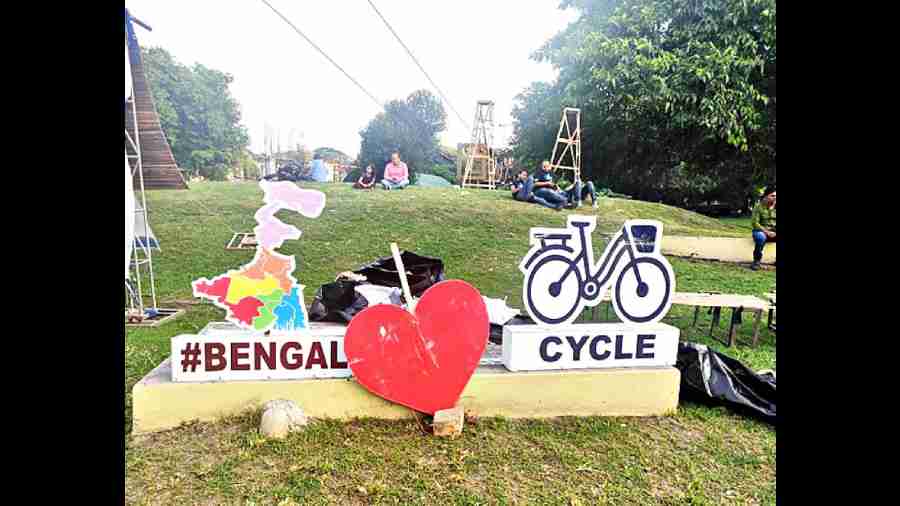 Displays on sustainable mobility at Science City on Monday
Sourced by The Telegraph
The initiative is within the framework of 'European Spaces of Culture' executed by European Union National Institutes of Culture (EUNIC) New-Delhi and Kolkata and is funded by EUNIC Global, Brussels. The first of the three day event was held at Science City on Monday where architect and art curator Maitra talked on the Sunderbans and climate change.
The pop-up installation on the ground of Science City showcased moving images, visuals and a virtual reality experience that highlighted the fragility of the Sunderbans in the face of climate change and increasing incidences of supercyclones hitting the islands. A forest guard from Duiki village in the Sunberbans, Ratan Jana, showed film clips of how the Sunderbans was affected by cyclones Amphan and Yaas. "When there is high tide, the water levels go up by 18-20 feet and often the mud banks are breached. When cyclones hit us, we are completely inundated.
There is not a drop of drinking water available anywhere. Land is completely unfit for cultivation. There is no means of livelihood apart from fishing and going to the forests to collect honey. Both are very hazardous," Jana said. Maitra, who is working on creating sustainable shelters in Hingalganj, said: "Here we are trying to create awareness about climate change because the city is a heavily populated delta area at 1.5 metre to 9 metre mean sea level. If the city is ever hit by a tsunami all low lying areas, particularly the slums and shanties will be washed away."
At another corner of the ground, schoolchildren from Kheyada and Bamanghata high schools along with Ekta Foundation and The Heritage School conducted quizzes on climate change. "We had a three-day workshop where we made mind maps of our localities and tried to point out the assets of the locality and challenges it faces," said a student. There were quizzes and activities on sustainable transport and mobility as well as zero-waste living.
On Wednesday, the pop-up installation will travel to the Victoria Memorial Hall where the focus will be on recycling and repair. On Friday, wetland stories will be narrated by Disappearing Dialogues Collective at the pop-up installation at Kheyada High School.