A college student who had been posting on social media videos of zipping through the city on his bike at speeds of up to 173km an hour was made to drive at 30km an hour wearing a helmet on Thursday.
The occasion was a Safe Drive Save Life campaign by the Bidhannagar police.
Mohammad Shakeeb, 22, who has 42,000 followers on Instagram and runs a YouTube channel by the name of official_madpilot, has been posting videos of himself riding across the city.
One such video shows the speedometer on Shakeeb's lime green Kawasaki Ninja 650 clocking more than 150km an hour while riding through the Parama flyover and the AJC Bose Road flyover in Kolkata.
Another shows Shakeeb's bike vrooming through the daytime Red Road traffic at 173km an hour.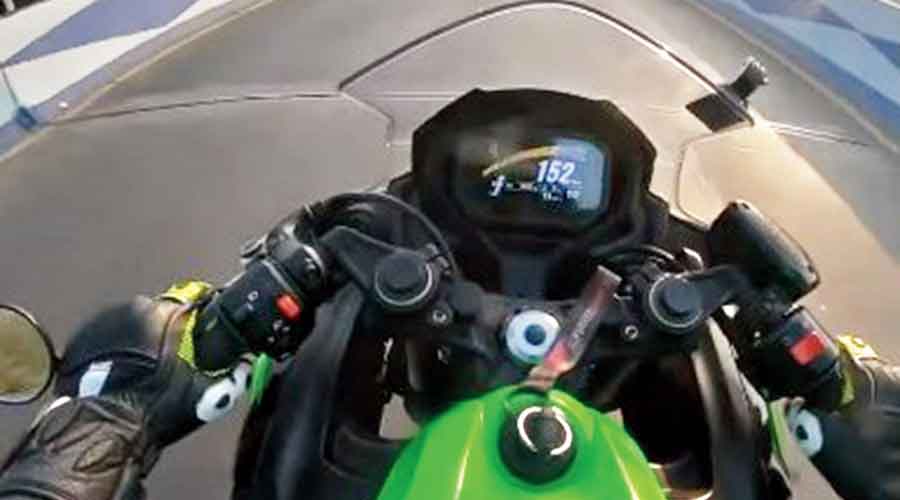 A grab from one of the videos (below) uploaded by Mohammad Shakeeb.
The Telegraph
Shakeeb wanted "to inspire" other bikers, he said.
He did that on Thursday, but differently.
The police spotted his videos on social media. Shakeeb, a resident of Free School Street in central Kolkata, was contacted by Bidhannagar police and counselled to practise safer riding habits.
He was made the 'chief guest' at Thursday's event in New Town where he was asked to lead a motorcycle rally on New Town's Main Arterial Road at a slow pace to encourage safe driving habits among motorcyclists.
A third-year BCom student of a south Kolkata college, Shakeeb said he had been driving his two-wheeler only for three years. He was "inspired" by some city bikers he knew and tried following the trend by recording his rides through moto-blogs.
"Moto-blogging is my passion. I never ride without a helmet. In fact the camera for moto-blogging is attached to my helmet. The only mistake I made was speeding," said Shakeeb on Thursday, who lives off Park Street.
Shakeeb received a call from Bidhannagar police asking him to show up at the Electronic Complex police station. There, an officer of the rank of assistant commissioner counselled him into leaving his habits of dangerous driving and encouraged him to drive safely.
"I was scared because I knew I had made a mistake by speeding. But I am not alone and there are so many moto-bloggers like me who are far more famous than me. But when sir started counselling me, I realised the worth of my life and how my family would be affected if anything happens to me," said Shakeeb, who lives with his parents and a younger sister, who is also a college student.
He said his family was initially reluctant and upset when police invited him as the chief guest of their traffic programme as he was being recognised for "the wrong reasons."
"When I received a call from Bidhannagar police, initially my father was very upset as I was being called by the police for speeding. He scolded me saying he never thought that the gift he gave me (the bike) would turn me into a law violator. But I convinced him with a promise that I was not going to break traffic rules again," Shakeeb told The Telegraph.
Meet Kumar, assistant commissioner of police (traffic), Bidhannagar commissionerate, said the police tried to make him understand what impact his misadventures could have on his family and loved ones.
"Today, he came with some of his friends who also pledged to follow traffic rules. Through 'Safe drive save life' we try to bring about behavioural changes in motorists. This was also a part of the same effort," he said.
Bidhannagar police commissioner inaugurates new office in Salt Lake
Bidhannagar police commissioner Supratim Sarkar inaugurated the Bidhannagar police's yber crime police station's new office at the Karunamoyee Municipal Market building, inside the Karunamoyee Housing Estate, in Salt Lake's ED Block on Thursday.
Sarkar later inaugurated the Bidhannagar commissionerate's woman police station housed in a building inside the Sector V police station compound.