Ibis Kolkata-Rajarhat Mahabhoj Thali
At: Spice it
When: 12noon-3pm, April 14, 15 and 16
Pocket pinch: Rs 1,297 (all inclusive)
What: A lunch thali will be on offer at the ground floor multi-cuisine restaurant at the Action Area I hotel. The menu will be purely Bengali, starting with Aam Panna cooler progressing to main course items like Mangsho Jhol, Lonkabata Murgi, Rui Machher Kalia and Chhanar Dalna. Even the fried rice will have a hint of sweetnes like in Bengali pulao. Chef Avisek Chand is keeping a hint of fusion in the starters - Kasundi marinated Beer Batter Fish, which is a Bekti item, and Cheesy Vegetable Chop. Some of the gravy items will be cooked by his team members from the districts and will have a country-side flavour. The spices are being ground inhouse. The sitabhog and mihidana will be sourced from Burdwan.
Organiserspeak: "The footfall was good last year. This is the fourth year that we are holding the festival over three days," said Anil Kunal Kapoor, the sales and marketing director.
Hotel The Sojourn Ghoti-Bati Bhuribhoj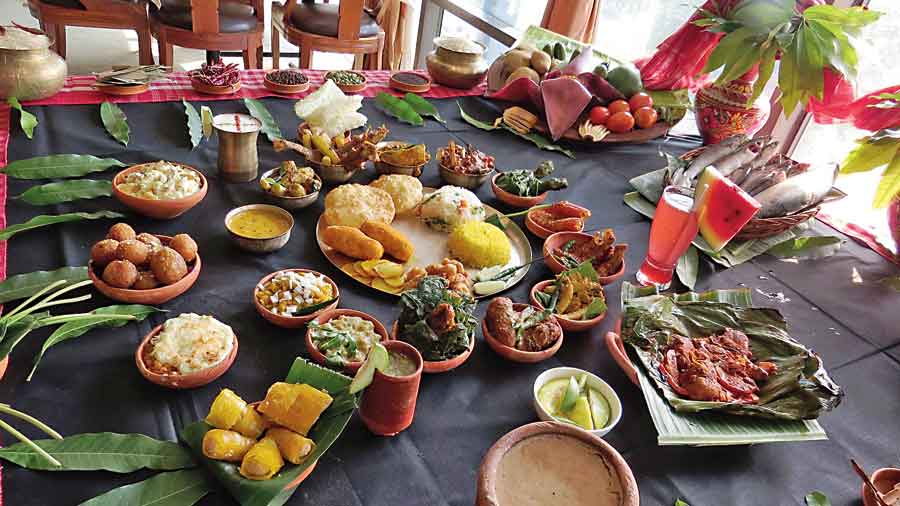 The spread at Hotel the Sojourn.
Sudeshna Banerjee
When: April 15 (buffet and a la carte) and 16 (a la carte)
Pocket pinch: Rs 1250 (all inclusive)
The buffet spread at the hotel facing the stadium features an even mix of dishes from both sides of the Indo-Bangla border.
There are surprises in several unfamiliar dishes or ingredients. In Choi Jhal Mangsho, for instance, a piece of the bark of choi tree is cooked with the meat for adding flavour, which is a bit like green chilli. Aarbipatar bora uses kochu leaves inlaid with a stuffing of chhana and spices, rolled, cut and then deep fried. There are fish items from cuisines of both sides - Topshe Fry, Chingri Popcorn, Puti Machher Bati Chochchori, Bhapa Ilish, Chitol Machher Muitha and Pabdar Jhal. A Bengali twist has been added to a western dish in Kolapatay Chicken Roast. There are ample vegetarian options too with the Mishti Pulao and Koraishutir Kochuri in Tel Potol, Begun Bharta, Mochar Ghonto Chhola Diye and Narkol Diye Chholar Dal.
Mani Square Baisakhi Blast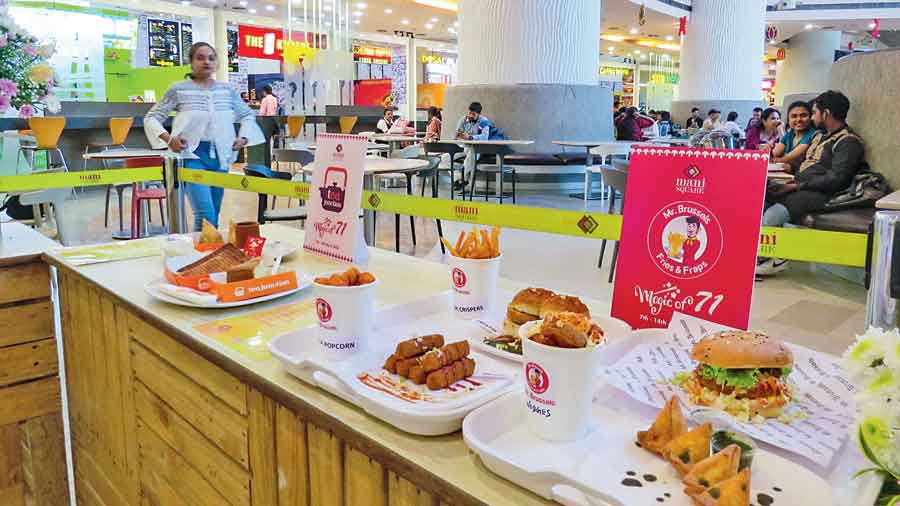 Some of the food items on offer at the flat rate of Rs 71 at the Mani Square food court.
Sudeshna Banerjee
When: Till April 16
The food court at Mani Square is celebrating the magic of 71. A huge range of dishes here are available at a flat rate of Rs 71.
Fourteen counters at the food court as well as La Griglia, the roof-top restaurant, are participating with some of their most popular dishes. That includes Masala Chai and Samosa combination from Tea Junction, Peri Peri Fries and Nachos from Mr Brussels, Masala Vadas and Coffee combination from Dosa Coffee, Paneer Tikka and Murgh Kashmiri Kebab from The Tandoori Startup, momos and a variety of rices and a variety of side dishes from Yo-Tibet to name a few.
The event is making a comeback after a two-year gap and the price of the items remains that same as it was in 2019. "After three years of disconnect, we want people to come back. That is why we did not raise the price. This event started in 2012 with the Magic of 21. In the past, we have had the service road from Apollo Multispeciality Hospital get clogged due to the rush of visitors. We want that crowd to return," said Sudarshana Gangulee, director of the Mani Group.
The one year of closure and the pandemic-hit two years following it saw the food court starting over from scratch. Several stalls have changed hands. Chaatz, Supper Me and a Hungarian food outlet called The Kurtos have opened as have branches of well-known brands like Chowman, Wow Momo and Wow! China.
There are musical acts lined up late in the afternoon outside in the atrium. The Goshal Gang takes stage today, Chandrabindoo will rock on Poila Baisakh from 6pm and Delete will jive on Sunday.