On a sunny February morning, 24 women of CE Block in New Town took a break from their household chores and trooped out to the field, bat and ball in hand.
Their outing was occasioned by an exhibition match between two women's teams — named Tulip and Astor. Their ages ranged from 35 years to 60-plus, and included several who had never held a cricket bat in their lives till recently.
"We had played a match in 2019 but it was a lacklustre event with us failing to field 11 players on either side," said the captain of Astor, Gopa Sarkar.
This time, the idea was mooted in December for a January 23 match and a handful of women started to practise in right earnest. "My eight-year-old son goes for cricket coaching at the block academy. There I saw three women playing by themselves. Gopa di asked me if I wanted to join and I thought 'Why not?'," said Madhumita Middya. A mathematics teacher at St. Xavier's University, she already had a packed day with online classes taking place from 6.15am to 10.30am and then tutoring her son in all subjects in the evening.
But she still found time to practise as did the other women. "Passers-by used to stop in their tracks on seeing this spectacle of middle-aged women playing in the field," laughs Madhumita.
Sarkar, who had some experience of playing with her brothers in her childhood, taught the others the rules of the game. The practice took place for about a couple of hours in the afternoon. Gradually, more women joined. "Initially, we thought of keeping a 12th person in reserve. But later we decided to let everyone play, so 12-member sides were fielded," Sarkar said.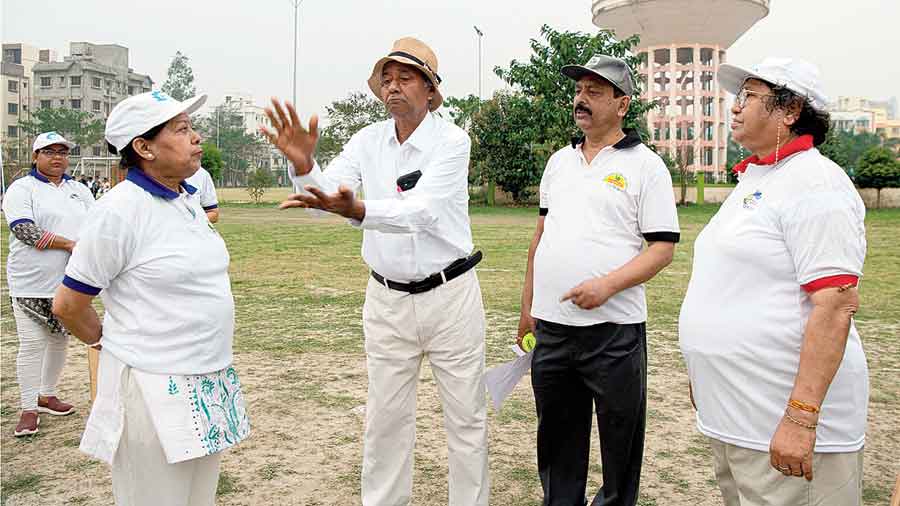 The two captains Chandana Ghosh and Gopa Sarkar (right) with the umpires during the toss
If Madhumita, the wicket-keeper of Tulip, was the youngest of the squad at 35, her team's captain Chandana Ghosh was the oldest at 69. "My husband and elder sister encouraged me. The bat was too heavy so I focused on bowling," said Ghosh, adding how she would watch the matches of both the India men's and women's teams on TV to pick up a fast bowler's action. Underarm bowling was allowed but the ball had to reach on one drop.
Sarkar, her rival captain, was the second oldest at 64. Several others, like Shipra Kumar and Mita Banerjee, were knocking on the doors of senior citizenship. "But we did not let niggles and bruises come in the way of our enjoyment," said Sarkar.
Due to the third wave, the match took place later than planned, in end-February.
Ghosh, the captain of Tulip, won the toss and elected to bat.
Shatabdi Banerjee of Tulip played a stellar turn, scoring 41 runs, and helped her team reach a total of 73 runs in 12 overs.
That put Astor under pressure as they commenced their chase to overtake the target within 12 overs. Mahasweta Bhattacharya and Kavita Jha opened for them. Soon Shibani Sardar's pace got the better of Kavita. Hit in the eye, she was forced to retire hurt from the match and Sandhya Verma replaced her. The partnership between Sandhya and Mahasweta blossomed. Dealing in boundaries, they made short work of the chase and wrapped up the match for Astor in 10 overs, winning by nine wickets.
Winning captain Sarkar, one of the most enthusiastic participants, was beaming from ear to ear. "We are extremely happy to have won the match but our motive was not just to win but also to eventually get our fitness back and most importantly, have fun with our teammates," she said.
Ghosh, the captain of Tulip, did not let the result affect her smile. "We gave our best. Our players were not able to practice as much as they needed as most of them have to give time to their families and work. On top of that, at this age, there's a constant risk of injury for most of us. Luckily for Astor, they got most of the younger players in their team, which surely helped them. I am still very happy about the whole experience," she said.
The Best Batter award for the match was given to Shatabdi Banerjee of Tulip for her wonderful knock of 41, while the Best Bowler award went to Sudha Prasad of Astor for her spell of two wickets for 24 runs in 3 overs. Sandhya Verma of Astor won the Player of the Match award for her all-round performance. She not only picked up a couple of wickets for 21 runs in 4 overs, but also scored 27 runs with the bat. "I didn't play to win individual accolades in this match as I wanted my team to win first. But obviously now that we have won, it gives me immense pleasure and pride to get this award," Sandhya said. She thanked the CE Block Cultural Association sports secretary, Debdas Chatterjee, for providing the women "this wonderful platform to showcase our talents".
Alok Das, secretary of CE Block Cultural Association, was happy at the success of the match. "We hardly see the women in this block getting out of their houses to play. But with the aim to improve bonding among neighbours and to motivate all residents to indulge more in sports, we have arranged for cricket and football coaching sessions in the block. Encouraging the women to step out of their houses and play this match is in itself a victory for us that we surely hope to build upon."
As for the players themselves, they are intent on making the match a regular affair.