A division bench of Calcutta High Court on Tuesday held that a public interest litigation (PIL) moved by a BJP leader seeking a CBI investigation into alleged irregularities in the recruitment of teachers for primary schools was "maintainable for hearing".
The bench headed by Chief Justice Prakash Srivastava asked the state government and the state's primary education board to file affidavits stating their stand in regard to the petitioner's contention and fixed the matter for hearing after four weeks.
The issue of recruiting teachers for government-aided primary schools, based on the teachers' eligibility test in 2014, is already under the CBI's scanner.
Justice Abhijit Gangopadhyay of the high court had, while hearing some cases, suspected "gross irregularities" in the process and ordered a CBI inquiry to find out the persons guilty of issuing fake recommendation letters to some candidates for obtaining jobs in schools.
The BJP leader in his petition sought a bigger "investigation" into the alleged irregularities, said his lawyers.
The petitioner, Tarunjyoti Tiwari, has alleged that the board had not followed rules while selecting candidates for the jobs and "adopted a pick-and-choose" method.
The petitioner said the court should ask the CBI to conduct a probe into the charges.
The state government opposed the petition filed by the BJP leader and submitted in the court that the PIL was not maintainable.
But the division bench, in its primary observation, held that the public interest litigation moved by Tiwari was maintainable for hearing.
Academic delivers presentation at a seminar on Leon Trotsky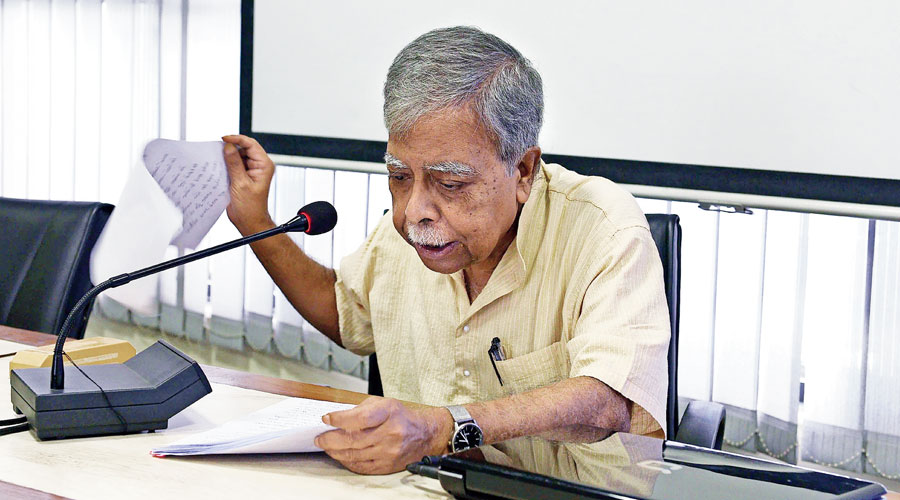 Pictures by Pradip Sanyal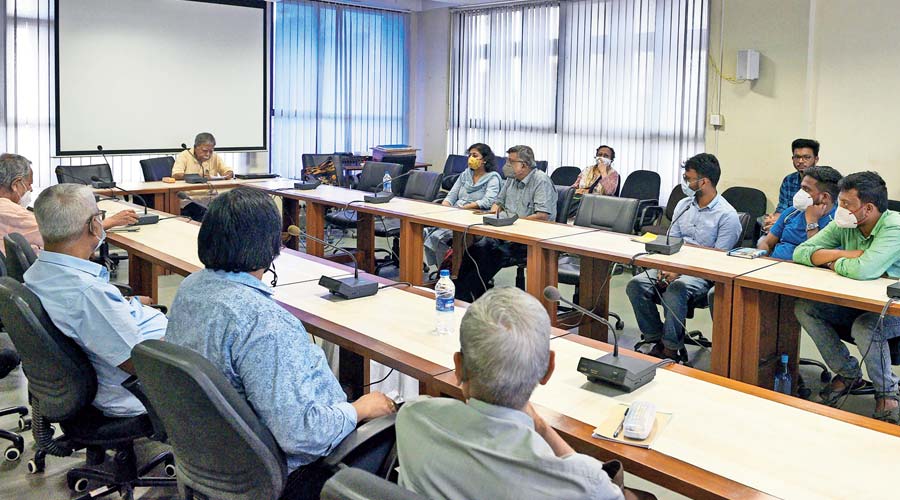 Academic Subhoranjan Dasgupta delivers a presentation titled 'The Literary and Creative Genius of Trotsky, The Great Tragic Revolutionary', at a seminar on Leon Trotsky, a leading Russo-Ukrainian Marxist revolutionary, political theorist and politician who played a pivotal role in the Bolshevik Revolution of 1917.
Dasgupta's presentation was the centerpiece of the seminar at the Institute of Development Studies Kolkata. Academics Amiya Kumar Bagchi, Chinmoy Guha, Sobhanlal Datta Gupta and Kalyan Chatterjee were among those who attended the event.
Police hackathon
Lalbazar: Kolkata police will organise a hackathon in collaboration with IEMA Research and Development at the Netaji Indoor Stadium on July 29, police announced on Tuesday.
The police said the hackathon was an initiative to bring together cyber security experts to counter the increasing menace of cyber crimes. Registrations were opened from Tuesday. Those who want to participate can register themselves on https://kolkatapolicehackathon.in. The last date to register is July 26.