Dum Dum Road and Jessore Road, which connect north-eastern parts of Kolkata with the rest of the city, are riddled with craters, posing risks to thousands of commuters and residents.
The two arteries have witnessed a steep jump in traffic since the old Tallah bridge, which was a key link between the city and the northern suburbs, was closed in February 2020.
The new bridge is yet to be ready. 
One of the worst affected arteries in the area is Dum Dum Road, which connects Dum Dum railway station to BT Road and Chiria More on one side and places like Motijheel and Nagerbazar on the other. 
The road is a lifeline not just to residents of these areas, but also to a large number of people from other places who reach Dum Dum by Metro or suburban trains and commute to their destinations by bus, autorickshaw or app cab.
Till the new Tallah bridge is opened, Dum Dum Road will remain a crucial link with the city for residents of places like Baranagar, Dunlop and Sodepur. 
An officer of the Barrackpore commissionerate's traffic wing said more than 20,000 vehicles use Dum Dum Road every day. Some of the craters on Dum Dum Road are so big that local shopkeepers have placed tree branches over them so bikers and people driving cars could skirt the affected parts.
In some places, potholes have been cordoned off by temporary guard walls. 
On Monday, The Telegraph spotted multiple craters that had either tree branches or stone chips dumped into them so that they could be spotted from a distance.
Bikram Choudhury, a resident of Dum Dum who rides a motorcycle to his workshop on BT Road every day, said he was in constant danger of losing life or limbs during his commute to office and back home.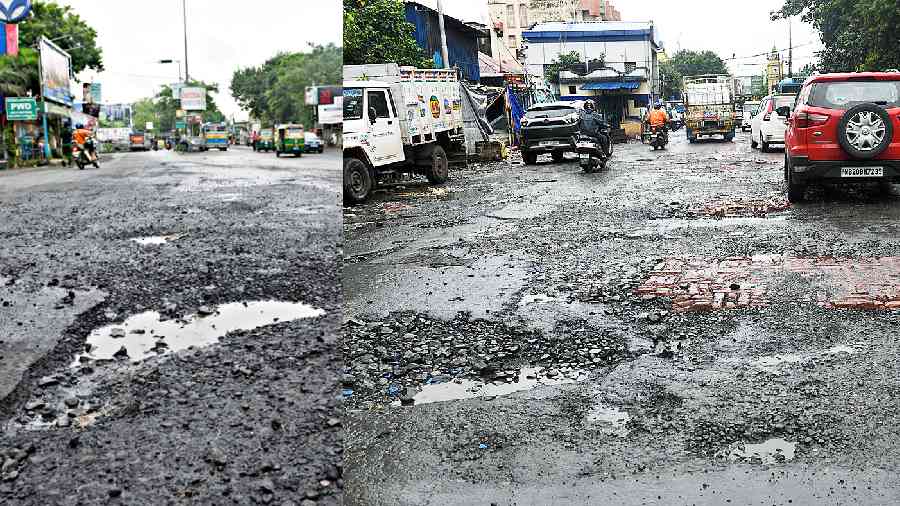 A potholed stretch on Jessore Road and (right) a battered portion of Patipukur Road
"The potholes on the stretch leading to the Dum Dum railway underpass are very big and deep. The situation worsens on the underpass as the craters remain hidden under water and the stretch is extremely slippery. The road has been like this for years and no repairs have been undertaken despite the fact that accidents happen almost daily," said Choudhury.
The stretch of Jessore Road from the Bangur Avenue crossing towards Nagerbazar is a mix of potholes and broken asphalt. On some stretches, blacktop is completely missing.
To add to the woes of residents and commuters alike, a 2m-wide stretch has been dug up on both flanks of the road to lay drainage pipes. Sunil Biswas, a Nagerbazar resident who commutes to and from his workplace in Sector V on a scooter, said he rides with a prayer on his lips every morning and evening. 
"My scooter skids every other day when I apply the brakes, but fortunately I have not yet been thrown off balance," said Biswas.
In Paikpara, Belgachhia Road as well as roads leading to residential neighbourhoods like Sahid Colony and Panchantala are almost devoid of blacktop.
Same is the condition of the road in Patipukur. Cars and buses sway dangerously and two-wheelers bounce on the stretch because of multiple potholes. 
Officials of South Dum Dum Municipality, North Dum Dum Municipality and the public works department (PWD) — the agencies responsible for the maintenance of the roads — said they could only conduct patchwork repairs before the Puja.
"We are planning to fill the potholes with rubble to provide temporary relief to commuters," said a senior PWD official.
Kasturi Choudhury, chairperson of South Dum Dum Municipality, said they would undertake patchwork repairs only on Dum Dum Road.
"We have informed the PWD, which is in charge of Jessore Road, to carry out urgent repairs. They have assured us that they will finish the repairs before the Puja," said Choudhury.
Bidhan Biswas, chairman of North Dum Dum Municipality, also said they were banking on patchwork repairs before the Puja.
"The roads will be relaid once we get a long dry spell after Puja," Biswas said.