In a survey carried out by the management consulting firm McKinsey & Company, more than 90 percent of executives from over 200 organisations held that, over the next five years, the way of doing business would be substantially changed, thanks to the Covid-19 crisis. In the survey, 71 percent of executives from organisations related to healthcare systems and services maintained that the Covid-19 crisis would bring about significant opportunities for growth in their industry.
The pandemic has left a positive impact on healthcare innovations across the world. During Covid times, some of the healthcare innovations, according to Forbes, were: Use of drones to provide medical supplies in distant places, cloud-based surveillance of ventilators and other devices to support breathing, tracking disease status and hotspots of infection through artificial intelligence-enabled mobile apps, and designing low-cost and easy-to-use ventilators.
Doctors from India also presented several interventions during the pandemic. For instance, as the World Health Organisation points out, Karnataka activated a helpline called Apthamitra. "The technological innovations [associated with Apthamitra] not only tracked vulnerable population but also guided the state to make decisions on graded relaxation of lockdown norms in safer areas and earmarking high-risk containment zones," WHO unveiled.
In this context, let's highlight three health related innovations by doctors hailing from Kolkata.
Innovation I
A 39-year-old-male Covid-19 patient in the UK had a cardiac arrest and collapsed first at his home and then at a hospital. At the hospital, he had no pulse, no blood pressure, and no blood flow to organs for 45 minutes. When he did not respond to the maximum treatment, Dr Arijit Ghosh, a specialist in cardiology at the Birmingham University Hospital in UK, used an innovative intervention — medically known as double sequential defibrillation — where shocks are given to the patient's heart from two defibrillators (these devices provide electric shock to a patient's heart to restore normal heartbeat) in a sequential pattern. The patient recovered with the treatment — his blood circulation, pulse and blood pressure came back, and blood flow to the organs got restored — and he ultimately survived.
"By using two defibrillators we are delivering more power and generating multiple vectors of electricity with better coverage of the entire heart muscle," Ghosh explained.
Innovation II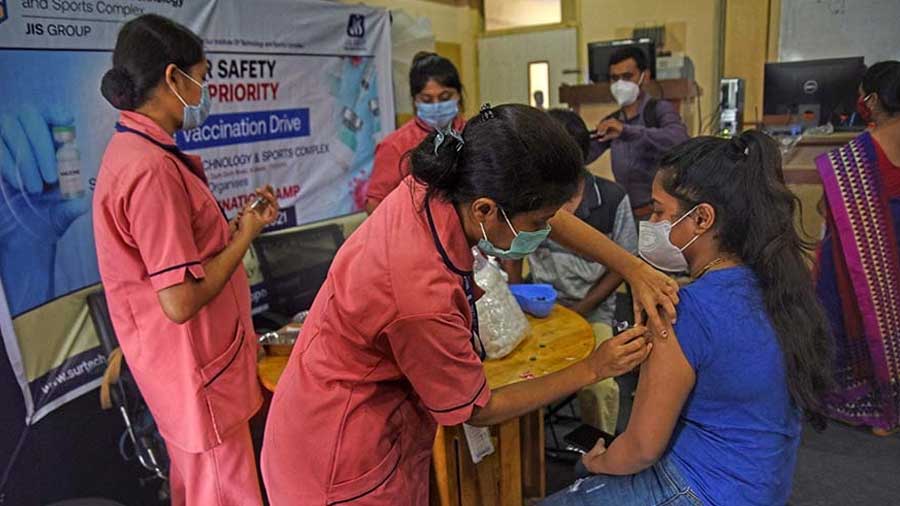 A COVID vaccination drive in progress in Kolkata
My Kolkata
During the second Covid-19 wave, a 50-year-old man from Madhyamgram (in North 24-Parganas district) was taken to Dr Shantanu Panja, chief surgeon and senior consultant of ENT and head neck surgery at the Apollo Multispeciality Hospital in Kolkata. The patient had uncontrolled diabetes and a serious infectious condition that led to extensive damage to nearly half of his neck skin and muscle.
Panja and his team carried out an emergency surgery on him to remove the infected tissues from his neck. Then they advocated an intriguing procedure for the regeneration of damaged tissue and healing of the wound — medically called vacuum assisted closure (VAC) of wound — where a suction pump, tubing and foam bandage are used and pressure around the wound is decreased to speed up the healing process. The patient also underwent skin grafting to line the defect in his neck. "Given his condition, the journey to his recovery was no less than a miracle, thanks to the grit and perseverance of the treating team and his better luck," said Panja.
Innovation III
Usually, obstruction or narrowing of heart vessels is held responsible for heart attack. However, in some cases, heart attack can occur without any obstruction or narrowing in the heart vessels. Just before the onset of Covid-19, Dr Amardeep Ghosh Dastidar, consultant cardiologist at the North Bristol NHS Trust and Bristol Heart Institute in UK, and co-workers came up with a study on this bizarre type of heart attack that is substantially difficult to diagnose.
"Myocardial infarction [heart attack] with non-obstructed coronary arteries [heart vessels] represents a diagnostic dilemma," Ghosh Dastidar and colleagues wrote in their research paper in the journal JACC: Cardiovascular Imaging (October 2019). In this research paper and in another article they published this year (February) in the journal Heart, Ghosh Dastidar and his colleagues have explained the innovative techniques to diagnose this peculiar variety of heart attack.
======================
Dr Sanjeet Bagcchi is a physician and independent medical writer