Park Street had to be closed to traffic from 5pm on Sunday as visitors to the street had swelled to an extent that they could no longer be contained inside the barricaded footpaths.
For the entire evening, only pedestrians could enter Park Street. The road was thrown open to traffic a little after 9.30pm.
Police also said the number of people was much more on Sunday evening compared to Saturday.
A police officer said the 5pm closure was not surprising and they were prepared to stop traffic even earlier.
The officer said past experiences have shown that visitors to places like the Victoria Memorial, Indian Museum or the zoo start heading toward Park Street from around 4.30pm, as these places close their gates around 5pm. 
But there were also others who had come only to see the lights on Park Street.
Mohammad Minhaj and Aman Abdullah, friends who had come from Canning Street to see the lights were happy with the experience."I had come here earlier also. So I told him to visit the place on Christmas and see the lights," said Aman referring to Minhaj.
Police personnel had to constantly blow whistles to ask the crowd to keep moving and not wait at any point.  
Vehicles headed south, towards the Exide crossing and beyond were either diverted via other roads or made to move straight towards Birla Planetarium from the Park Street-Chowringee Road crossing. 
Vehicles that were supposed to take Park Street were diverted via Kyd Street, Free School Street and Ripon Street to reach APC Road and the Mullickbazar crossing. Others headed towards Exide were sometimes allowed to pass through the Park Street crossing and at other times asked to take the Park Street flyover depending on the volume of vehicles on the roads. 
The pedestrians who entered Park Street from Chowringhee were not allowed to come out from the same crossing. They had to walk along Free School Street and Kyd Street before they could again come out on Chowringee Road. 
Earlier on Saturday, the police did not stop traffic on the street though the usual both way movement of vehicles was not allowed before 2am.
On other days the two-way movement is allowed from 10pm.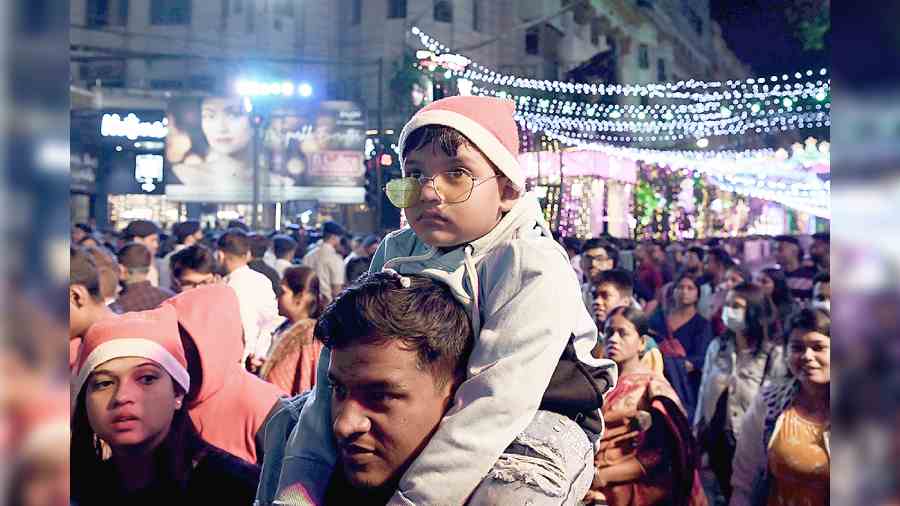 On Sunday, Kolkata's police commissioner Vineet Goyal visited Park Street to see the arrangement.
Around 3,000 police personnel were on duty to man Park Street and the adjoining roads, including plainclothes policemen, to maintain vigil against disorderly conduct and harassment of women.
Though traffic was not stopped earlier, there was a big crowd on Park Street since afternoon.
Nearly all restaurants had serpentine queues in front.
Nitin Kothari, owner of two of Park Street's more famous addresses, Mocambo and Peter Cat, said "the turnout was better this year is much much better than last Christmas."
At Flurys, there was a flurry of activity and the plum cake, dundee cakes as well as the coconut cakes literally flew off the shelves. The tearoom too was packed throughout the day.
Rajesh Singh, national head, Flurys said that they were expecting good footfall in the coming weeks as well.
"We have had very encouraging sales both in the run up to Christmas as well as on Christmas Day," said Singh.
Howrah resident Reena Basu who had landed up at 12:30pm to have lunch at Peter Cat managed to get inside after waiting for two hours.
Basu was accompanied by her friend Sangeeta Mondal and their children.
"We knew that we would have to wait but we did not think that it would be this long," Basu said.
The pavements were filled with people sporting red headbands, Santa caps, reindeer horns and soaking in the sights cellphone cameras at the ready.
Around 3pm, there was a series of gushes from the revellers as Pluto, a four-year-old French mastiff, crossed the road in front of Flurys with his guardian, Ayaan Lodhi.
Pluto had Santa glasses on and many posed for a photograph with him later.