Author: Rabindranath Tagore
Dance drama: Tasher Desh
Dance form: Chhau
Surprised? Aghast? How can Tagore be appropriated like that? What audacity?
But there's a deeper story behind this attempt; of a struggle for wider acceptance and a bid to set things right.
"The idea came when I saw how countries like China or Australia were promoting their indigenous dance forms," Suvam Pal, one of the three key persons who planned this unique adaptation, told My Kolkata.
Pal and his comrades, along with a group of 20-odd performers, had recently been to New Town where they staged Tasher Desh, a dance drama Tagore had written in a satirical look at all forms of dogmatism and tyranny. What Pal and his group wanted to do was present an ingenious enactment of Tagore's dance drama through Chhau dance and, in the process, celebrate the regional folk art that today faces the twin challenges of neglect and a mindset that takes heritage for granted.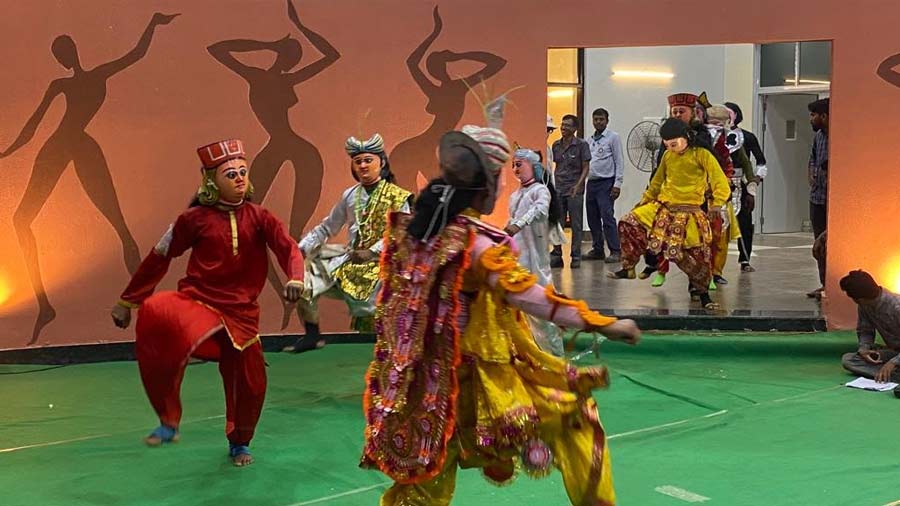 A glimpse of the performance
Photograph: Naba Gopal Roy
Chhau dance, a form that combines martial and folk traditions, has been on Unesco's Representative List of Intangible Cultural Heritage of Humanity since 2010, one of the two reasons West Bengal features twice on the list. Last year, in 2021, the UN body had accorded heritage status to Kolkata's Durga Puja festival.
Despite being on the same prestigious list, things have been vastly different on the ground. While Durga Puja is celebrated widely, Chhau has remained largely on the margins, although things might be looking up following the efforts of the West Bengal government, which set up the Sidho-Kanho-Birsha University in Purulia district, and non-profit organisations such as Knowledge Nomads. The SKB University, established in 2010, is the only university in the world that offers a chance to study Chhau as part of its regular curriculum.
Survival of an art form with innovative symbiosis
In a sense, therefore, the New Town performance by the Chhau team — at the newly opened Second Community Centre at Akankshamore in this planned Kolkata township — is also a tale of a few intrepid individuals trying to merge the traditional with the popular. This is where Pal, Dr Naba Gopal Roy and Dr Sudip Bhui, and the organisations they represent, come into the picture. What they are trying to do is bring Chhau into the mainstream of Indian heritage and cultural prestige through an innovative symbiosis with the great creations of Tagore. The aim is to ensure the survival of this heritage dance form, practised predominantly in the eastern Indian states of Bihar, Jharkhand, Odisha and West Bengal.
Pal, who can be described as a culture connoisseur and globe-trotter with strong roots in Tagore's Santiniketan, said he got the idea after watching mask dances, such as the aboriginal dances in Australia, and the Peking Opera, Sichuan Opera and the Tibetan Cham Dance. Chhau, he told My Kolkata over the phone, had the "uniqueness" of all the above-mentioned foreign dance forms, including "multiple additional attractions such as style, energy, acrobatics, art of making the masks, and distinct music and ethnic musical instruments''.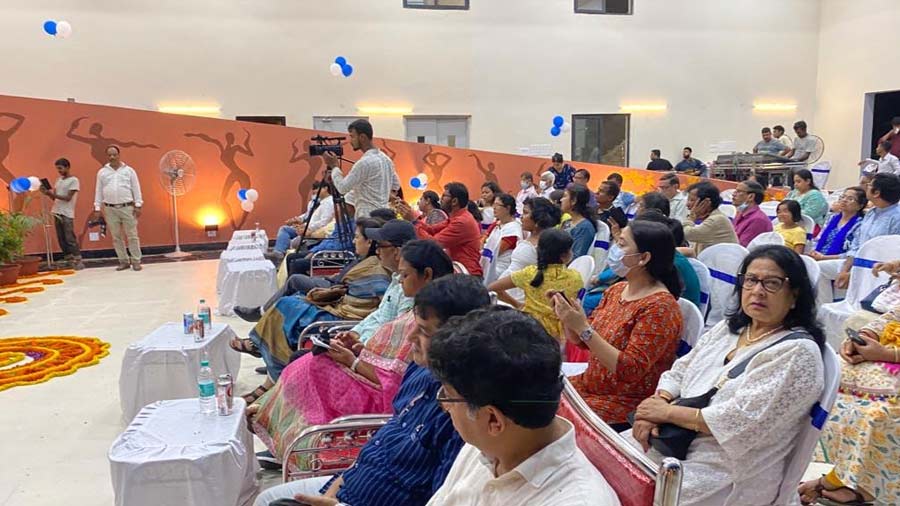 The audience at the event
Photograph: Naba Gopal Roy
"Yet," he rued, "Chhau has remained largely inconspicuous, limited to the district, and as a mere adornment for the walls and décor of society elites."
At Peking University, Pal saw how Chinese authorities were trying to preserve and protect the country's cultural heritage. Subsequently, a chance encounter that brought him to Sidho-Kanho-Birsha University in Purulia, further inspired him to promote Chhau not only at a local level but also globally. He describes his role as that of "an impresario-cum-mastermind… taking care of the concept as well as how to promote it". Pal was joined in his efforts by Bhui and Roy, both associated with the Purulia university. That was how the three teamed up.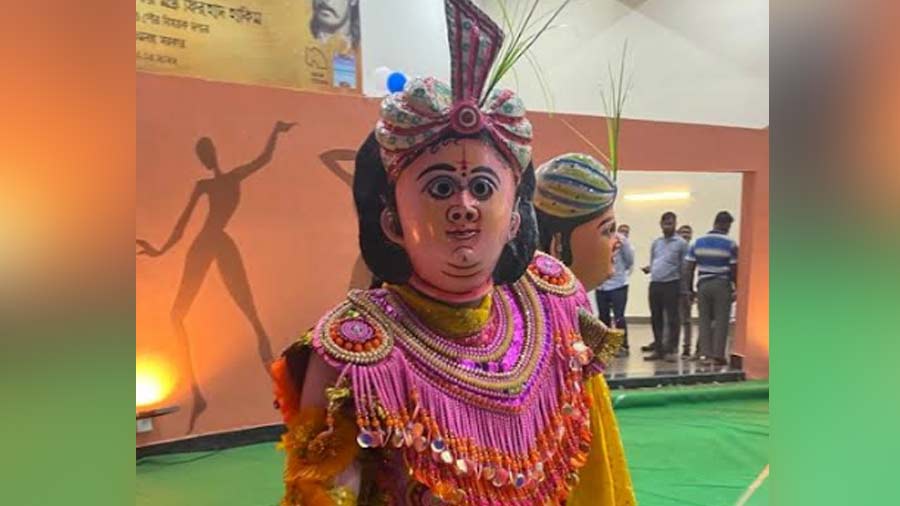 A Chhau dancer
Photograph: Naba Gopal Roy
'Dance of defence and attack'
But before we go ahead, a word on Chhau as an art form. Originally a form of war dance, Chhau, for all purposes, has been inspired by the martial crafts of earlier civilisations, a time when swords and shields held sway and required their users to be fit and athletic. It, therefore, not only demanded that the performers raise their levels of physical fitness for the "dance of defence and attack" or the "play of the shield and sword", but also served to elevate the soul through suppression of fear in the anticipation of victory.
Chhau today can be divided into three major styles representative of their place of prevalence: Purulia, Seraikela (Jharkhand) and Mayurbhanj (Odisha). Of these three, the Mayurbhanj and Seraikela streams enjoyed the patronage of princely families, a key reason for their spread and survival and also recognition over the years.
The Purulia genre has been a lot more mass based. Chhau is also practised all over West Bengal's Birbhum district but it's in Purulia where a few villages — such as Baghmundi and Arsha — have been known to take a special interest in the dance form.
Another difference is that the Purulia style, like the one from Seraikela, lays stress on the use of masks, which the Mayurbhanj genre does not.
In Purulia, Chhau is traditionally performed in the open and on level ground. Strong influences from the jatra form of folk theatre as well as urbanisation have made inroads but the dance form has managed to retain the original traditional music and thematic content. Among the constants would be the accompanying music — a combination of the shanai (similar to the shehnai of northern India) and two types of drums, dhol and dhamsa — while the fascinating repertoire of ethnic Jhumur songs add to the ambience.
The masks for the dance are primarily made in Purulia's Chorida village and also in Dumurdih, where generations of mask-makers have ensured the survival of the trade.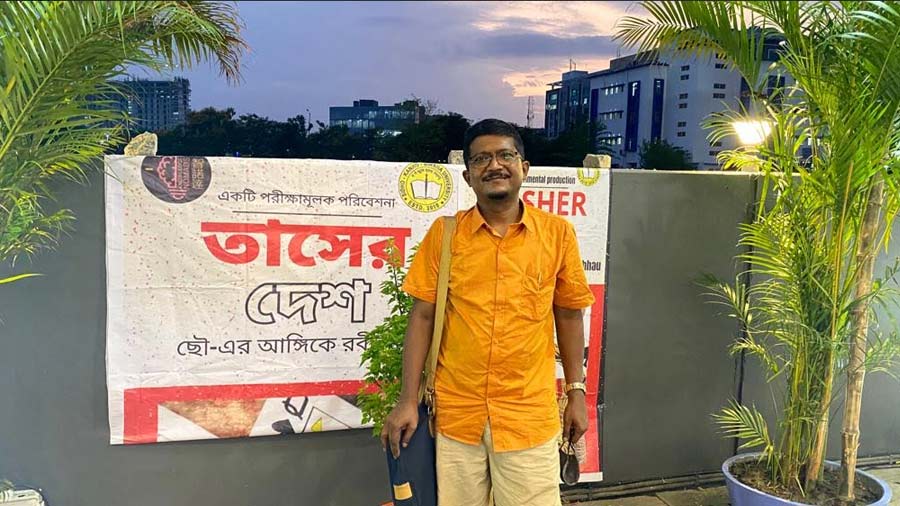 Naba Gopal Roy
Photograph: Naba Gopal Roy
Rebellion against mindset
Coming back to Pal and his comrades, their effort to give a fresh impetus to Chhau can also be seen as a rebellion against the restrictive mindset that frowns upon any attempt to spread Tagore's greatness through art forms not approved by the recognised custodians of the bard's works. This is a tricky zone, potentially open to conflict, so Bhui looks after the elements of Chhau while Roy, a former student of Visva-Bharati University, takes the responsibility for the "Tagore" aspect of their endeavour.
"There is absolutely no intention to challenge, tarnish or even override the grandeur of Rabindranath Tagore's magnificent creations," Roy explained. "Yes, the text had to be curtailed for our presentation. As an art form, Chhau is limited to short depictions of twenty-odd minutes or so. The performers too cannot sustain a portrayal of a longer duration as this is a fast-moving, energetic display more attuned to portrayal of bravery or valour. That is precisely why we have brought the presentation to a compact half an hour. We begin at a certain stage in the play and all that is there in the original depiction is made aware through our narration. More than one episode of the play involving dance has been adapted to suit our style and some have obviously been shortened as well."
Any specific reason for choosing Tasher Desh?
"Gurudev had written the play when the situation in India was extremely challenging. We all know that he had dedicated the play to Netaji Subhas Chandra Bose. In a sense, our effort too is aimed at overcoming the multi-dimensional challenges of our times," Roy said.
"Coming back to Chhau as an art form, we felt that performing Tasher Desh would be ideal for us because Gurudev too had experimented with masks in his play. So we decided to explore that symbolic usage through Chhau. That would also help us in our prime effort to popularise Chhau."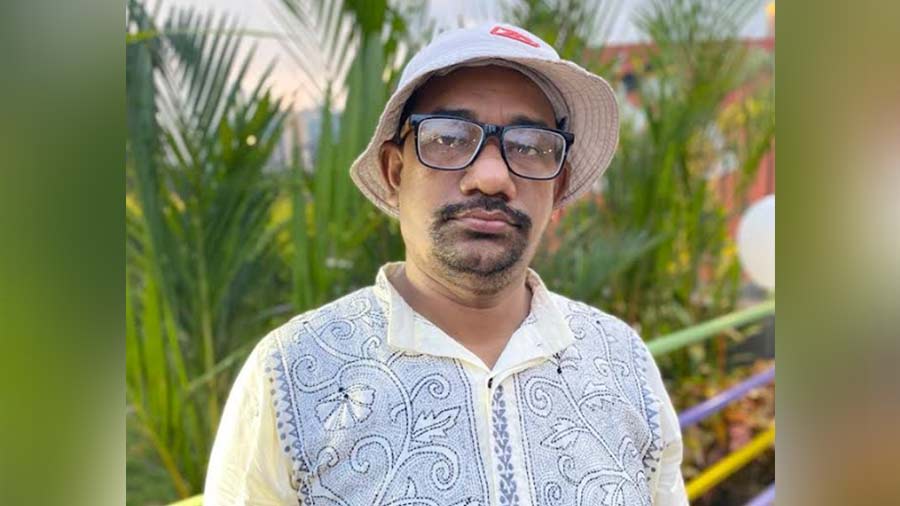 Sudip Bhui
Photograph: Naba Gopal Roy
Rabindranatya, Roy added, has never been impeded, nor has it been denuded. "It has been shortened, no doubt. The question that now arises is how has Chhau been brought to the fore in this presentation. Chhau, as we know, has its own format, its way of enacting itself through its use of Jhumur and Tushu (a form of recital) to present a dance or nritya recital and the age-old practice is of a single-person narrative. We make sure that this is never compromised with."
Roy stressed that Tagore's play was not being presented as it had been written with the mere addition of masked actors. "Rather, care has been taken to sanctify the age-old format of Chhau as a dance form. Deviations do occur with regard to the rhythm, as extra beats had to be incorporated, with the induction of the dhamsa and the madol (a type of drum), all necessary additions when different cultures and forms come together."
Bhui agreed with his comrade while expressing his happiness that a symbiosis of sorts with Tagore's nritya natya could be created. "Events such as these," he said, "mark the culmination of our efforts of many months and we are hopeful that everyone will be able to appreciate and enjoy our presentation."
A new horizon
Rabindranath Kumar and Korno Karmakar, both members of the troupe, shared their sentiments too. "Our long association with Chhau has been a matter of pride for all of us," they said, speaking almost simultaneously.
Like everyone else, the Covid-19 pandemic had affected the community of Chhau dancers too, so this fusion was a fresh and welcome initiative, a "new horizon", as they put it. "We feel proud to have brought Kobiguru Rabindranath into our livelihood. Our art has been based on mythology and tradition. Now, for the first time, we see a new horizon and that makes us more proud."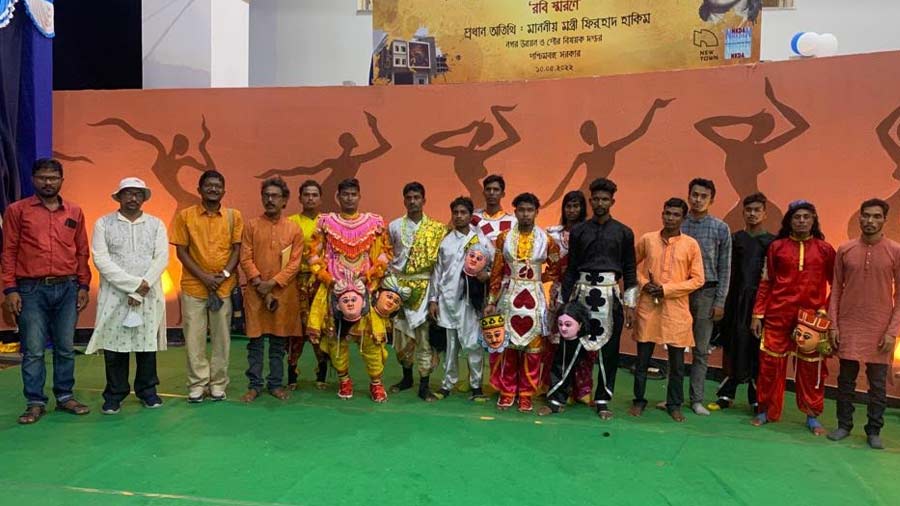 Dancers pose for a group photograph
Photograph: Naba Gopal Roy
It was clear the words came from the heart. And, perhaps, a sense of relief too.
The message — more an unspoken appeal — was hard to miss. Behind the animated chatter about the ethnic realism that decorative Chhau masks lend to drawing room décor, there is a story screaming to be told. It's a story about our heritage that demands not only cosmetic appreciation but a call for each one of us to cherish, nourish and empower towards greater recognition.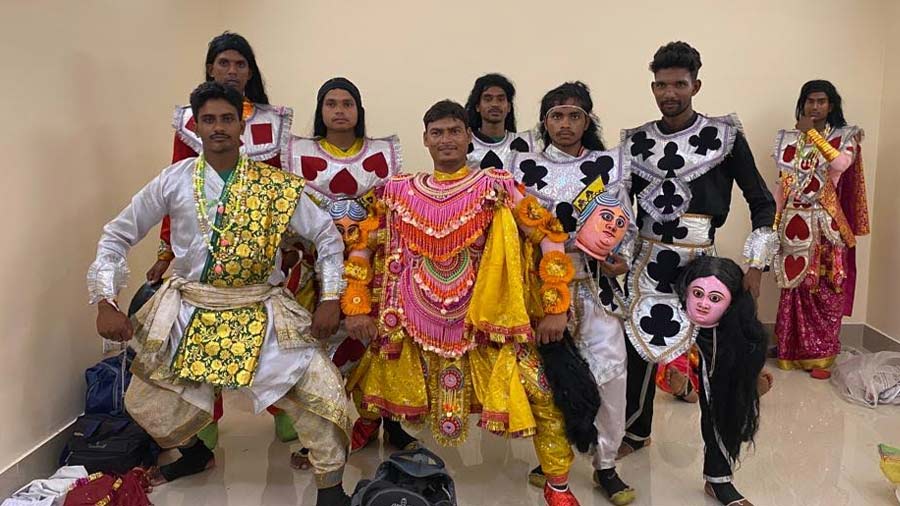 Dancers pose for a group photograph
Photograph: Naba Gopal Roy