Amalendu Kumar, 68, stays in a New Town housing complex in northeast Kolkata with his 63-year-old wife. His son is unable to travel to India for two years now as Australia, his country of domicile, has imposed strict measures to curb Covid infection from abroad.
"Even if he can come, paying for air tickets that cost twice or thrice the usual price now, he will find it difficult to go back due to travel restrictions Down Under in the light the Omicron variant scare," Kumar says. His daughter too is away, in Mumbai.
Kumar is among the scores of senior citizens who stay by themselves at the complex with no blood relation nearby to turn to in a medical emergency. They are all breathing a sigh of relief now as their neighbours have come forward to monitor their health.
Elita Garden Vista, a housing complex in Action Area III, has launched a service called the Senior Citizens Wellness Programme.
"Elita Garden Vista has over 1,750 apartments, where many elderly people live by themselves. We have created a list of all such people in our complex and created individual health cards that have all the necessary medical information on the person, including his or her allergies, regular medications and comorbidities," said Arunangshu Chakraborty, a resident who is a consultant in anaesthesia and critical care at Tata Medical Center.
A male nurse has started visiting them to check their vital parameters, like blood pressure, pulse rate and oxygen saturation in the blood (SpO2), on a weekly basis. Once the first round of visits is over, the data will be checked by doctors in the complex. Those who are sick will be elevated to a higher risk category, requiring alternate day or even daily visit.
In near future, there are plans to start a clinic in the complex which the volunteering doctors will attend for an hour or two according to a weekly roster that would be drawn up. The nurse would ask a patient whose parameters are out of range to visit the clinic.
And all this will not cost the patients a penny as the doctors are all giving free service for their neighbours.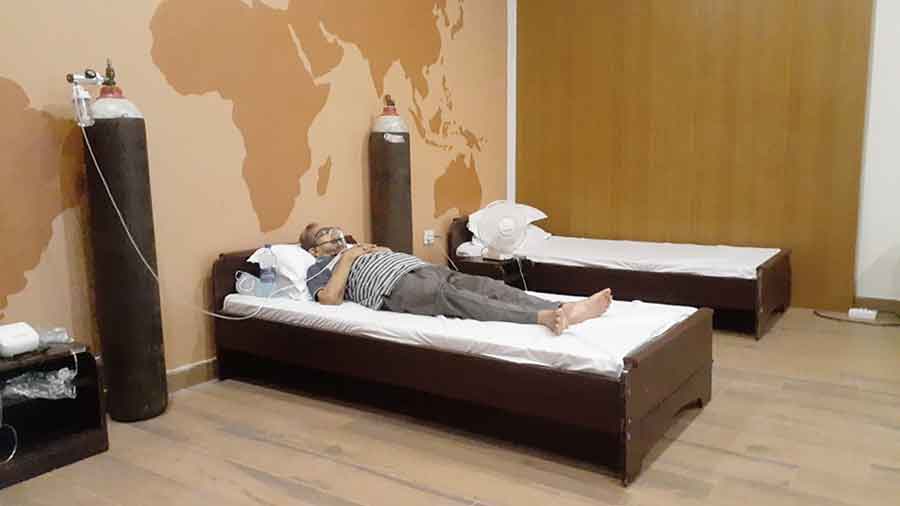 A resident on oxygen support in the complex's Covid isolation centre before Puja
How it started
The seed of this initiative lay in the Covid isolation centre with oxygen support that was set up at the complex in May, after the department of health and family welfare issued a guideline allowing NGOs and resident welfare associations to run isolation centres. "At the height of the second wave, there was neither oxygen nor hospital bed that was available at the time. Our residents got a big mental support when we came up with this centre with six beds," recalls Surya Bhaduri, a member of the committee that has been formed. The isolation centre still operates on apprehension of an Omicron-triggered third wave.
But with no Covid cases in the complex in recent months, the medical advisory committee thought of a way to utilise the resources mobilised for the centre.
Chakraborty, who has experience of training paramedical staff at the School for Skills in Allied Health Services in Suri under the National Skill Development Programme, had himself trained the male nurse employed at the isolation centre.
"We were thinking of ways to utilise his service as also the machines we had brought. Some funds raised for the isolation centre were also still in hand," he said. An enrollment form for the wellness programme was floated among senior citizens two weeks ago which was filled up and submitted by about 150 residents.
The inspiration behind launching the check-up at home for senior citizens came from the concept of home health aid prevalent abroad. "Developed countries have a higher burden of elderly patients due to higher life expectancy but they also have a system of monitoring at home. That is why hospitals can discharge patients quickly. Here we do not have anyone to even remove a patient's catheter at home. That is why patients have to spend longer periods at the hospital, increasing risks of cross-infection. Hospital-acquired infections are difficult to cure as they are caused by multi-drug resistant bugs. If we can provide a back-up at home we can reduce hospital stays and improve the healthcare situation," says Chakraborty.
In Singapore, there are clinics under every housing complex, recalls Chakraborty of his time spent in the island nation on a fellowship. "While it is not possible for us to change the country's or the city's overall health situation, we can at least take care of our own backyard," he says.
Though there are several doctors residing in the complex, so far three have volunteered their services — general physicians Smita Banerjee and Richa Sharma, and gynaecologist Divya Darshini Bhuya. "Most of our elderly neighbours are under treatment of one doctor or another but they cannot get access to them if there is an emergency at an ungodly hour. If a doctor from the complex comes to attend to them, they feel a lot reassured. Irrespective of our specialisations, we can deal with situations like blood sugar fall which can be reversed by simply feeding sugar to the patient, if the condition is identified," said Divya, who had attended to neighbours twice at odd hours and cannot think of charging for such services. "It was after one of them died on way to the hospital that we thought of launching a health monitoring service. Such a service should be on offer everywhere for the elderly," she says.
Residents who have opted for the service cannot be more thankful. "I don't mind even if they charge for the service. This is such a relief for both us and our children to know amra ar sudhu bhogobaner bhorshay porey nei. There is someone to look after us," said Kumar, who thanks the complex's Covid care committee for his wife's recovery from Covid.
 "Arunangshu had insisted that I hospitalise her and arranged for a bed last December when she tested positive. The doctor at the hospital told me she was admitted in the nick of time," he added.
Ashok Kumar Arora, 75, stays with his son but has still enrolled for the programme. "I suffer from rheumatoid arthritis for 35 years and have had my knee and hip replaced. It is a big support that our doctor neighbours are there to look after us."
Future perfect
The committee already has an agreement in place with a doctor to admit patients under his care at three hospitals in Salt Lake if the need arises at odd hours.
"Once our regular clinic starts, we are speaking to specialists residing elsewhere in New Town to see if they can hold a special clinic for some hours one day in case there are adequate patients at the complex needing to see a cardiologist, pulmonologist, nephrologist or neurologist," said Chakraborty.
Would such an initiative be feasible for residential blocks too? Write to The Telegraph Salt Lake, 6 Prafulla Sarkar Street, Calcutta 700001 or email to saltlake@abp.in