The first community puja, which is not exclusive to any block or housing complex, has got off to a grand start. New Town Sarbojanin, housed at City Square, in front of Central Mall, is being hailed as a major puja of the future by all visitors starting from those who came for the opening on Monday.
Prasanta Pal's pandal, on the theme of Bangajanani, is a riot of colours which take on a magical luminosity at night. The backdrop of the idol is decorated with items of daily use in villages, like gamchha, kulo and madur. Five women priests, led by Dattatreya Ghoshal, will be in charge of the rituals.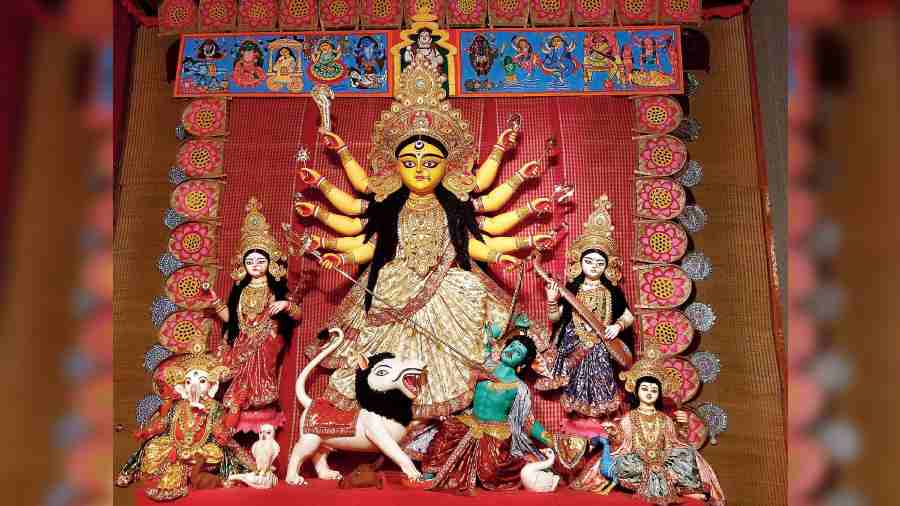 The idol at New Town Sarbojanin
Residents of 40 blocks will perform over 15 days till Dwadashi. Subhomita take stage on Friday at 7pm. On October 8, there will be a Vijaya Sammelani in the evening. Next to the 15,000 sq ft. pandal, a fair and a food park have come up.
Balaka Abasan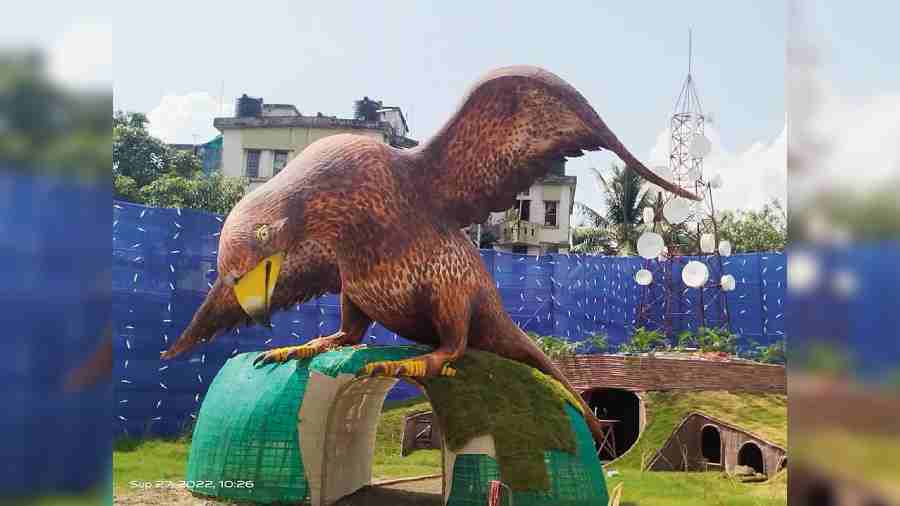 The model of a bird in agony, due to cell phone tower radiation, at Balaka Abasan
The puja that has for years been the biggest crowd-puller in New Town is focusing on the ill effects of mobile phones this year.
Balaka Abasan has created the replica of a mobile tower the height of a four-storey building. In front of it is a massive bird, dying due to radiation from the harmful rays emitted by the tower.
"We hardly see sparrows anymore and migratory birds suffer too," says joint secretary, Rakesh Gupta. "While phones are useful people must be aware of its drawbacks too."
To reach the idol, visitors have to walk into the pandal under the cellphone tower. There they will see models of people suffering from red eyes and "text-neck-syndrome", that gives them aches because of craning the neck down to scroll their smartphones all the time. The pandal is being built by Uttam Mondal, who has been bringing Balaka's themes to life for several years now.
The idol is artistic and the budget for the 20th edition of the puja is Rs 10 lakh. They are not holding cultural programmes in a bid to control crowds.
"Last year we had about a lakh footfall per day," says Gupta.
"The puja is open to visitors between Panchami and Ekadashi, till the idol is taken for immersion," he says. "Like every year we shall host a fair outside our complex selling everything from food and furniture to utility items and junk jewellery. The fair will continue an extra day after immersion."