A dozen new charging stations for electric vehicles will be set up across New Town by the New Town Kolkata Development Authority (NKDA).
The township currently has 30 charging stations for two-wheelers, three-wheelers, cars and buses.
The new charging stations will be set up at Meira Service Station, beside Axis Mall on Major Arterial Road; near Professor Shanku Park, behind City Centre II; beside the Spencers outlet, opposite Sukhobrishti Housing Complex; at Eco Park's gate number 4 parking lot; near New Town School in DB Block; at 6th intersection near Akankha More; near Chittaranjan National Cancer Hospital in DJ Block; near Biswa Bangla gate in CC Block; near Rosedale housing complex; near Uniworld City housing complex; in front of Smart Street; and in the parking lot of Biswa Bangla Convention Centre.
The current charging stations are at Rabindra Tirtha; near Tata Medical Centre; at Nazrul Tirtha; at gates 1, 4 and 6 of Eco Park; and near Café Ekante in Eco Park, among other places.
"Most of the private charging stations in the city charge Rs 17 or Rs 18 per unit. We will charge Rs 12 or Rs 13 per unit," said an NKDA official.
In New Town, electric buses have been running for more than four years now. Hidco, which builds infrastructure in New Town, is planning to buy more electric buses, officials said.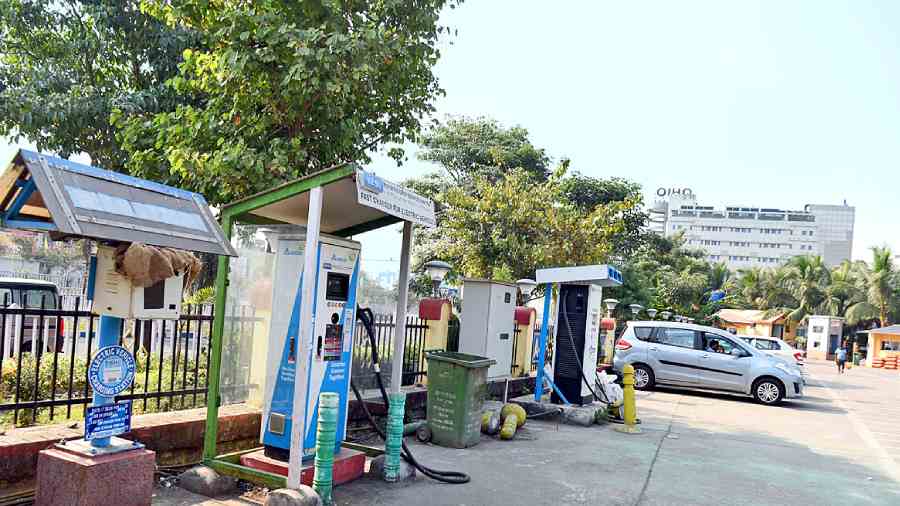 Charging stations for e-vehicles at Rabindra Tirtha, near Tata Medical Centre
Pictures by Gautam Bose
"The idea is to reduce pollution caused by vehicles to the minimum. We are setting up more charging stations so that more residents buy e-vehicles for personal use. These days most e-vehicles come with a good range. If people shift from diesel and petrol-powered cars to e-vehicles, the pollution level will go down significantly," said Debashis Sen, chairman of NKDA and managing director of Hidco.
Apart from this, the New Town authorities have also decided that at least 2 per cent of the car parking space in buildings under construction has to be reserved for electric vehicles, an NKDA official said.
The buildings must also put in place the requisite charging infrastructure for such vehicles.
Big housing estates — coming up on plots measuring more than 10 hectares — in all three action areas of the township have to reserve 20 per cent of the parking space for electric vehicles and install multiple charging points.
In order to do this, the New Town Building Rules have been amended as well.
A centre of excellence for electric vehicles is on the cards in New Town, officials said.
The centre will assist in conversion of traditional vehicles into electric vehicles, setting up charging hubs and designating no-emission zones in various locations in the township.