The streets of New Town are used to cars, buses and cycles but last week, they got to witness a furry four-legged march too.
The Bidhannagar police commissionerate, in association with the pet store Animel Planet, had organised a pet rally to discourage the bursting of firecrackers during Diwali and protect pets and animals from them. The walk took place on October 20 at the City Square ground in front of Central Mall.
Some 15 to 20 people had joined the walk along with their pets, all of which were dogs of different breeds. The procession was a short one and after encircling the mall they settled under the flyover for the speeches by the representatives.
Ratul Jana was excited to be spending his first Diwali with his little Ladrador Joey. "As we stay near Novotel, we get to hear a lot of crackers during celebrations there and Joey, or Ghoton as we call him at home, gets restless. On such occasions, we try to stay home and shut all doors and windows to protect him from the sound," said Jana. "If we could prevent the bursting of fire crackers we would protect the environment and also eliminate safety hazards."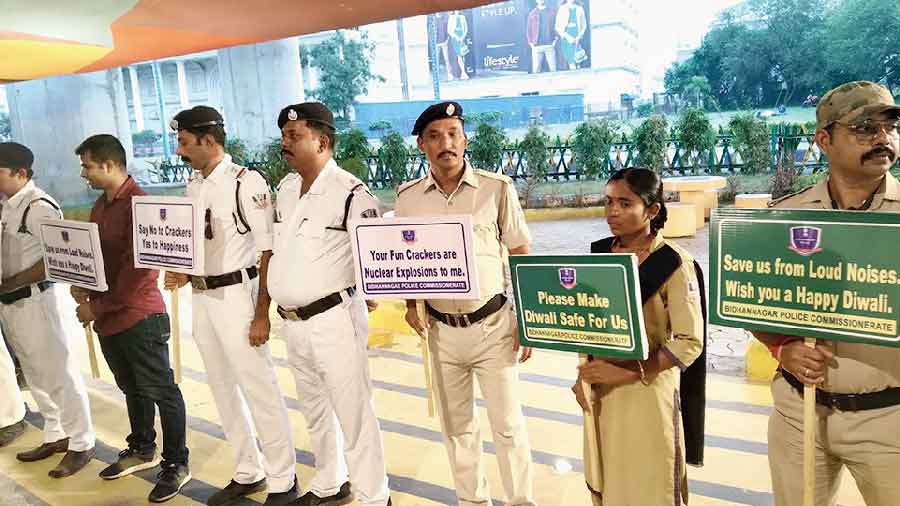 Police officers hold placards to spread awareness against noisy firecrackers
A beautiful Alaskan Malamute, Rustom, had painful memories of Diwali too. "We live on the fifth floor and though people assume it's quieter up there, it's not," said Rishab Chowdhury, a resident of CC Block who had brought Rustom. "Whenever crackers are burst outside, he and our other dogs get confused and run around trying to understand what's going on. They hide under the bed or in the corners but nothing can soothe them. So I really hope the message of this rally spreads far enough to help animals."
Kuntal Mitra of Kestopur had come with his family and six-month-old retriever, Jack Jr. "We call him Juju. He also has his own Facebook page - 'Juju The Biker'. We take him whenever we go on nearby trips on my bike. He sits on the petrol tank, where we've installed a seat for him," smiled Mitra. "As for firecrackers, we have been lobbying long and hard to reduce their usage and I hope this campaign by the police spreads the awareness," he said.
Assistant commissioner of police, New Town, Sreya Sarkar, was glad to see pet owners unite and raise their voice for the voiceless. "This is the first rally of its kind organised by us. We take numerous steps to provide people with a safe environment but don't do anything for animals. So this Diwali we decided to take a stand and protect our pets, our best friends, as well as other animals on the streets from this horror that they are forced to go through every year," she said.