Here's your chance to visit one more fair before the winter fades away. The State Sabola Mela is on at New Town Mela Ground till February 21 and has brought a wide range of items for everyone's perusal.
Organised by the department of self-help groups and self-employment, the fair was inaugurated on February 12 by a host of dignitaries. "Such fairs strengthen the economy and help women entrepreneurs — who are the focus of this fair — establish themselves," said urban development minister Chandrima Bhattacharya. Minister of agriculture, Sovandeb Chattopadhyay, felt fairs helped bring together talent and entrepreneurship.
"There were times when these women kept their families afloat during the pandemic by selling their wares. They must be encouraged," said Shashi Panja, minister of self- help group and self-employment.
The fair is on till February 21, 2pm to 9pm. Here is a glimpse of what's in store—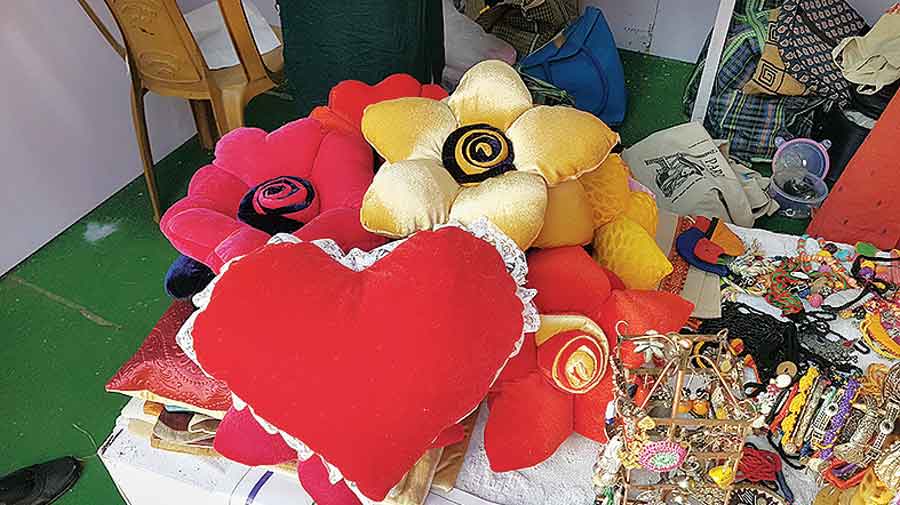 Valentine special cushions
Stall: 231
About: Red velvet heart-shaped cushions, rose-shaped cushions in red or gold...there's no escaping the Valentine theme this week. "The cushions are stuffed with fibre cotton and so can safely be hand-washed too," says stall-keeper Dolon Ghosh, who has come from Dum Dum.
Price: Rs 150 for the heart-shaped ones, Rs 250 for the rose-shaped ones.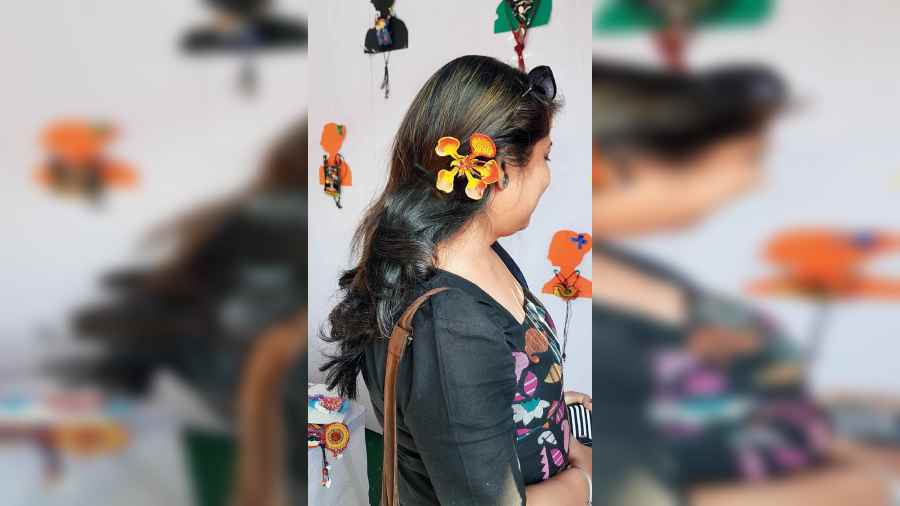 Polymer clay hair clips
Stall: 134
About: Ratna Bhattacharya has elegant hand-made clips resembling roses and lilies. "But with spring around the corner, women are most eagerly pursuing Palash and Krishnachura flowers," smiled the lady at the Charulota stall. "I'm also making jewellery out of recycled items."
Price: Rs 220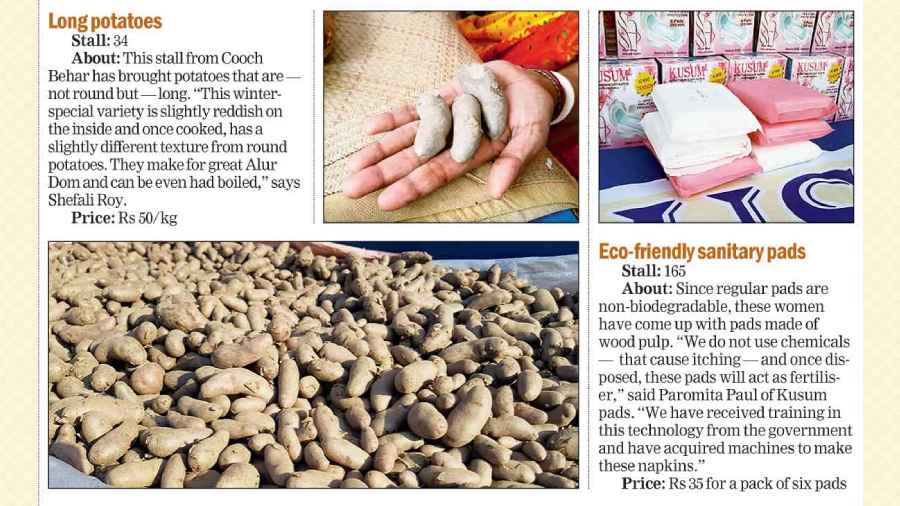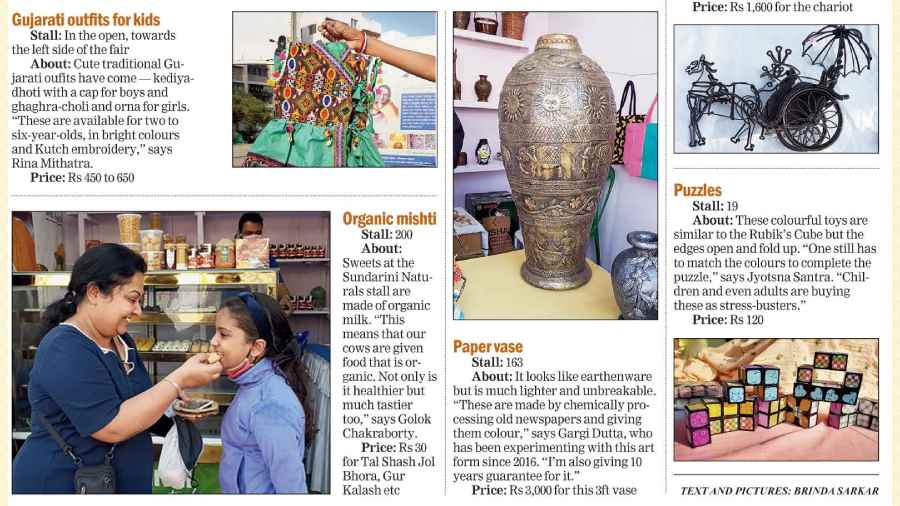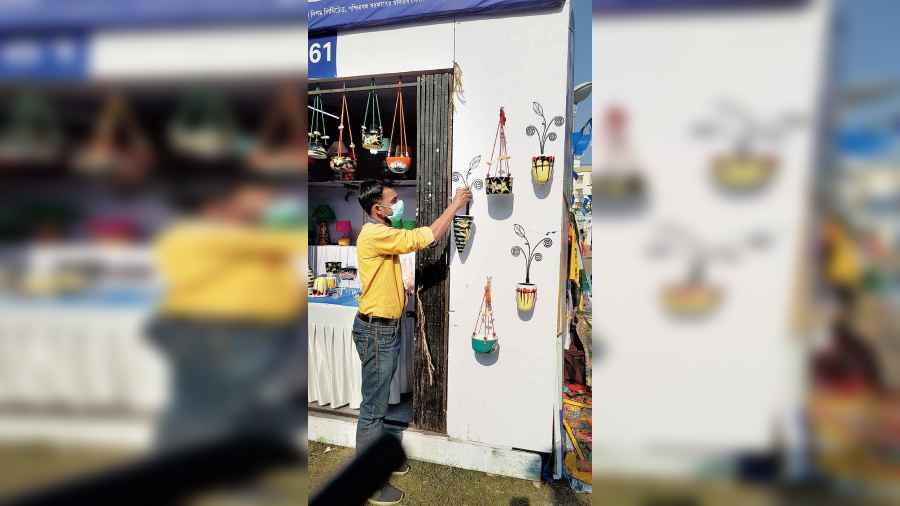 Ceramic planters
Stall: 161
About: This stall displays attractive planters — on stands (picture below) as well as of the hanging variety (picture above). "They come with holes at the bottom for excess water to drain out and are painted with water-proof acrylic colours that will neither fade in the rain or in the sun," said Mithun Roy, who has come from Bongaon.
Price: Rs 350 to 600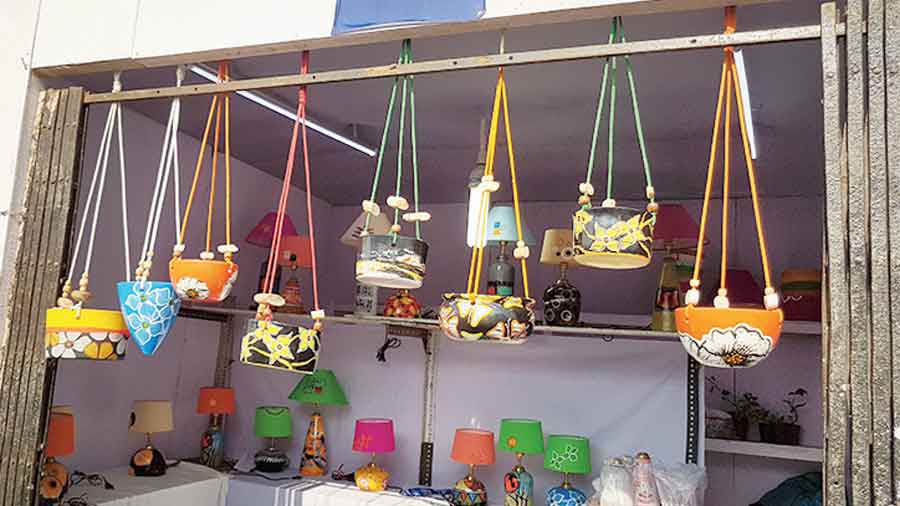 Wire art
Stall: On the ground opposite stall 171
About: Kajal Sharma is creating chariots, cycles and even tanks using single aluminium wires. "I bend the wire using pliers to create shapes and cut it only when the entire figure has been completed," says the artisan from Park Circus.
Price: Rs 1,600 for the chariot