There is relief in sight for residents of Avenida in Action Area III.
The New Town Kolkata Development Authority (NKDA) plans to repair the road in front of the housing estate that has stayed dug up for over a year.
"The road had sunk. It was a dangerous situation with the approach road to our complex totally out of use and all vehicles to and from our housing complex having to use the exit pathway from our complex. Several times, accidents have been averted just in the nick of time," said Sarbani Das Roy, a resident of Avenida in Action Area III.
An NKDA official said that repairs could not be done as the Public Health Engineering department was relaying a pipe. "So we could not repair the road earlier. The road had sunk along with the pipeline which had started to leak," he said.
According to NKDA engineers, there was a stream below the road which has long drained. "So there was a sandbed underneath the pipeline with very little soil strength. It was a situation that would have entailed recurrence of the damage, leading to repeated inconvenience for residents and expenditure for us. So we got experts from Jadavpur University to study the soil and recommend ways to hold it in place. The repairs were done under their guidance. Now we are ready to repair the road," said the official.
A similar problem in front of Elita Garden Vista has been dealt with and the road repaired.
Bridge over canal
Residents of Rosedale Garden and Uniworld City have requested the civic authorities for a bridge over the Bagjola Canal that would provide them a direct access to Sukhobrishti and therefore another exit route.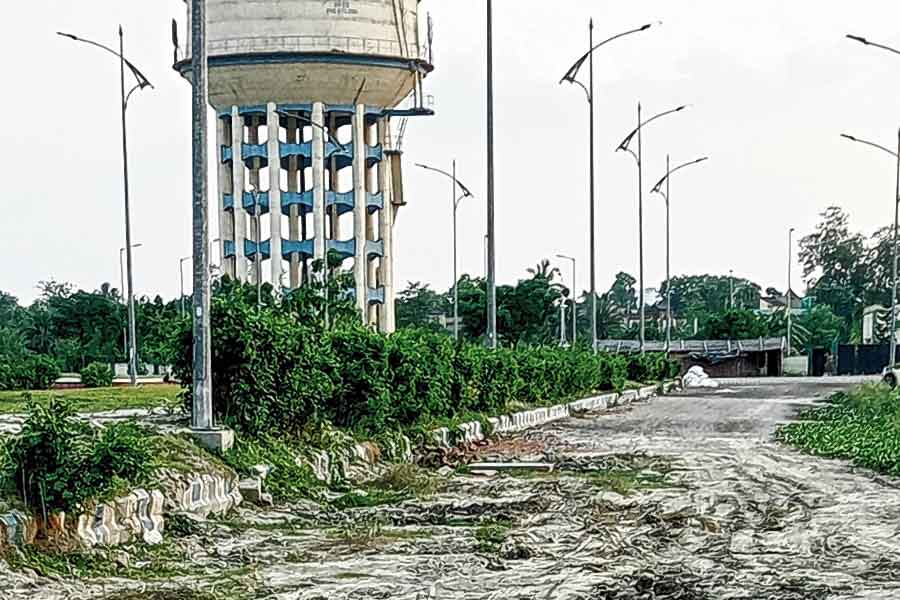 A flank of the road near Avenida
"We have two big housing complexes and two educational institutes in St. Xavier's University and University of Engineering and Management in the vicinity. But there is just one access to the Major Arterial Road. The road between the main gates of our complexes runs straight to Bagjola. If a bridge can be built over it we can reach Patharghata village on the other side which has a motorable road to provide us an alternative access," said Ranjan Basu, president of Rosedale Garden Apartment Owners' Association.
The demand was made at a meeting of residents with NKDA officials recently. "A feasibility study is being carried out. We are looking into the proposal," said an official.
Write to saltlake@abp.in