In New Town, the New Town Kolkata Development Authority (NKDA) has held outreach camps at two schools so far. At The Newtown School, 242 students took the vaccine on January 5 while 202 did so at Delhi Public School Newtown on January 7.
"We had about 300 registered from students of classes XI, XII and half of Class X. But many had to drop out as they contracted Covid and for various other reasons," said Sonali Sen, principal of DPS Newtown.
Vaccination is mandatory for those taking the upcoming semester 2 Board examinations for classes X and XII. "The plan till now is to hold the exam offline. So guardians have been anxious and enquiries were coming in if we would hold a camp in school. Last year, we had held one for our teachers and other staffers in partnership with Apollo Hospitals. But this time, NKDA offered and we were glad to accept it. The camp was very well-organised," Sonali Sen added.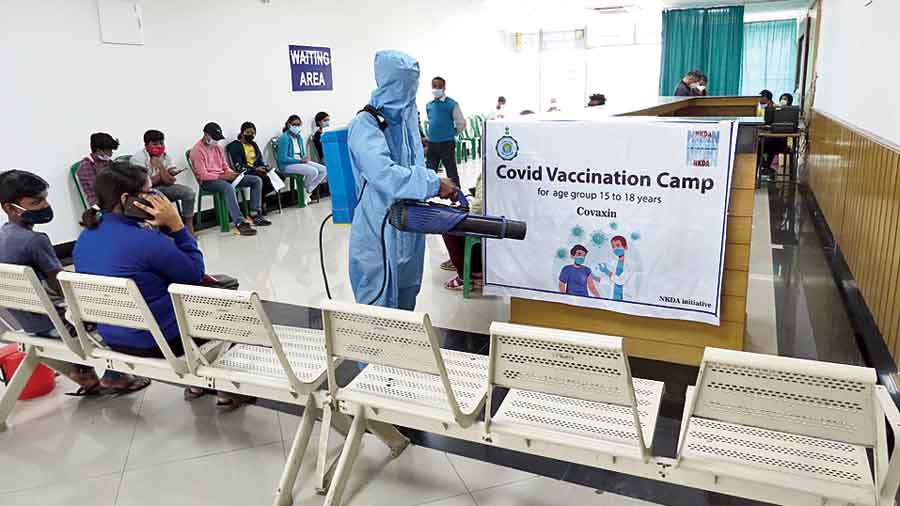 Sanitisation taking place in the Terminal Building vaccination centre on Saturday as school students await their turn for a shot.
Sudeshna Banerjee
The school still has students of Class IX and half of Class X left to vaccinate. "Many have taken the jab privately. We have sent out word among the guardians and are waiting for an estimate of numbers before we approach NKDA with a request to hold a second camp next week," Sen said.
"We plan to hold such camps in every school in New Town to cover this age group quickly," said NKDA chairman Debashis Sen, who attended both the camps.
Students are also getting jabbed at the NKDA vaccination centre at Terminus Building where an average of 40 to 60 are turning up daily.
A separate room has been demarcated for them as they are being given Covaxin. Since 20 recipients are needed to open a vaccine vial, the authorities are encouraging groups to come. "I went to the school camp yesterday but there were only seven of us left. So they asked us to come here today," said Arpita Niyogi, a Class X student of DPS Newtown who stays in Elita Garden Vista.
Schools in Salt Lake have not arranged vaccination camps so far. The Telegraph Salt Lake met students of Hariyana Vidya Mandir and Bharatiya Vidya Bhavan at the NKDA centre. "My parents had taken their vaccine here. Since our school did not arrange for a camp, we decided to come here for my vaccine too," said Aritra Mukherjee, a resident of Bablatala in Rajarhat.
Jab for juniors
Free vaccination for the 15-18 year age group organised by NKDA
Where: At the Terminus Building, next to Pride Hotel
When: 10am to 3pm daily, except Sunday