A book club has opened in the hangout zone between Highland Woods and the Futsal ground in Action Area II. The stall will be open 12noon to 8pm daily and offer books to read free of cost to visitors who lounge at the hangout zone.
The zone was formally opened on Monday evening as part of the fourth edition of Placemaking marathon, an initiative under the Smart Cities Mission of the ministry of housing and urban affairs that encourages cities to reimagine their public spaces and transform them.
The corpus of the club's collection is coming from citizens. "We are accepting both fiction and non-fiction but not text books as our purpose is entertainment," said Sourav Mukherjee, founder-director of Kolkata Society for Cultural Heritage, which runs Zero Shop at the New Town Bus Stand rotary on the Major Arterial Road and a community store at Snehodiya.
People are welcome to donate old books at Zero Shop. Already about 165 books are in the collection, from collected works of Saratchandra Chattopadhyay, Tell Me Why encycloepediae, The Ramayana and The Mahabharata, were on display at the stall on the first day.
Speaking at the inauguration, Hidco managing director Debashis Sen spoke of the second-hand book stalls at Gol Park as the model for the book club. "A club denotes companionship, which is what we are trying to foster at the hangout zone for Action Area II, just as we have created Street for People and community zone under the Axis Mall flyover in Action Area I. This plot was being used as a garbage dump. We were worried about possible encroachment. So we moved quickly to create this. Futsal (on the adjacent fenced turf) is already a success. We have earned Rs 4.64 lakh ever since it opened on May 9 through the hourly rentals," he said.
The club lends out books too if one deposits 50 per cent of the cost price, which is currently refunded in full on returning the book.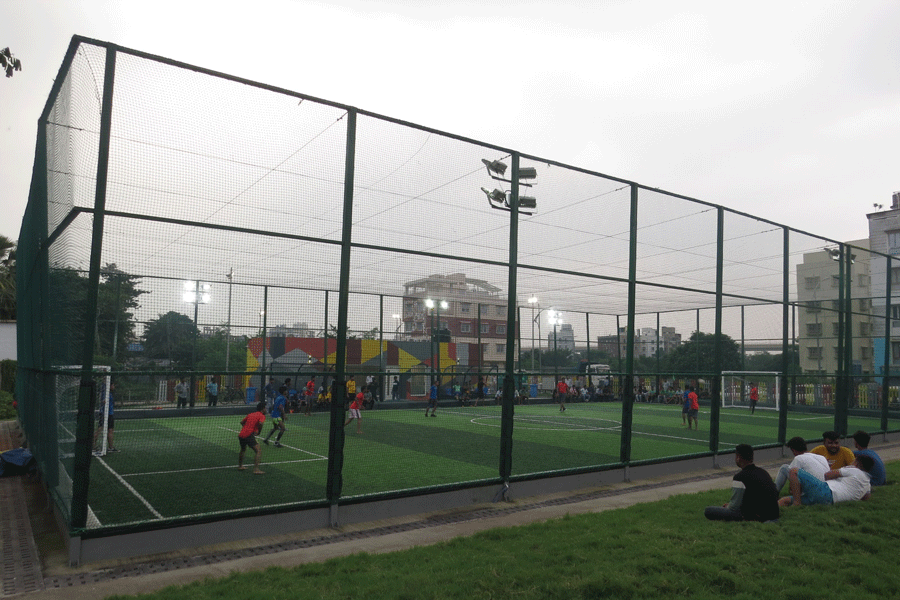 A futsal match in progress.
Sudeshna Banerjee
To boost hangouts, a tea stall, which will also sell biscuits and fries, will be a permanent fixture. It will be run by Jagoroni, the women's selfhelp group that serves refreshments at the Happy Works workpods and the Container Cafe.
An online catalogue is being created which will be uploaded in future for readers to access.
Other than the tea stall and the book club, there will be 19 spots at the hangout zone which will be rented out primarily to eateries. While most will be rented at market rates, two will be reserved for economically weaker sections and offered at subsidised rates.
Sen hoped that those who take the stalls would be creative in their approach. "That is why we are just marking the spot that is provided with water and power connections and leaving the look and theme of the stall to the creativity of the tenant," Sen said.
Blocked street
Residents, who had gathered at the inauguration programme to watch Mir and his band Bandage perform, were happy to get the futsal ground but were unsure about how popular the hangout zone would be.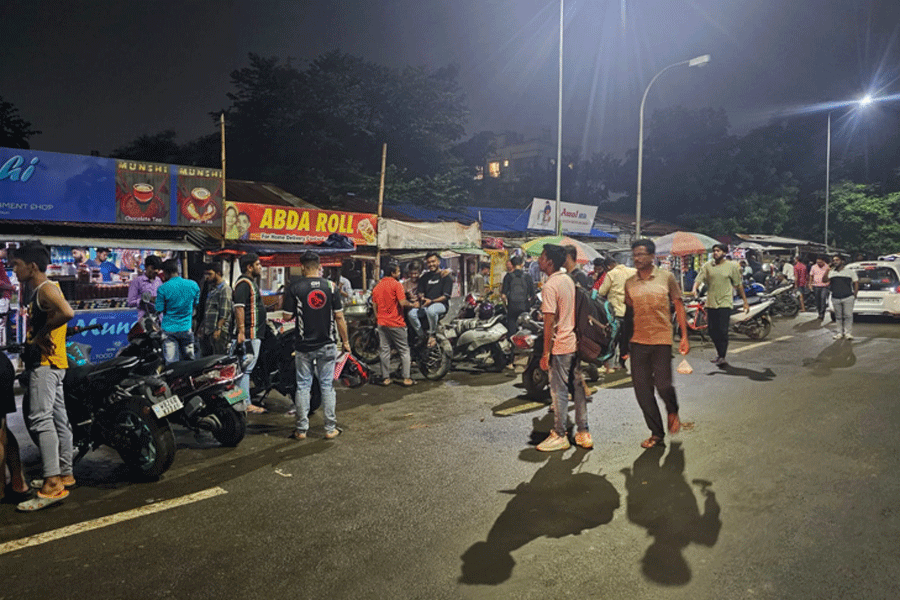 Pavement encroached by stalls and the road blocked by parked bikes in front of Akankha in Action Area II.
Sudeshna Banerjee
"We need the road in front of our complex to be freed of encroachments," was the common plaint on their lips.
There are around 80 stalls that have mushroomed on the opposite pavement of Hiland Woods, Akankha and Sunrise Point. These sell a whole host of products from meat and vegetables to groceries, tailoring, biryani and auto repair. "If the congestion on that flank of the road is not enough, in the evening there are three food trucks and a phuchkawala which park on our side of the road. They sell momos, kebabs and phuchkas. Their customers park their cars and motorbikes alongside the food trucks, blocking the road further," said Dibyendu Roy, former secretary of the Akankha Krishnachura residents welfare association. "The crowd that gathers here makes us feel unsafe to walk by," said Moumita Chatterjee of Sunrise Point.
Sen held out an offer to these hawkers in course of his speech. If any of them was willing to give up his stall and shift here, they will get priority in allotment of these two stalls with subsidised rent, he promised.
saltlake@abp.in