Cricket and football tournaments one finds aplenty but even the maiden chess tournament organised by New Town Citizens Welfare Fraternity drew more than 200 participants.
Held at the University of Engineering & Management (UEM) campus, the two-day all-Bengal open rapid chess tournament was inaugurated by Grandmaster Dibyendu Barua and NKDA chairman Debashis Sen. "We have to draw the younger minds into this game. Nowadays they are glued to gadgets but if they come to love the game they will pursue it and excel in it," Barua said.
The Swiss format tournament was divided into eight rounds, four being played each day over a duration of 40 minutes. Players of all age groups were pitched against each other.
Shourjadipta Das was excited to be part of the tournament. "I enjoy taking part in different competitions as they boost my confidence and help me understand the game better. We get to learn a lot when playing new opponents and that really helps me grow as a player," said the New Town resident.
Seven-year-old Adipto Nath was happy to beat 65-year-old P.K. Biswas. "I was nervous at the beginning as I'm taking part in a competition after a long time but as soon as I started playing I gained confidence," smiled the boy who learns chess near Jadavpur. "He may be young but he's a wonderful player. He beat me with fine moves," conceded Biswas happily.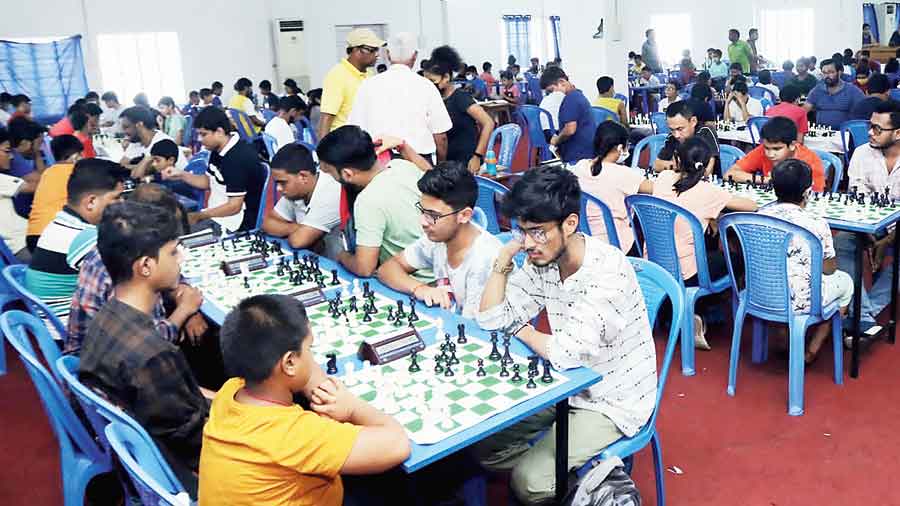 The contest under way at the University of Engineering & Management
The tournament was won by Aronyak Kundu while Subhayan Kundu was the runner-up. "I've been playing chess for the last 14 years," said Subhayan, a resident of New Town's DC Block. "I developed an interest watching my brother play but now I am a professional player. Cricket and football tournaments are common but it's not everyday that we hear of people playing chess. So it was great to have a chess event being organised and that too in our very own township," said the second year B.Sc student.
Secretary of the fraternity, Samir Gupta, claimed this to be the first chess tournament in the township. "We wanted to organise this event as not many are held. But we were unsure of response at first and spread word in different schools and on social media. We had estimated 150 entries but finally had to stop registration at 206," he said.
Chess tourney coming up
A chess tournament will be held on August 13 and 14 in the community zone under the Axis Mall flyover. There is no age bar but the participants will have to be residents of New Town. Registration is on till Sunday.
The event is being organised by the New Town Youth Club. "We came into being last year to create opportunities for young working professionals to take part in sports. This is the fourth tournament we are holding, after football, cricket and volleyball," said BC Block resident Syed Javed Ahmed, assistant secretary of the club that now has about 70 members.