Ten years ago, three blocks in Action Area I had started their Durga puja together. An association was formed, ALAKAI, combining the names of the three blocks. AK Block went its own way in 2019. This year, AL and AI blocks too split and held separate pujas. Though there was acrimony among some members of the earlier combined committee, things were resolved through the NKDA's mediation and all three blocks seem to be happy in their exclusivity.
"The conversation was going on ever since AK Block separated from us. Population is rising and it was becoming difficult to accommodate people from two blocks. The last two years, few residents came out due to the pandemic and we could still manage. Now that the pandemic has subsided, it did not make sense to continue together," said AI Block residents' association secretary Pintu Dey.
This year the plot, where the combined puja used to be held, is hosting the exclusive puja of AI Block, which has about 235 families. "Residents are so charged at having a puja of their own that they went beyond their means to contribute. So many gathered for cultural programmes that we ran out of chairs," laughed puja secretary Jiban Kumar Dhar.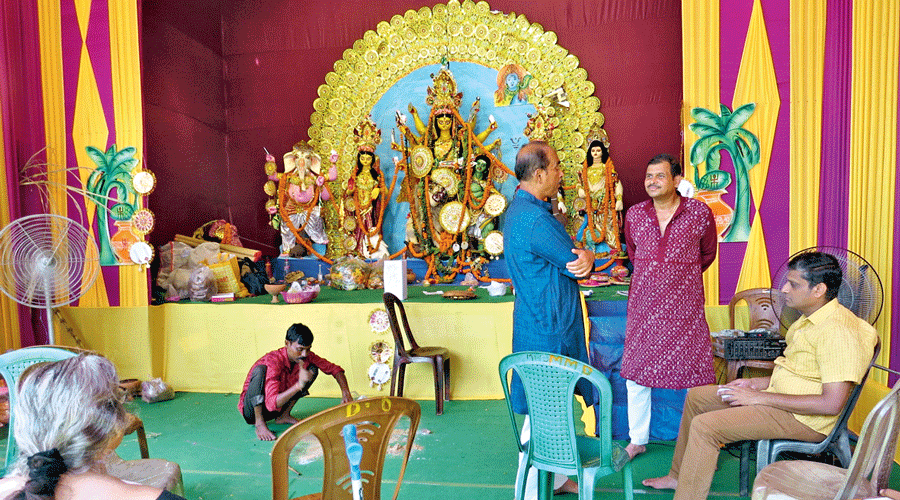 The AL Block pandal
Sudeshna Banerjee
The puja subscription has remained the same as last year's. "We are thinking of reducing the amount next year as more people are contributing. Going the digital way to accept payment during the pandemic has increased our base. Half the amount this year got paid online by not just outstation residents but also many of those who stay here but prefer contactless transaction," Dhar added.
The block also arranged for four days of lunch and dinner for which coupons were sold. "This was done to help families who are helping at the pandal. Who would cook at home?"  Dey explains.
AL Block has been allocated the plot AL1/1A by the NKDA to hold their block puja. "The decision was communicated to us in May. This plot is earmarked for a community centre in the master plan. We have been given a four-cottah space beside the building area. NKDA leveled the land and handed it to us in mid-August," said Parthasarathi Mahalanobish, a committee member.
The team was inexperienced in organisational matters as none were part of the earlier committee. "We explored Kumartuli for eight hours before we could finalise an idol. Even during the rituals, items, like paan leaf or a couple of mongol ghots, would be found lacking by the priest, resulting in last-minute scurry," said Pinaki Deshmukh, another organiser.
The AK Block puja organisers being the most experienced were approached by both new pujas for advice. "This is our third year. In fact, it was we, eight families of AK 62, who had planned a puja in our garage in 2012 and at the last moment we thought of asking the few neighbours who had settled nearby if they wanted to join. That took the total number of participating houses from neighbouring blocks to 18. The ALAKAI association was formed in 2013 and the shift to the NKDA-alotted plot in AI Block took place in 2015," recalls Animesh Pal, the AK Block secretary.
The AL Block puja takes place a stone's throw away from the AK Block pandal but is some distance from its earlier AI Block site. "Now I can hear mantras being chanted over the loudspeaker sitting at home just like I could in my in-laws' place in Salt Lake," smiled Kumkum Singha, a 70-year-old resident who had married into BD Block in 1974. With a dodgy knee, she found it difficult to travel to AI Block but was present at the new venue. "This is the first time I felt like contributing to the puja," commented her son Abhinaba.
Involvement is noteworthy at AI Block too. "Earlier, barely 10 residents took part from our block. The committee members were mostly from other blocks. This year, just as the women participated whole-heartedly in bhog and naibedya preparation, the girls are busy rehearsing for the immersion dance contest," said Dey.