Ahead of the Bengali New Year, New Town has got two prizes.
At the seventh Smart Cities India Expo 2022 held in Delhi from March 23 to 25, New Town emerged the national winner in two key verticals — Digital City and Smart Waste Disposal and Clean City.
The contest was organised by India Trade Promotion Organisation, an enterprise under the Union ministry of commerce and industry, and was supported by the ministry of housing and urban affairs.
The Smart Cities India Awards recognised projects that have made an impact by making cities liveable, sustainable, and economically viable by honouring the best practices and models in the Smart Cities concept.
In the category on Smart Waste Disposal and Clean City, the nearest contenders were Indore and Bhopal. "For a long time, Indore was the topper in solid waste management. So it is deeply satisfying to overtake them," Hidco managing director and NKDA chairman Debashis Sen said.
New Town also won in Digital City, beating the nearest contenders Indore and Belagavi.
Sen listed some of the initiatives that earned New Town the honour. "In our waste to energy initiative, we are segregating solid waste at source after which biomethanation is taking place at our plant near Balaka Abasan. The plant converts five tonnes of organic waste generated in the township daily to gas and then to electricity that powers streetlights. We have achieved 35 per cent success in this regard. Now waste from Sector V is also coming to this plant. We also sell dry waste for recycling."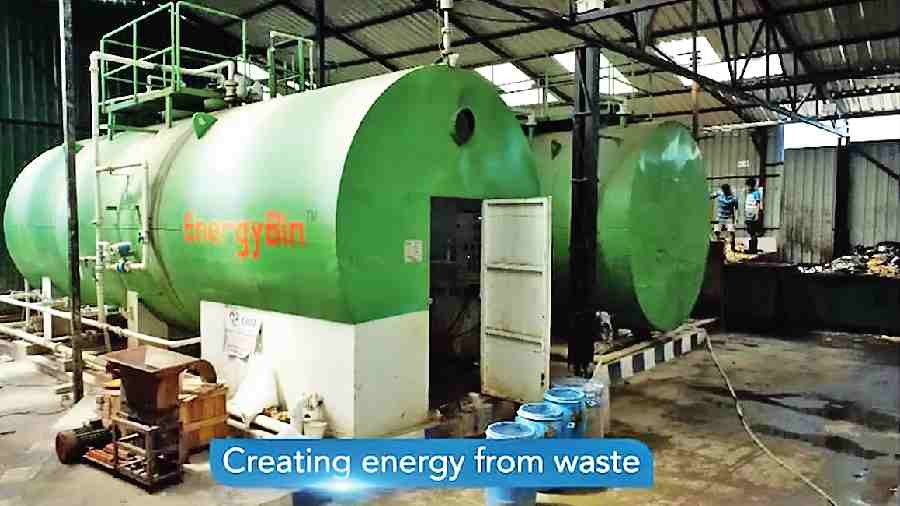 A part of the biomethane plant in New Town
NKDA has also been attaching RFID tags with locations to waste disposal bins and buildings in a part of Action Area 1C. The garbage collectors scan the tag on their smart phones after they are done. "This way we get to know at our integrated command centre when and whether garbage collection has taken place in a particular area," an NKDA official explained.
The Digital City honour was earned by taking payment for every civic service online — birth register, death register, mutation, property tax, trade licence, building plan sanction, water connection, to name a few.
"Every municipal fee can be paid online. We also have a 24-hour helpline to record grievances," said Sen.
Write to us at saltlake@abp.in