Residents of Aaykar Nivas on Ultadanga Main Road have a chance to be a fitter lot. Their complex wears a transformed look, with hundreds of plantations reclaiming land from concrete pathways and parking spaces inside the residential complex for income tax department employees. In the reclaimed green space has come up an adventure park, fitted with climbing, balancing and playing equipment.
The park, covering 50,000sq ft, was opened recently by principal chief commissioner of income tax Shyam Kumar and other senior officials amid much fanfare. "Eking out so much space in a city, that too inside an existing housing complex, is no mean feat. The added greenery would allow people to breathe clean air. This ecological change will have a positive effect on both mind and body of residents," said Kumar. "This is a green oasis in a concrete desert," said Debashis Majumder, additional commissioner of income tax (headquarters) of administration, tax payer services and infrastructure, marvelling at the transformation.
The park has three types of equipment zones to cater to diverse age requirements and interests. The zone for adults who want to stay fit has been named Endorphins, after chemicals produced by the body to relieve stress and pain. It is almost like an outdoor gym with a chinning bar, a horizontal ladder, a push-up bar, a parallel bar, a leg lift post and a sit-up bench. There is also a basketball court, which can be seen from the main gate on entering the complex.
Small children can have fun and get adequate physical exercise in the tots zone called The Dopamine, named after a neurotransmittor used by the nervous system to send messages between nerve cells. This segment has dual swings, see-saws, slides and merry-go-rounds.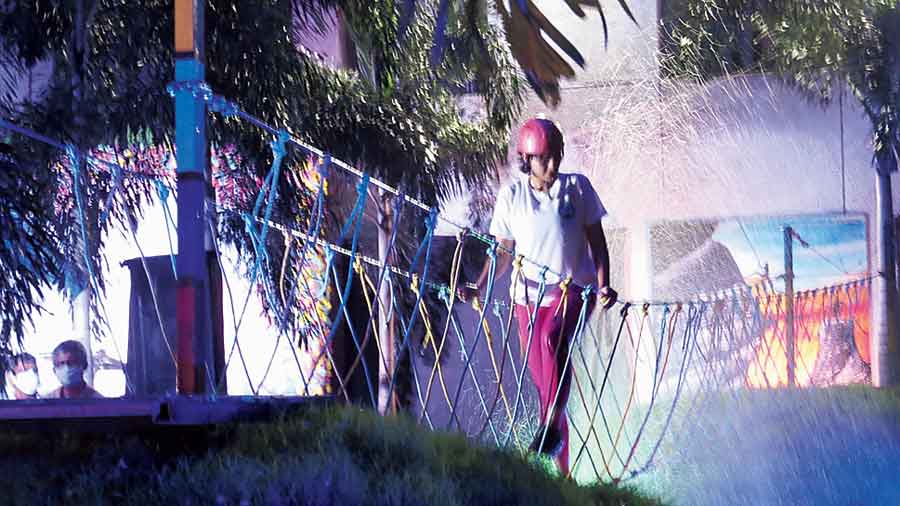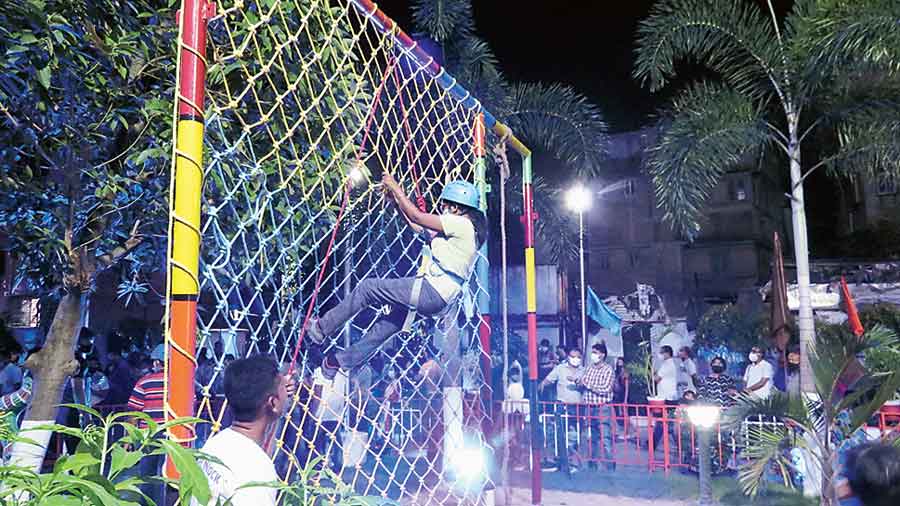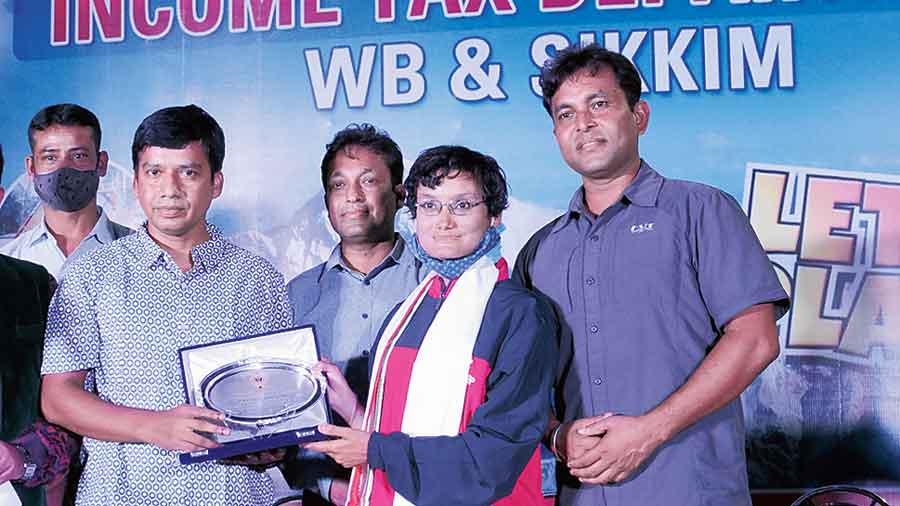 Mountaineer Debasish Biswas felicitates Piyali Basak for scaling Mt Dhaulagiri without oxygen.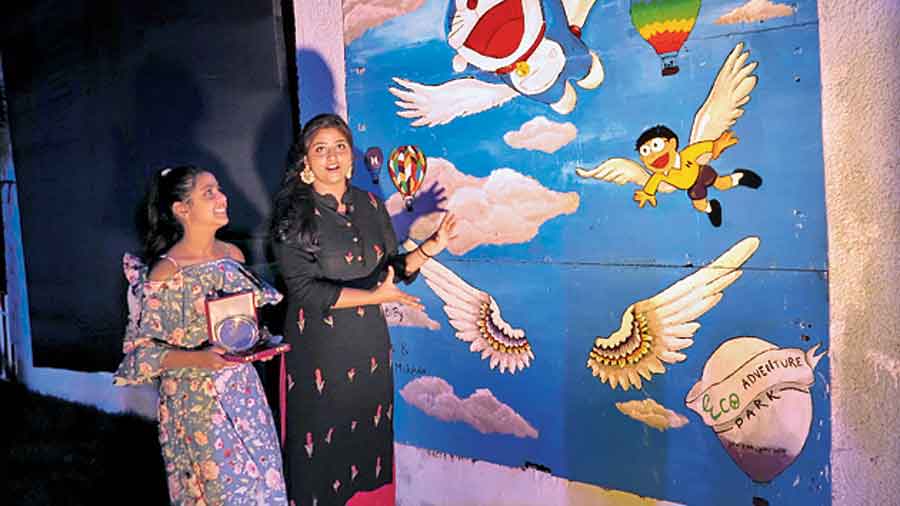 The two resident sisters Tripti Kumari and Mokshoda who have painted a section of the wall as a selfie zone with cartoon figures
But the adventure park is more ambitious in incorporating equipment that only the hardiest would want to take on. Named Serotonin, after a key hormone that stabilises our mood, feelings of well-being, and happiness, this area has an artificial climbing wall, a commando net, an inclined two-way commando net and a Burma bridge. A lily pool with a sprinkler underneath adds a thrilling edge by spraying water underfoot as one tiptoes across the rope bridge suspended at a height.
The park has come up largely at the initiative of Krishnendu Bikash Parial, general secretary of the Aaykar Niwas Residents' Association. "Ever since the lockdown, we wanted to get the children out of their homes and away from mobile phones. Undertaking adventures is experiential education, preparing one for all kinds of challenges of life," said Parial, an ardent trekker.
Over the months, soil was brought in, trees were planted and potted plants were installed. "We wanted birds and small creatures like squirrels and mongeese to make this their home. The greenery and the biodiversity would act as a buffer against the pollution of Ultadanga," said Parial, whose organisation Power Foundation Global planned and executed the eco adventure park with support from the department.
Several sportspersons and mountaineers were present at the launch. "Outdoor adventure activity is not mandatory in our schools unlike in some European countries. It helps build self-sufficiency. I am happy to see the sports climbing wall. It has become an Olympic sport from the Tokyo Games. Children here will have hatey khari at home as well as paye khori on the wall. We can even offer a one-day certificate course here," said Debraj Dutta, chairman, Indian Mountaineering Foundation, east zone and governing council member of IMF.
"Covid has taught us yet again that money has no value if health is compromised," said local councillor Anindya Kishore Raut, urging the residents to make use of the facilities.
Kumar suggested that all other income tax housing complexes that have space should try to replicate the model. "It should be easy as there is a template in place." Majumdar, who stays in the Salt Lake campus of income tax officials in GB Block, said he would take up the idea for discussion in his complex.
The opening was followed by a felicitation programme where noted climbers, including those from the income tax fraternity like Debasish Biswas, as well as Debdas Nandi, West Bengal Mountaineering and Adventure Sports Foundation in-charge, and Piyali Basak, who climbed Mt Dhaulagiri this year without oxygen, addressed the audience.
Pictures by Sudeshna Banerjee
Write to us at saltlake@abp.in