Abanindranath Tagore (1871-1951) was like a freshet who swept away the stale ideas derived from the West and made waves in the stagnant pool that Indian art had turned into. As a writer, too, he had a distinctive style all his own.
The rented house that this homeless master died in 1951 on December 5, which is now a property of the Indian Statistical Institute (ISI), is on the verge of collapse. It is hemmed in by a burgeoning jungle of manhigh shrubbery and grass.
Gupta Nibas in Belghoria, on BT Road on the northern fringes of Kolkata, where Abanindranath spent the last days of his life, and which Rabindranath had named Ghargharia as trains chugged past it, was abandoned long ago.
But the adjoining pond — now covered with algae — was clean and the field where children from neighbouring areas played football and cricket was not overrun with weeds and thickets as it is now.
There used to be a kitchen garden outside the house, which was meant to be the agricultural and research unit of the ISI. All that has been swallowed by the prolific greenery.
"These are such sad times. The government does nothing to save this house. What could be worse? We had grown up reading Abanindranath. He reinvigorated Indian art," laments Ganesh Haloi, who had taught at the Government College of Art & Craft (earlier Government School of Art) in Kolkata, where Abanindranath was once officiating principal and later vice-principal.
"Rabindranath has been honoured by the state. In comparison, Abanindranath got little recognition. His life was sad," says art historian Sushobhan Adhikary, who was the curator of Kala Bhavana Museum in Visva-Bharati.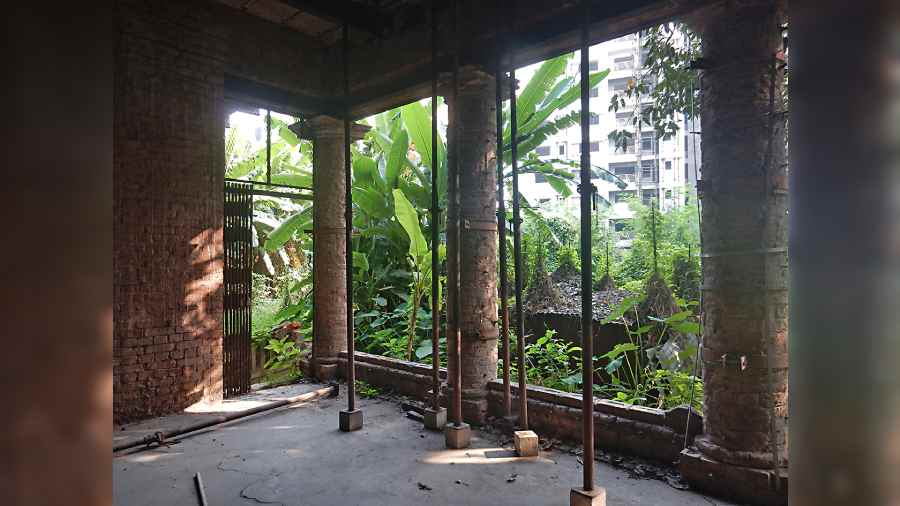 Inside Gupta Nibas
Art historian R. Siva Kumar, who has written extensively on the Tagores, says the ISI should have no "dearth of money".
"We lack a sense of heritage. In many cases it is already too late," he says.
The large house near the Dunlop railway bridge originally belonged to one of the many branches of the family of Dr Dwarkanath Gooptu of Jorasanko and is still known as Gupta Nibas, although it has been in the possession of the ISI for decades.
The ISI had signed an agreement with the National Buildings Construction Corporation (NBCC), a government of India enterprise, to restore Gupta Nibas and build a cryptology centre, office buildings, staff quarters and a hostel on the plot. Gupta Nibas was supposed to have been upgraded and restored.
Colonel Sandip Pal, chief executive officer, accounts and finance, ISI, said over the phone on Monday that the site, close to the main ISI campus, had been handed to the NBCC, but the work was progressing slowly and it was stalled during the pandemic. So now the site is occupied by deserted half-built structures.
Before 2010, an artists' group had demanded that the house be turned into an Abanindranath museum. The artists had inscribed their demand on the walls of Gupta Nibas. That is lost without trace.
It is a double-storeyed building with wide louvred verandahs running along the south side on both floors. The first floor and terrace are held aloft by rows of six pillars on each floor. This is the closest that Gupta Nibas comes to the ancestral seat of the Tagores in Jorasanko with its famed "dakshiner baranda", or southern verandah where Rabindranath and his three nephews, Gaganendranath, Samarendranath and Abanindranath, spent time.
The louvres have all but disappeared and the brick work lies exposed without a shred of plaster on it. The structure is held up with props.
House No. 5 Dwarkanath Tagore Lane in Jorasanko, where Abanindranath's family lived, was demolished in 1941, following Rabindranath's death. Thereafter, Abanindranath rented Gupta Nibas, where his family sought refuge in the same year.
Abanindranath's wife, Suhasini, died there in 1942 and although he stopped painting, he started creating his playful and idiosyncratic kutum katam with found objects here.
Back in 2010, Amitendranath Tagore, son of Abanindranath's eldest son, Alokendra, had said in the course of an interview that "the man who wrote pictures" had painted a fresco of Shiva's family in the Himalayas on a wall of Gupta Nibas. The painting was later washed away during the monsoon.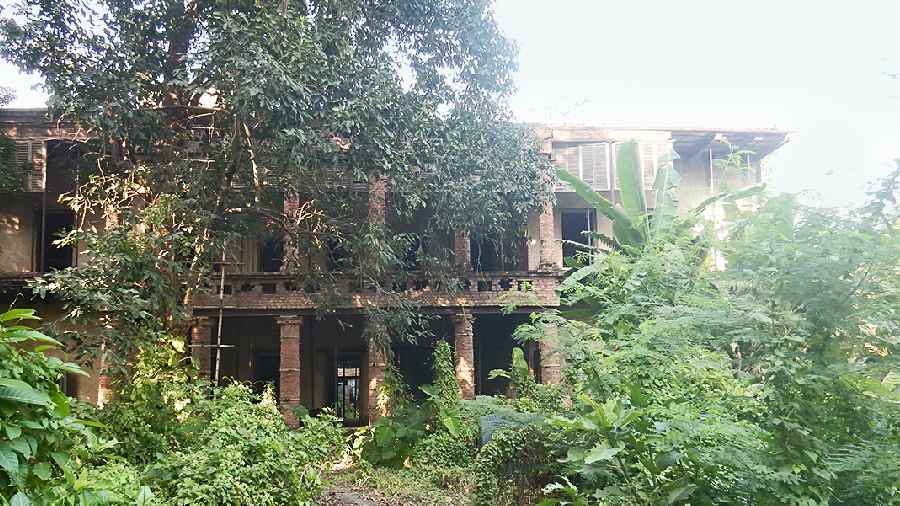 Gupta Nibas stripped of plaster and held aloft by props
Abanindranath finished his last book, Khuddur Jatra, here. During his stay many distinguished visitors dropped by.
He was under the treatment of Dr Bidhan Chandra Roy. Roy insisted on installing a phone in this isolated house, but Abanindranath was not at all happy with it.
In 1942, he moved to Santiniketan as vice-chancellor and stayed there for four years before returning to Gupta Nibas. He lived at Gupta Nibas till his death in 1951, surrounded by his children and grandchildren.
Prasanta Chandra Mahalanobis, who had established ISI, lived at Gupta Nibas for some time. He had rented it in the 1930s.
In October 1937, when a special session of the All India Congress Committee was held in Calcutta, and Rabindranath was Mahalanobis's house guest, Jawaharlal Nehru, Gandhiji, Subhas Chandra Bose and Sarojini Naidu met the poet in the house.
Questions were being raised about the advisability of accepting Vande Mataram as the National Anthem. It was in this house that Rabindranath had written to Bose that embedded in Vande Mataram was a hymn to Durga. Although it was acceptable in literature, when it came to state policy, it may not be acceptable to Muslims.
On October 25, Nehru came visiting, and Rabindranath was dropped in the same car at a clinic in Chowringhee Square, where he went for ultraviolet ray therapy. The next day, Rabindranath wrote to Nehru his opinion on Vande Mataram. Three days later, the working committee made its decision on Vande Mataram.
In the recently published Aban Thakurer Moyna, Dhara Bhattacharya, one of Abanindranath's granddaughters, has left behind a personal account of life in Gupta Nibas, where she was born in 1942. Loving grandfather that Abanindranath was, she would pop a chocolate into his mouth on Janmashtami, when his birthday would be celebrated. People would stream in with flowers to greet him.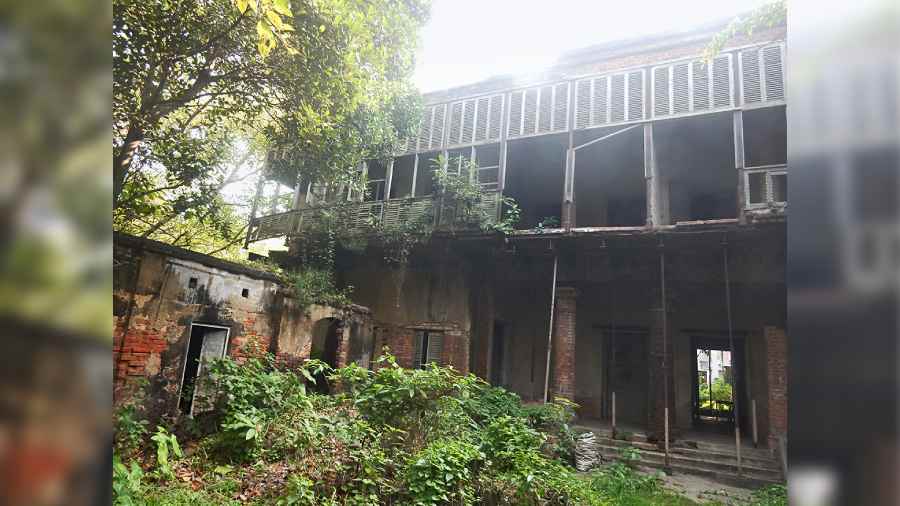 The rear of the building.
Nandalal Basu, his daughters, Rani Chanda, Prasanta Roy and Mukul De would decorate the verandah with alpana.
Mitendra Gangopadhyay, son of statistician Mohanlal Gangopadhyay, who had written Dakshiner Baranda and was Abanindranath's grandson, lived in Gupta Nibas as a child. Mohanlal had been living there since 1947.
Mitendra, an engineer who lived in retirement in Mukundapur, off EM Bypass, had said in an interview in 2010 that the garden house was constructed on a sprawling plot, part of which was a housing colony named Tagore Park now. It had three ponds and the southern verandah was 50ft by 15ft.
They were allotted three rooms each 20ft by 20ft. The 32-bigha garden had many fruit trees and three lawns. Later, this was divided into three sections. ISI had acquired 20 bighas and the Garden Reach Workshop, four bighas.
It was a hideout of jackals, which some people used to hunt for their pelt and teeth. It was also a lair of venomous snakes. Mitendra had said many years ago, hyenas used to haunt the surrounding areas. But that is another story.
Mohanlal lived there with his wife Milada, a Czech, son Mitendra and daughter Urmila, who was married there. At that time, artist-statistician B.R. Panesar had said Mohanlal had recruited him and he used to visit Gupta Nibas often during his ISI days. A couple, Bhupendra Chandra Das and his American wife, who had started the biometry section in ISI, also lived there.
After Abanindranath'sdeath, his family continued to live there till their tenancy contract expired around 1958, when the government acquired the building. But Mohanlal and his family continued to live there as he was employed with ISI and was allotted a flat in Gupta Nibas as his quarters. He died in 1969. Mitendra had said they left this garden house in Belghoria in 1972.
Pictures by Soumitra Das