A 58-year-old armed guard of a nationalised bank died after he was flung off his motorcycle on the Ultadanga flyover and fell at least 30-feet below near the Dakshindari bus stop on Saturday morning.
Apurba Das, an ex-serviceman who was employed at the Alipore branch of a nationalised bank, was on the airport-bound flank of the flyover when he lost control of the two wheeler, an officer of the Maniktala police station said.
Das, from Panihati in North 24-Parganas, was thrown off the seat after the motorcycle hit the guard wall along the parapet of the flyover, the officer said.
Motorists and pedestrians alerted traffic cops of the Bidhannagar commissionerate posted below the overbridge.
Das was wearing a helmet but suffered grievous injuries. He was declared dead at a hospital.
Das had fallen off the flyover but his motorcycle had remained on it. A team from the Maniktala police station brought it down.
The parapet that the bike had crashed into had multiple marks on it.
"Das was riding the bike at a high speed but the turn on the flyover is gradual so it is not clear how he lost control and hit the guard wall," an officer said.
Last month, a 30-year-old motorcyclist, Amit Valmiki, died after he rammed into the boundary wall of the VIP Road-bound flank of Ultadanga flyover at high speed and fell about 65ft into the Dakshindari Canal.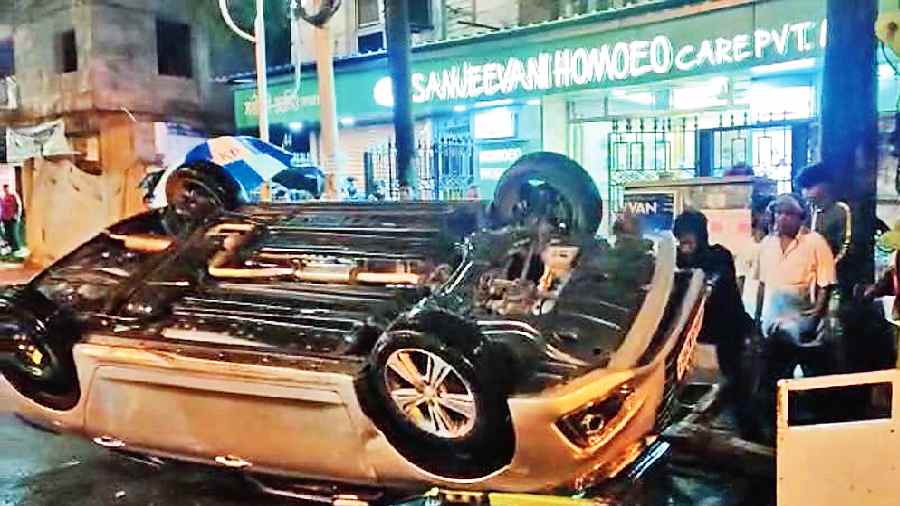 The overturned car
A private car overturned on Sarat Bose Road around 7.45pm on Saturday when the vehicle apparently lost control and rammed into the median divider.
Police said preliminary investigation revealed that the car lost control either when a tyre burst or when it hit the median divider and a tyre a burst.
Prasiddh Sethia, 37, and Harsha Sethia, 32, residents of Alipore, were in the car that was being driven by a driver. No one was reportedly injured.